The Manchester United (NYSE:MANU) IPO has come and gone amid a cacophony of negative opinion. The entire 16 million-plus Class A issue was fully subscribed with a price at the close on Aug. 31 of $13.30, down from its $14 offering. But what is its real value? The club, as well as pundits, offered opinions of its value, ranging from a high of $22 to below $7.
Getting to a confident valuation for Manchester United is complicated on many levels. The most important ringer is the "emerging growth" status this 100-year-old company somehow managed to tweak and receive from regulators, giving Manchester United the license to peddle its shares without the transparency you would expect given its finances. A lot of guesswork has to go into any value judgments in this case. Add in the emotional status of an iconic sports team, and any estimate will be more value judgment than steely eyed financial analysis.
I used information from the Deloitte report "Fan Power: Football Money League" from February 2012 as well as the IPO prospectus of the MANU issue from the Manchester United Investor Relations page, while considering the long-range goals and marketing plans made by Manchester United in its prospectus, to find the best guess at intrinsic value I could.
The first pitfall for the unwary is the dilution effect caused by the new structure of the Manchester United Class A and Class B stock. While Manchester United only sold 16,666,666 of the Class A shares (42% of the total owned), the Glazer family holds another 39,685,700. There are also the much more important 124,000,000 Class B shares. Class B shares not only carry 10 times the voting power of the Class A shares (giving the Glazers 98.7% voting control), but also they will sometime in the future all convert to Class A.
This promises a certain future of a fully diluted share number of 163,685,700, with only around 24.5% becoming the public float. Much of the financial data you find on Manchester United bases its important ratios like price/earnings, book value, and the like are only based on the IPO shares, not taking into consideration the full dilution effects of the rest of the closely held Class A and Class B shares.
Let's go on to revenue. Here, I am using figures from Deloitte's for past figures while taking the prospectus' estimates for 2012:
Click to enlarge images.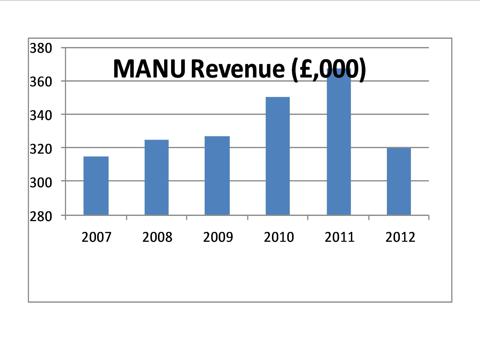 Revenue was about £315 million in 2007, rose to a high of £365 in 2011, but is expected to fall sharply to £315-£320 million this year. These revenue numbers mirror the success Manchester United had in the Champions League, Europe's extremely lucrative club competition.
In 2010 and 2011, Manchester United went deep into the Champions League competition. In 2011, when Manchester Union reached the Champions League Finals, it received over £80 million from the controlling body UEFA and thus made its most recent high both on the playing field and in the revenue coffers. Last year the team staggered out of the same competition early in the group stages. Then it fell out of all European competitions altogether in the fourth round of the less prestigious Europa League, thereby earning only an estimated £10-£13 million for international venues -- well over a £65 million drop in revenue that is not clearly accounted for in the prospectus information.
Debt has long been a great concern for Manchester United. Another problem is the IPO does not pay off all of the debt it has. For years the debt has been well over £500 million, on revenues hovering just around £320 million. It was only in the last few years that it became something more manageable. 2011 had debt a bit over £400 million. This IPO pays off just over £100 million of that, so debt will still be around £300 million. That is less than annual gross revenue, but still high.
Another point is that the fine print of the prospectus advises that one-time costs will take an over £17 million hit because of early payment penalties and other costs dealing with the retirement of the debt. While it is not clear, it appears from the prospective footnotes that the pay down of the debt will only save about £10 million a year in interest costs.
This gives us as far as a pro forma revenue growth: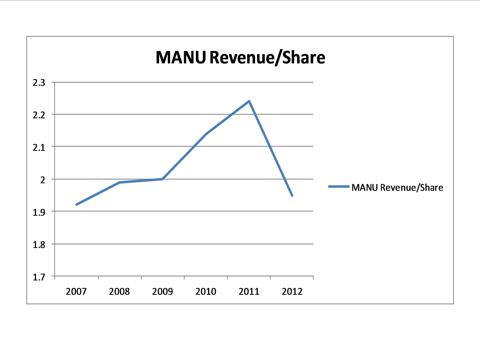 Take away the unusually high Champions League revenues and the club in reality has established a base of about £2 in revenue/share, a base that has not appreciably grown in five years.
Yes, there is some revenue increase during that time, an anemic 0.173%, but costs have gone up faster than their base and any revenue increase is no better than a wash economically. With the decrease in debt, my own opinion is that will simply make Manchester United a bigger player in the superstar transfer stakes. It takes top talent to reach the high levels of the Champions League, and how long will it be before Manchester United will be splashing out £50 million on the transfer of the next superstar to shore up the first team?
What about future growth? The prospectus is vaguely gushy about plans for international expansion and new media. My takeaway is that Manchester United's management is hanging the future revenue growth on increased merchandising in foreign countries, especially in Asia. True, Manchester United is tremendously popular in Asia -- and around the world for that matter. However, I am skeptical how much meaningful revenue growth can come from extending operations where cheap, pirated knockoffs are a way of life, and monthly wages are judged in triple digits or less.
A final sad note, under the new reorganization of the Manchester United Plc, international sales will be subject to U.S., not U.K., corporate tax. And the rise from a 28% rate to 35% corporate tax rate will be another stiff headwind to fight against.
So Manchester United is a 100-year-old company that consistently loses money, that -- even after a sizable IPO -- is laden with debt, that is facing difficult headwinds due to the economy, taxation and lower-cost competition, and has flat, diluted revenue.
Well, in my book Manchester United is no "emerging growth" stock in any way or form, despite the IPO's dreamy statements. Financially and operationally, it looks much more like a slogging textile mill or stuttering electrical utility. With historically negative earnings, and little realistic expectation that management can generate reliable profits, there isn't much here. The current ratio still stands at an alarming 0.6, while the forward-looking P/E is 18 when adjusted for the full dilution factor. Of course, with better access to the real numbers, these estimates could widely change, but since Manchester United is not forthcoming...
Realistically, I would only pay a share price that would translate to a fairly pedestrian 6-8 P/E -- and that would only be because of the excitement factor of owning a sports team. But that leaves me in my world with a worthwhile value for Manchester United of around $4.50-$6.00, a far cry from its current $13.30. In my mind, Manchester United is already priced as if it will win the Champions League for 2012-13.
And maybe it will -- that is the final kicker. Because owning Manchester United is more than just profit and loss. There is the cache of watching the Red Devils raise a championship cup and being able to turn to your buddy and announce, "I own that team!"
In that moment, all valuation flies out the window.
Disclosure: I have no positions in any stocks mentioned, and no plans to initiate any positions within the next 72 hours. I wrote this article myself, and it expresses my own opinions. I am not receiving compensation for it (other than from Seeking Alpha). I have no business relationship with any company whose stock is mentioned in this article.