Investors Run for Cover Under Gold and ETFs
The price of gold jumped to a four-month high, sending gold ETFs higher.
A dash of record oil (now more than $147 a barrel), a heaping teaspoon of mortgage-company concerns and a pinch of a falling dollar stirred together combined to leave a bitter taste in investors' mouths and sent them to gold in an effort to lose the aftertaste.
Wall Street particularly sputtered on news of Fannie Mae and Freddie Mac's woes, reports Stevenson Jacobs for the Associated Press.
Some other commodities were trading lower, though. Agriculture futures fell, including those for corn and soybeans.
It's just the latest run on the metal, which has seen prices rise 34% in the last year. However, it's still sitting below the $1,000 mark that it reached in the wake of the Bear Stearns collapse. It closed Friday at $958.40 an ounce, which is the highest price since March 19.
Gold ETFs that hold the metal and trade futures all rose higher Friday, including: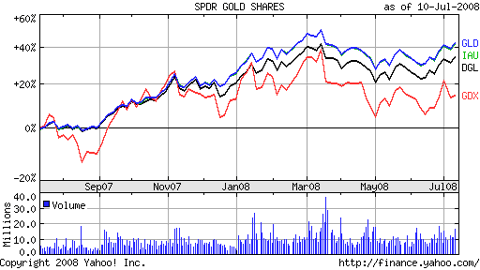 No Bailout for Fannie and Freddie Leaves Financial ETFs Trying to Stay Afloat
Shares for the ailing Fannie Mae (FNM) and Freddie Mac (FRE) fell even lower earlier Friday morning after an immediate bailout was ruled out - throwing the housing market into question and related ETFs lower.
Treasury Secretary Henry M. Paulson said that the government's focus right now is supporting the companies in their current form, reports Michael M. Grynbaum for the New York Times. Naturally, the markets didn't like that idea. The companies currently operate with an implied, but not assured, government guarantee.
While the shares are declining, investors seem to feel that the government will step in and guarantee any outstanding obligations. Officials are already considering having a plan to take over one or both of the companies and place them in a conservatorship. If that happens, their shares will be worth next to nothing, and any losses on mortgages would be paid by taxpayers.
The two companies are the largest buyers of home loans in the country, and as such, the provide liquidity to housing markets, says Bill Seidman for NPR. If they were to go under, it could make the current credit crisis look like a hiccup.
As might be expected, financial ETFs traded lower: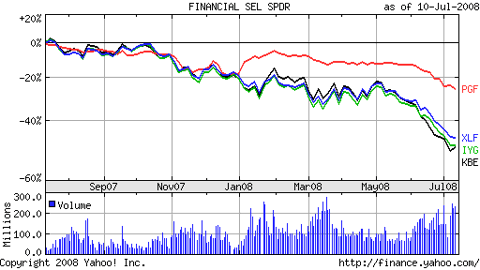 Aluminum ETFs and ETNs Benefit From Production Curbs
Aluminum is on a rally and taking ETFs that hold the metal onward and upward with them.
The metal hit record highs last week after producers in China agreed to cut output by as much as 10%, reducing concerns over an abundance of inventories, reports Rob Wherry for SmartMoney.
Aluminum Corp. in China has agreed to curb supply by 5% to 10%, which will help alleviate a sixth year of power shortages in China, reports Xiao Yu for Bloomberg. The energy used by aluminum smelters every week is enough to provide power to more than two million people for a year. China's aluminum producers are the largest in the world.
Alcoa (NYSE:AA) also reported earnings that surpassed expectations this week, but they're still below last year's level. The company is still awaiting an economy whose demand level is expected to grow around 6% this year, reports David Lee Smith of The Motley Fool.
Aluminum benefits from its versatile uses, and is prized for its lightweight properties as well as its ability to resist corrosion. Among its applications is in foil, soda cans, cooking equipment, golf clubs, airplanes, electricity and in buildings.
Among the funds that hold the metal are:
PowerShares DB Base Metals (NYSE:DBB): up 14.9% year-to-date; holds 37.7% in aluminum, so expect a shiny outlook
iPath Dow Jones-AIG Aluminum ETN (NYSEARCA:JJU): launched on July 8