Facebook (NASDAQ:FB) CEO Mark Zuckerberg is taking a page from Fed Chairman Ben Bernanke's playbook by notifying the SEC that he will not sell any of his shares in the social network for at least 12 months. This announcement is an attempt to put a floor on the decline of Facebook's stock, in what is essentially a passive, one year stock buyback which targets the Nov. 14 lockup expiration, when 1.2 billion new shares were scheduled to come to market.
Call it the "Zuckerberg Put."
Facebook's young CEO has received a very expensive refresher course from Wall St. over the last four months on the subject of what a majority stake does and doesn't buy. Zuckerberg structured his company so that he wouldn't have to listen to his shareholders.
What a quaint view of the market! For Wall St. controls Facebook's valuation and the company's ability to compete against its deep pocketed rivals for talent and make acquisitions. Mark Zuckerberg may make the decisions but he's coming to discover that shareholders have the veto after all.
But before you go running with the Facebook bulls on the heels of Zuck's "road to Damascus" moment, you may want keep the following five things in mind:
1. Facebook Can't Penetrate Asia
While Facebook has saturated the Western market, its ability to penetrate the East is severely limited. Facebook is banned in China, the #1 online market on the planet. It's critically weak (less than 15%) in Japan, which is the fourth largest online market. And the most active users of social networks on the planet, the Russians, barely use Facebook at all.
Worse, most of the local social networks in these countries are incredibly popular: vKontakte in Russia, QQ (QZone) in China, Mixi in Japan and Orkut in Pakistan and Brazil. While Facebook is finally beginning to make some headway in Brazil, it has yet to establish itself in any of the other markets, including India; which is about as close to the Chinese and Japanese markets as is likely to get. Gone are the days of exponential growth.
According to the social media tracking site socialbakers.com, Facebook's continental penetration for the Asian continent is a flat 6.36%.
2. Old Social Networks Never Die, They Just Fade Away
Remember that scene in "The Social Network" where Zuck was getting tanked and blogging about his ex-girlfriend on LiveJournal? Oh, those were the days. LiveJournal was syndicated by Russian online media company SUP media, where it was re-branded as Zhivoy Zhurnal (Живой Журнал or just ЖЖ ). How is LiveJournal doing today?
Then there's Friendster, the social network that was Myspace's role model. Friendster was the first social network to gain millions of users within months of going live. Friendster turned down a $30 million dollar buyout offer from Google (NASDAQ:GOOG) in 2003. It's now a social gaming site in Asia and worth around $1.5 million. Came, Saw, Crashed.
And who could forget Myspace? The first super-network was valued at a cool $12 billion at the height of its popularity, only to be staked like a vampire by Facebook a few months later. The company was recently sold off for $35 million.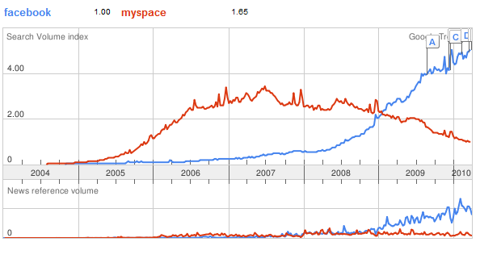 (Click to enlarge)
3. The Kids Are Somewhere Else
There was a time when Facebook was cool. Not anymore.
65% of Facebook users are 35 and older, and adults are the fastest growing demographic. It's not as if teens are deleting their Facebook accounts, but they're treating them the way adults who already have a good job treat LinkdIn: They're socially obligated to have a page, but it doesn't mean they have to use it.
Why is it important where teens hang out? Because parents follow their kids around on the Internet. Teens are the first adopters, the fastest social innovators (LOL, OMG, LMAO, WTF, BRB, GTG, IMHO, JK, IDK) and have more free time to surf the net. Jumping ship keeps teenagers one step ahead of mom and dad.
Remember AOL? (NYSE:AOL) It's an old folks home, now.
4. The Decline Of Facebook's Stock Has Diminished The Social Network's Bargaining Power
At the launch of Facebook's IPO, the social network had a market cap of $100 billion dollars. That lofty valuation surpassed market leaders like Cisco (NASDAQ:CSCO) and Dell (NASDAQ:DELL), and elevated Facebook to Amazon (NASDAQ:AMZN) and Qualcomm's (NASDAQ:QCOM) league.
In terms of bidding for new acquisitions however, the $100 billion dollar valuation gave Facebook an edge over even more well-heeled rivals, many of whom are already stretched by previous acquisitions. Today, Facebook's market cap is roughly equal to that of Baidu (NASDAQ:BIDU) and its ability to up the ante in a bidding war has been severely diminished.
Had Facebook's CFO left some money on the table for Wall St., the company would have a market cap of about $60-$80 billion dollars right now, instead of the abysmal $37.35 and falling, and Facebook would be able to acquire whatever it wanted outright. Now the company will be forced to make cheaper strategic alliances and share the rewards.
5. Power-Users "Like" Everything And Everyone
According to Pew Research, 40% of Facebook users surveyed "liked" their friend's content an average of 14 times while receiving 20 "likes" for their own content (read the full report here). One user received over 1,000 "likes" in the space of a month.
"Use of the like button is unequally distributed. Because of the intensive activity of the 30% of power users, the people in our sample pressed the like button next to friends' content on an average of 14 occasions during the month and received feedback from friends in the form of a "like" 20 times during the month.
This discrepancy is a function of two things. First, an intensive subset of Facebook users are heavily engaged with the use of the "like" button. Nearly 5% of our sample pressed the like button next to content on friends' walls on over 100 occasions in a month."
Facebook content generates 2.7 billion "likes" a day, which works out to roughly three "likes" per user. Only the real figure is more like two "likes" per user, because the power-users are liking everything. Is there any doubt that these users are distorts the value of Facebook's "likes" to advertisers?
6. Wait, Didn't I Say There Were 5 Things To Consider?
Consider this one a freebie: Even though Zuck is taking his shares off the table in November, there are still 234 million shares being freed up on October 29. As for the Nov. 14 expiration: 777 million shares are still eligible. By comparison, the 4% dip in August was due to the release of 271 million shares.
Conclusion
Social networks tend to suffer from diminishing returns unless the network finds a way to 1) grow the network and 2) re-invent the user experience. Facebook can't seem to get a toehold on the Asian continent, which makes the first condition problematical. I also have yet to see any new compelling changes in Facebook's website since the rollout of Timeline, which has arguably done the company more harm than good by reducing the number of clicks on brand pages. I believe Facebook is being oversold right now, but it's still too high, even at this level. The stock showed some support at $20, as I thought it would before resuming free-fall. I expect Facebook to bottom out at around $10, at which point I may initiate a long position in the stock.
Disclosure: I have no positions in any stocks mentioned, but may initiate a short position in FB over the next 72 hours. I wrote this article myself, and it expresses my own opinions. I am not receiving compensation for it (other than from Seeking Alpha). I have no business relationship with any company whose stock is mentioned in this article.