Stocks of companies with higher operating margins than their peers should have a higher likelihood of outperforming their peers over long periods. While it may be difficult to compare operating margins across industries, it is much more useful to compare both operating income and operating margins within the same industry. For example, you can't compare the operating margins of a grocery store with those of a software company. The margins of grocery stores are inherently narrower than those of software companies.
But comparing income statements of companies in the same industry can be useful in screening for stocks that may outperform.
We screened for companies in the agriculture space to identify companies with high operating margins (above 40%) and operating income growth of greater than 50% from year to year.
The following 4 companies were identified for further analysis. Take a closer look at each to determine if they are a good fit for your own portfolio.
Operating Income Growth: Growth in operating income indicates a company's ability to 1. Grow revenue, and/or 2. Reduce cost of sales, and/or 3. Reduce operating expenses. A decrease in expenses alone is not beneficial over long periods, but when accompanied by strong revenue growth, it may be a harbinger of good things to come.
Operating Margin Percent: Companies with higher operating margins than peers may be more efficient at operating their businesses, or they may have pricing power, or any combination thereof. This leads to the possibility that when comparing companies in the same industry, the company with higher operating margins may demand a premium on their stock versus those of their peers.
Combine both higher operating margin percent with operating income growth and you may identify a company pulling away from the pack, so to speak.
More analysis is required of course, because no two companies are exactly alike and the nuances of their business model must be taken into account to explain any differences in Margins or Income Growth. But it's a good start. Before we go on to the list, here is a brief description of the main products and their uses:
About Potash
Mined from natural mineral deposits left by ancient evaporated seas, potash is primarily used as a crop nutrient. Its potassium strengthens plant stalks and roots and helps crops fight disease and injury. In addition to improving yields, potash adds flavor, color and texture to foods. Potash is also used to make industrial goods ranging from food products to soaps. Key Products - Standard and Granular Potash
About Phosphate
Made from ancient marine fossils, phosphate rock is combined with acids for use in fertilizer, feed and industrial products. By aiding in photosynthesis and cell division, phosphate fertilizer speeds crop maturity and increases yields. As a feed supplement, phosphate is necessary for skeletal development and aids in animal muscle repair. Key Products - DAP, MAP, Phosphoric Acid.
About Nitrogen
Nitrogen occurs naturally in air, but it must be converted for use by agriculture and industry. As a fertilizer, nitrogen speeds the growth of plants and is critical to crop yield. As a major component of chlorophyll, nitrogen also keeps plants green. Industrial nitrogen products are used to make plastics, carpets, batteries and more. Key Products - Ammonia, Urea.
Here are three companies that met the criteria we specified above:
1. CF Industries Holdings Inc. (CF)
CF Industries is a global leader in fertilizer manufacturing and distribution, the second largest nitrogen fertilizer producer in the world and the third largest phosphate fertilizer producer among public companies. CF Industries owns and operates world-scale nitrogen and phosphate plants and serves agricultural and industrial customers through its best-in-class distribution system.
CF has consistently grown revenue from $2.8 billion in 2007 to $6 billion in 2011. They have also increased their dividend from $0.08 to $1.60 in the trailing 12 month period and the payout ratio is still a conservative 6%. They also have one of the highest return on equity of the group listed, with a 35% ROE.
For more detailed information, click on CF Industries: Standout High Growth Agricultural Stock.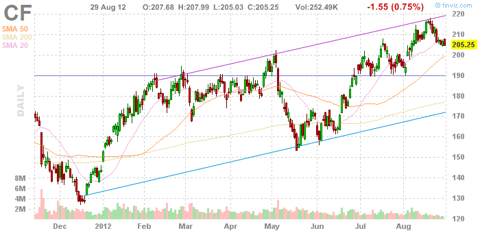 2. CVR Partners LP (UAN)
The CVR Partners nitrogen fertilizer plant is the only such operation in North America that uses a petroleum coke gasification process to make hydrogen, a key ingredient in its manufacturing process.
UAN is a very small operation with revenues of just $325 million and an operating history that only goes back to 2008. They only recently took on debt for the first time and their financials look stable for the time being. They initiated a dividend in 2011 and have increased it from $0.40 to $0.60 in August 2012. It looks like it broke a resistance level in mid-August and has held up well since then. Watch for a volume pick up on any uptick.
For their earnings call transcript, go to CVR Partners' CEO Discusses Q2 2012 Results - Earnings Call Transcript.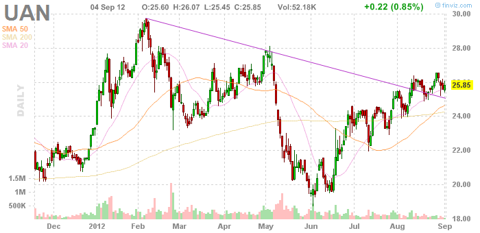 3. Potash Corp./Saskatchewan (POT)
Potash is the world's largest fertilizer company by capacity, producing the three primary crop nutrients - potash, phosphate and nitrogen. As the world's leading potash producer, they are responsible for 20 percent of global capacity, so if you want the biggest company in the group, this is it. With operations and business interests in seven countries, they are truly a global player in the challenge to feed the world.
If you are looking for a global company with a broad range of customers spread out geographically, and access to the emerging markets, POT is the safest play. But that doesn't mean it's not volatile. It is driven by agricultural inflation, macro trends, and sociological and cultural evolution. Revenues hit $8.7 billion in 2011 but they still have not returned to the 2008 levels of $9.5 billion. I still like the stock on a relative valuation but investors may have to be patient. For an option play on POT, check out Potash Corporation Looking Bullish.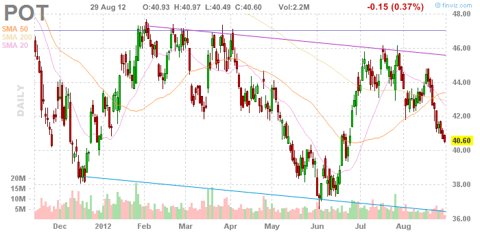 4. Terra Nitrogen Company LP (TNH)
Terra Nitrogen Company, L.P. is a Master Limited Partnership traded on the New York Stock Exchange under the ticker TNH. It is majority owned by CF Industries. But most of Terra's customers are in the central and southern plains regions of the U.S. so investors looking to benefit from the domestic agricultural trends may be better served investing in Terra than in one of the other global competitors listed here.
Key Metrics

Disclosure: I have no positions in any stocks mentioned, and no plans to initiate any positions within the next 72 hours. I wrote this article myself, and it expresses my own opinions. I am not receiving compensation for it (other than from Seeking Alpha). I have no business relationship with any company whose stock is mentioned in this article.