By Steven Orlowski
In a recent report from Dow Jones Newswires, premier Brazilian bank Itaú Unibanco (NYSE:ITUB) stated its belief that the Brazilian economy could turn around its slumping growth over the next two years.
This would be great news for emerging market investors frustrated with the performance of the stocks and ETFs of the Brazilian economy this year.
The bank believes the slow rebound of the Brazilian economy "doesn't reflect structural problems, but rather the effects of the global financial crises and a cool-down after a rapid recovery in 2009."
According to Ilan Goldfajn, chief economist at Itaú and former central bank director, the country will grow 1.9% in 2012, and 4.5% in 2013. Both predictions are above consensus, which stands at 1.7% for 2012, and 4% for 2013. He also see Brazil's investment rate increasing from 19% of GDP in 2012 to 22% of GDP over the coming four years.
Brazil's GDP grew only 0.2% in the first quarter of this year, and then a modest 0.4% in the second quarter. The world's sixth-largest economy expanded 0.5% from a year ago as reported by the country's statistical agency IBGE. The Brazilian economy expanded 0.6% in the first half of 2012 compared with last year and 1.2% over 12 months, reportedly aided both by household and government consumption.
Some analysts expect additional easing by Brazil's central bank, including possibly cutting the benchmark Selic interest rate to 7.25%, and then to 7% by the end of the year. The consensus estimate is 7.25% by December. These historically low rates come after a long held belief that high interest rates were needed to avoid inflation. But the dramatic slowdown of the Brazilian economy starting in 2011 has been the catalyst for rate cuts. Some analysts expect with improved growth the rate could be up to 8.25% by year-end 2013.
Large-cap Brazil oriented ETFs have performed in line with the Brazilian economy. The iShares MSCI Brazil Index ETF (NYSEARCA:EWZ) is down about 8% so far in 2012. This stands in stark contrast to the SPDR S&P 500 Index Fund (NYSEARCA:SPY), which is up about 12% year to date. Despite the slowdown Brazil is growing slightly faster than the U.S. -- yet the American stock index is beating EWZ by nearly 20%.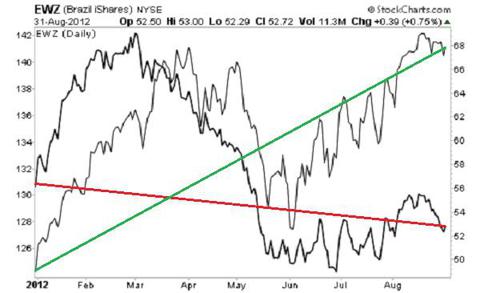 In contrast to EWZ, the Market vectors Small Cap ETF (NYSEARCA:BRF) is up almost 8%. This number also lags SPY but illuminates a more optimistic perspective for the rest of 2012 and 2013. Small-cap stocks generally outperform large-cap stocks during recoveries, so this may be a leading indicator.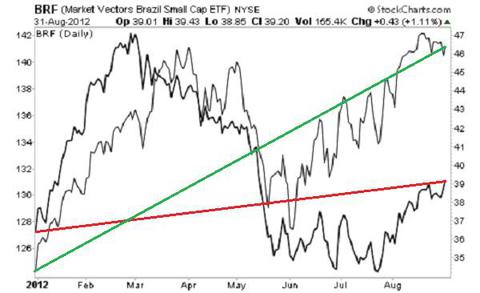 Itaú is the largest private sector bank in Brazil, and has performed in line with larger capitalization stocks and ETFs like EWZ thus far. Year to date the stock is down approximately 15%, clearly reflecting the country's economic slowdown.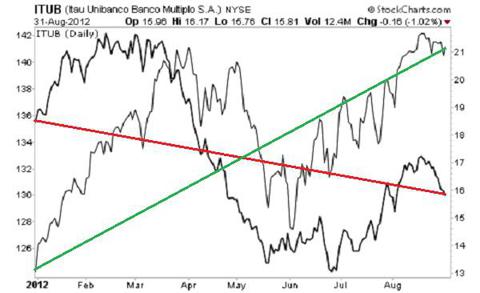 Investors are of course keeping a close eye on developments and policy changes in Brazil. If Itaú's predictions prove to be accurate, stocks like ITUB and ETFs like EWZ may currently be bargains and BRF's out-performance may indeed prove to have been foreshadowing better days ahead.