This is the fifth article in my series of profiling companies recently bought by Berkshire Hathaway (NYSE:BRK.B). In this series I've previously profiled the satellite-TV company DirecTV (NYSE:DTV) and kidney care company DaVita (NYSE:DVA) with its musketeer-dressed CEO. This time I'll focus on a bank whose stock position has tripled in Berkshire's portfolio during the most recent reported quarter.
Bank of New York Mellon (NYSE:BK), BNY Mellon for short, is a 228 year old bank focused on managing and servicing investments. According to the FY2011 annual report, they are a big global player in this field with $27.1 trillion worth of assets under custody or administration and $1.3 trillion under management. They help customers - private and public - to create, trade, hold, manage, distribute and restructure investments. The business model is fee-based with more than three quarters of revenue generated by recurring fees. This leaves them with less credit risk than most of their peers, and helps them generate capital rapidly - $2.8 billion worth of it in 2011. They are planning to use that capital to issue more dividends and share buybacks, with acquisitions being a lower priority for the time being. Let's have a look at where revenue for fiscal year 2011 came from (in millions of dollars, fee-based revenue in shades of brown):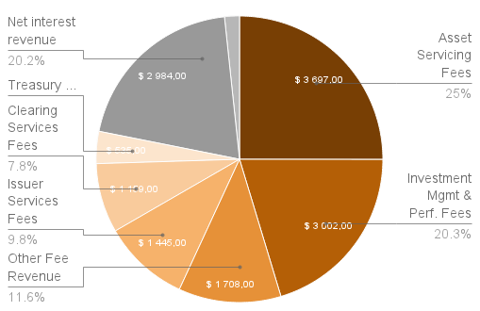 As illustrated, asset servicing, issuing, clearing and investment management and performance fees are the bank's bread and butter. This is especially nice during times of low interest rates and margins, such as those we are living through now. And here's where the revenue came from, geographically: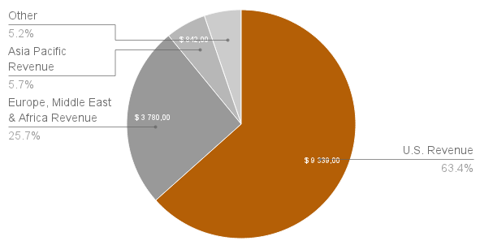 BNY Mellon is still very much a U.S. company, although international is of course an important growth driver and will account for a bigger piece of the pie in the future. The investments industry is an intrinsically global business as capital knows no boundaries. BNY Mellon is in a good position to grow as they have an extremely long history and a relatively clean track record in a field where customers are understandably conscious of reputation.
Let's have a look at how BNY Mellon's revenue and income have developed after the merger of Bank of New York and Mellon Financial in 2007: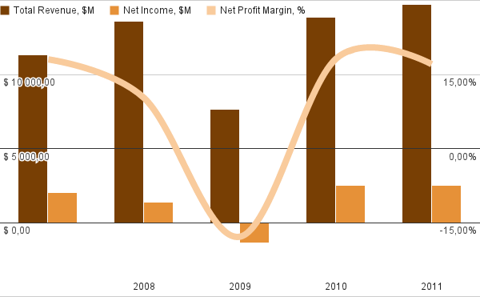 As evidenced, the bank took some beating during the depth of the financial crisis of 2009, but has bounced back very fast after that, with revenue and net profit margin already at pre-recession levels and above. Finally, let's see how BK compares to a traditional bank I previously profiled, one that's also a recent Berkshire pick, Wells Fargo (NYSE:WFC). Here's a comparison of their size and mix of revenue: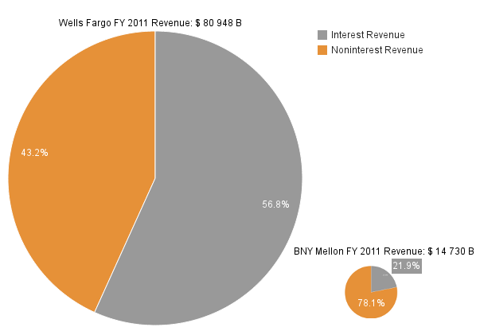 Sure, it's like comparing melons to kiwis. But it goes to show that BNY Mellon still has plenty of room to catch up with the big banks, and that Wells is mostly about loans and interest, whereas BK is all about fees. I like both WFC and BK.
With a trailing 12-month P/E of 12.1 and P/B of 0.8, I would say BK looks pretty attractive right now. They are also buying back shares and paying a dividend with a yield of 2.3% and a payout ratio of 33%. The world of investments is expanding and getting more complicated, paving the way for BNY Mellon to expand its operations. BK is also a good addition to a financials-focused portfolio to reduce interest margin risk.
Disclosure: I am long WFC. I wrote this article myself, and it expresses my own opinions. I am not receiving compensation for it (other than from Seeking Alpha). I have no business relationship with any company whose stock is mentioned in this article.