Last week (the week of July 7th through July 11th) rekindled the enthusiasm that gold and silver bulls have been feeling for the past 6 years. Gold led the parade finishing at $965.30/oz., up $18.90. For the week, gold was up 3.4%, and that was more than had been anticipated.
Silver rose more sharply than gold, and its late morning retreat was shallower, as it wound up closing just off its intraday high at $18.80/oz., up 51 cents. For the week, silver pushed higher by 3%.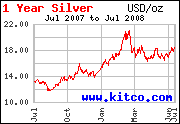 Take a look at the the chart below, compliments of our friends at www.Kitco.com.
If I was the type who lived life by a rear-view-mirror I would look back to August 2007 and ask myself why I didn't back up the truck when silver corrected to $11 for a few fateful days. Well, when silver corrected from above $21/oz.in March 2008 to under $17 this summer, I made up for lost time. The main ways we've invested in silver has been through the ETF (AMEX:SLV), Silver Wheaton (NYSE:SLW), Pan American Silver (Nasdaq:PAAS), Silver Standard Resources (Nasdaq:SSRI) and Hecla Mining (NYSE:HL).
The banner week in the precious metals was quite sensible since the major market movers were all lined up in their favor with oil blasting higher, and the dollar and equities declining in the face of serious questions about the solvency of Fannie Mae (FNM) and Freddie Mac (FRE). Levels of uncertainty are getting intolerably high.
Add in reports that Israeli warplanes have been practicing in Iraqi air space, fueling speculation about a potential strike on Iranian targets, and investors would be expected to flee to the safe havens of gold and silver.
Since the US dollar's reputation has been sullied so badly over the past 7 years it is no wonder that gold and silver have become a "go to" proxy currency for safe-keeping and as a hedge against inflationary pressures.
Are we now into the next leg up for this bull market? Many analysts are beginning to suggest just that. Technically speaking, Ian McAvity recently wrote that gold is showing some "...potentially bullish recent patterns that could kick in pretty quickly if gold probes [through} $950." That's exactly what happened last week.
McAvity goes on to wistfully speculate that, " A dip under $900 [if only that would occur] briefly might be scary, but also could be more bullish if it turns pretty quickly. The Comex Gold 200-day Moving Average is around $877 and rising about a $1 per day." Do you have your good-till-cancelled order for GLD in place if gold breaks below $900 on a delusionally optimistic summer day? I do.
There are other analysts who suggest we have begun an ascent to test the recent all-time highs for gold, reflected on Kitco's charts below.
Look at the move of the price since July 2007. Truly impressive! Since June 2008 gold is again climbing north and appears to be reacting to all the bullish factors. A number of potential gold triggers are itching to be pulled. 
A good example of analysts who believe a new spike upward has commenced is Peter Spina, of Goldforecaster.com. We are told that he recently wrote that, The growing sense of concern over the stability of the financial system is starting to teeter on the edge of a panic.

There remain many, even those within the gold industry, ignorant to the severity of the unfolding financial turmoil. As the education process continues and the significance of situation deepens in severity, the destruction of confidence will translate into greater flow of capital into both gold and silver. Confidence in gold and silver's monetary integrity is backed up by many attributes including history itself.

Mining stocks have particularly been depressed and further short-term downside risks do remain. The valuations of these mining investments continue to diverge from the current metal prices and future prospects."
Sometime in the coming months there will most likely commence the start of a tremendous influx of investment capital into these mining equities. The risk to reward opportunities here are quite incredible.
Spina goes on to say, "I believe that once these metal prices establish new record highs that will be the likely trigger for many institutional and retail funds to pour into these equities."
Perhaps that is why we've seen the big gold producers take off this past week. Barrick Gold (NYSE:ABX), Goldcorp (NYSE:GG) and Newmont Mining (NYSE:NEM) were all up either 5% (over 4% for NEM) just on Friday alone!
On much heavier than normal volume, Yamana Gold (NYSE:AUY) was up Friday by almost 7% and Rangold Resources (Nasdaq:GOLD) soared almost 9% in one session. Something big is going on here for sure.
"Next week gold has the opportunity to build on gains and once again challenge the $1,000 level and potentially higher. Once we break past the prior record levels, I expect the next leg higher to ensue. Is this another false start? Next few weeks will be telling!" Spina concluded.
This reflects my hunches and the results of my own research as well. If gold and silver have a few "dips" in the next 6 weeks, prescient and experienced investors will know how to respond.
Our thanks also to our mentors at Casey Research (www.CaseyResearch.com) for bringing some of this important insight to our attention.
Disclosure: Long SLV, SLW, PAAS, SSRI, HL, ABX, GG, AUY and GOLD.