I have frequently written about high quality dividend growth stocks, most recently about two months ago.  I seem to receive very favorable responses to those articles, but after that one, I was told by one reader than my work was "laughable." He bragged about his gains in the shipping stocks, suggesting that those were the types of stocks that dividend-seeking investors should covet.  He blew his trumpet at what happened to be the peak in those stocks.
To repeat the theme, I believe that over the coming years, with more of us focusing on securing our retirement, there will be demand for companies that can offer above-average dividend yields with the potential to grow them.  Yes, it can be tempting to eschew a miserly 3% dividend in a boring company for a 7% yield.  This strategy, though, is about hitting singles rather than swinging for homeruns and often striking out.  The criteria that I have been using over the past 1 1/2 years to screen for these stocks remains unchanged: 
Dividend Yield in excess of 2% (which is now slightly below that of the S&P 500)
Payout ratio below 67% - makes sure they aren't losing financial flexiblity (safety)
5% growth over the past three years in earnings per share, revenue per share and dividends per share (growth)
Return on Capital in excess of 10% (safety)
Earnings estimates revisions over past 12 weeks no worse than -10% (safety)
PE ratio no more than 50% above 5yr median (safety)
Total Debt to Capital below 35% (safety)
Years of consecutive dividend payments is at least 10 (safety)
So, the goal is to find companies that are growing, not too expensive and not too financially risky.  The stocks that currently meet these paramaters are in the table below: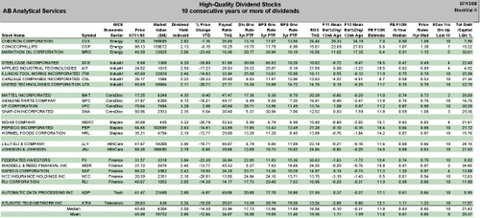 There is a lot to appreciate in this list.  First, note that the stocks come from 8 of the 10 GICS economic sectors and vary across the market cap spectrum - one can use these stocks as part of a diversified portfolio.  Second, many of the stocks have actually increased their dividends in each of the past 10 years. Third, the valuations in general seem very fair, with the typical PE below 12, a bit lower than the broad market and well below their 5-year medians.
The list I published in May had 16 names, 15 of which are still making the cut.  Since that time, the S&P 500 has declined over 13%, while the average and median decline of those 16 stocks was 8.3%.  No, these stocks won't defy gravity, but they are likely to help an investor's portfolio from being decimated.  The trade-off is that I would expect these types of stocks to lag over the short-run in a sharp rally due to their high-quality nature.  The point, though, isn't to measure the results over a short-term but rather to consider that these types of companies might provide superior long-term returns.
I don't have an intimate knowledge of all of these companies, but I would like to point out the newcomers (MRO, SCS, CSL, UTX, MAT, SNA, HRL, RLI and ATNI).  I am familiar with CSL, which is in my focus list.  There was immense excitement (for some folks anyway!), when the highly respected turnaround artist left GGG to assume the role of CEO here. 
The prevailing economic headwinds, though, quickly ended the honeymoon, and the stock has moved significantly lower.  To me, it looks like there may be some technical support at 25.  Margins seem to be at what could prove to be trough levels, and the valuation looks pretty attractive.  I wrote recently about ITW and am glad that I titled the article using the words "PROBABLY works" rather than "WILL work." With that said, this seems to be one of those unexciting but well-run companies that one should expect to be good stewards of capital who are likely to generate postive ableit possibly unexciting relative returns.  I continue to own FII, which is also a component of my TOP 20 Model Portfolio.
As always, this list is a starting point, not a list of buy recommendations.  For those investors looking for conservative growth, many of these companies merit further investigation. Make no mistake - these companies are likely not immune from the general economic conditions that we face.  They should, though, provide less downside exposure than the market in general due to the several "safety" components of the screen.
Disclosure:  Long FII.