At the start of May, 88% of stocks in the S&P 100 Index were above a long-term, 200-day trendline. Near the June lows, that number had fallen to roughly 50%.
In August, the exchange-traded vehicle for the S&P 100 Index (NYSEARCA:OEF) hit new 52-week highs. Yet it did so with less participation from the index constituents at 79%. What's more, on the eve of the European Central Bank's press conference, only 73% of stocks closed above the key moving average.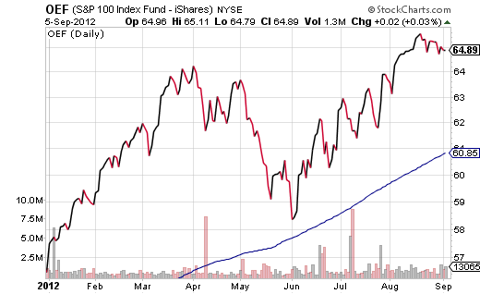 These indications are far more indicative of fizzle than sizzle. Specifically, new highs achieved with fewer companies are rarely viewed as a positive development.
Most prognosticators believe that the ECB and the U.S. Federal Reserve - heck, all of the world's central banks - will find a way to maintain the confidence of the investing public. Yet there's a difference between keeping the confidence and continuously coming up with procedural steps that prevent pandemonium. Sooner or later, panic can creep back in.
Granted, at the moment, waiting for the markets to decline precipitously may be similar to waiting for Godot or Guffman. The big pullback may never show up.
Nevertheless, most of what can go right has already been anticipated. Everyone expects the ECB to eventually buy Spanish and Italian bonds. Everyone expects the Fed to eventually buy more Treasuries and/or more mortgage-backed securities. So the real question is ... what will happen to financial markets if there's a hitch?
Mario Draghi will speak on behalf of the ECB on Thursday (9/6). What if the speaker doesn't have the ECB votes or the German court's blessing to push through a major bond-purchasing program? Will investors still be patient with more talk than action? Meanwhile, the Bureau of Labor Statistics will report payroll data on Friday (9/7). Yet what if the numbers aren't quite weak enough to justify more quantitative easing? Will stock investors sell riskier assets, fearing that Chairman Bernanke could kick the can rather than enact QE3?
While U.S. large cap stock benchmarks could indeed continue to climb the "wall of worry," I am favoring "risk-neutral" ETF assets. For example, traditional real estate investment trusts via Vanguard REIT (NYSEARCA:VNQ) as well as the higher-yielding mortgage variety in iShares FTSE NAREIT Mortgage REIT (BATS:REM) are staples in many of my client portfolios.
I also remain committed to yield-producers that have historically wide spreads with comparable U.S. treasury bonds. The income-oriented assets in Guggenheim Multi-Asset Income (NYSEARCA:CVY) remains attractive, as do the dollar-hedged emerging market bond ETFs - iShares JP Morgan Emerging Market Bond (NYSEARCA:EMB) and PowerShares Emerging Market Sovereign (NYSEARCA:PCY).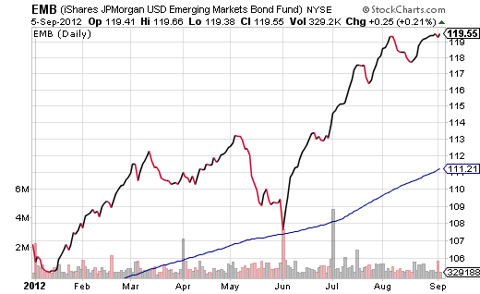 Disclosure: Gary Gordon, MS, CFP is the president of Pacific Park Financial, Inc., a Registered Investment Adviser with the SEC. Gary Gordon, Pacific Park Financial, Inc, and/or its clients may hold positions in the ETFs, mutual funds, and/or any investment asset mentioned above. The commentary does not constitute individualized investment advice. The opinions offered herein are not personalized recommendations to buy, sell or hold securities. At times, issuers of exchange-traded products compensate Pacific Park Financial, Inc. or its subsidiaries for advertising at the ETF Expert web site. ETF Expert content is created independently of any advertising relationships.