Microsoft's (NASDAQ:MSFT) Windows 8 hasn't hit the shelves yet, but skeptics are already declaring it a colossal failure. Success or failure of this iteration of Windows is not what's important. As long as Microsoft gets Windows right over the long haul, shares offer investors considerable valuation upside potential.
Getting a Feel for Microsoft's Upside Potential
At Valuentum we think earnings and free cash flow drive the valuations of stocks, and we use a tried-and-true margin of safety concept to determine which firms are undervalued. We embrace Warren Buffett and Benjamin Graham. Our technical and momentum process is also very simple and straightforward -- we're not reading the stars with our technical/momentum process to find our next great alpha-generator. We love to find stocks that are undervalued and that are just starting to exhibit strong technical and momentum indicators, as these tend to be home runs.
Based on our discounted cash-flow process, we think Microsoft is worth $47 per share, which represents a price-to-earnings (P/E) ratio of about 23.5 times last year's earnings and an implied EV/EBITDA multiple of about 11.3 times last year's EBITDA. Our model reflects a compound annual revenue growth rate of 6% during the next five years, a pace that is lower than the firm's three-year historical compound annual growth rate of 8.1%. Our model reflects a five-year projected average operating margin of 40%, which is above Microsoft's trailing three-year average. Beyond year five, we assume free cash flow will grow at an annual rate of 2.2% for the next 15 years and 3% in perpetuity. For Microsoft, we use a 10.5% weighted average cost of capital to discount future free cash flows. All of these assumptions seem reasonable.
Click to enlarge images.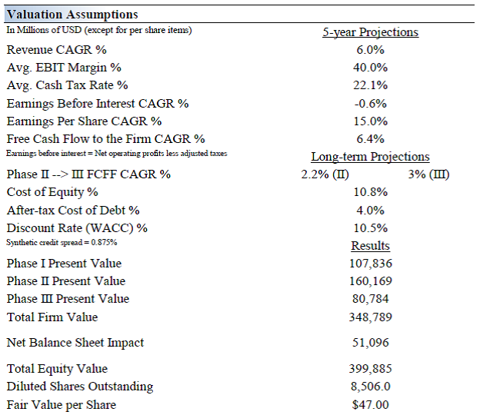 Image Source: Valuentum Securities, Inc.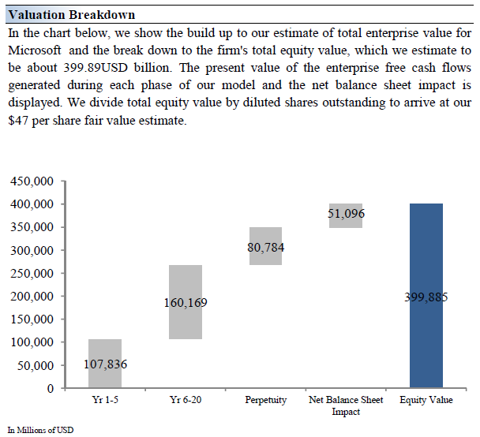 Source: Valuentum Securities, Inc.

Source: Valuentum Securities, Inc.
But How Should Investors Think About Windows 8?
Although nobody knows for sure at this time if Windows 8 will be a success, at the very least a new user interface will drive new interaction with PC products, and this could serve to stimulate demand. We admit there's a chance Windows 8 may be the next Vista, but it could also be the next Windows 95. The jury is still out, and it's simply too early to tell. Still, if Microsoft doesn't get it right with Windows 8, there will always be the next version (think the failure of Vista, the success of Windows 7, and the recent highs in Microsoft's stock). We feel comfortable betting on Microsoft over the long haul, especially with Windows. After all, Microsoft's return on invested capital is excellent, and we expect it to continue to be so.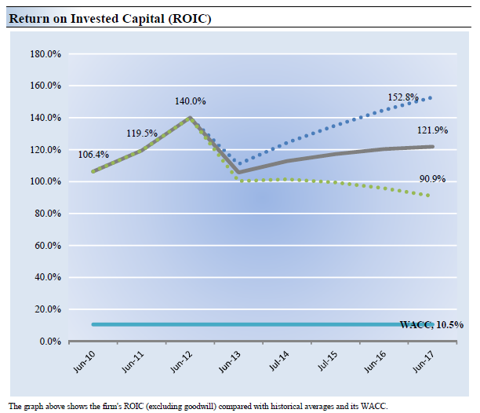 Source: Valuentum Securities, Inc.

Source: Valuentum Securities, Inc.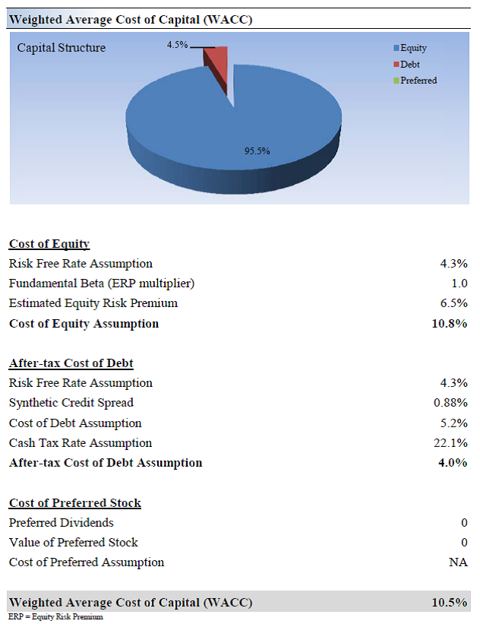 Source: Valuentum Securities, Inc.
But as it relates to potential success of Windows 8, the shift to mobile computing will be the biggest roadblock, in our view. Though mobile computing will never replace the traditional desktop computing experience for some, users' needs can generally be fulfilled via tablets and smartphones. In fact, much of the Internet has been condensed to apps, Facebook (NASDAQ:FB), Twitter, and email, all of which function relatively well on tablets. Because of mobile technology, we think many will continue to delay PC purchases and simply use older laptops and desktops for necessary Microsoft Office Suite functionality. The mobile revolution has likely extended the life cycle of the PC, creating a new (and lower) normal for consumer PC consumption -- but we don't view this demand reset as tragic.
And while we doubt the trend toward mobile computing will negatively impact enterprise demand in the near term, shifts in the workforce could eventually alter enterprise behavior. Perhaps young people who are now "growing up" on Apple's (NASDAQ:AAPL) iPads won't need a physical keyboard in 10 years. Regardless, Windows 7 only recently passed Windows XP in terms of global market share (45.3% vs. 42.76%), so there appears to be a long runway for Windows upgrades -- whether it's Windows 7 or Windows 8 (or the next version) makes little difference. A large-scale Windows 8 adoption, however, would bode well for the PC industry's consumer future, which continues to be challenged as users flocking to Mac computers. In any case, we expect the Windows franchise to have a stronghold on the enterprise market for years to come.
Microsoft scores a 6 on our Valuentum Buying Index (click here to learn about why that's important), and we continue to hold shares in our Dividend Growth portfolio (here's why). Simply put, we're willing to bet on the software giant over the long haul.
Disclosure: I have no positions in any stocks mentioned, and no plans to initiate any positions within the next 72 hours. Some of the firms mentioned in this article may be included in our actively managed portfolios. I wrote this article myself, and it expresses my own opinions. I am not receiving compensation for it (other than from Seeking Alpha). I have no business relationship with any company whose stock is mentioned in this article.