In times of market stress, investors often catch themselves wistfully remembering the "good ole days." That is, between bouts of frantic selling.
I found myself looking backward, too, when a report came over the transom about a new labor contract being forged at Stillwater Mining Co.'s (NYSE: SWC) East Boulder operation.
We'd looked at Stillwater back in December (see "Platinum's Poorer Relation: Palladium"), and again in February (see "Following The Other White Metal") when platinum group metals were on a tear.
Palladium, it turns out, peaked on February 28 at $593.70 an ounce, basis the NYMEX September contract. The September delivery settled at $452 Thursday.
 NYMEX Palladium (September 2008)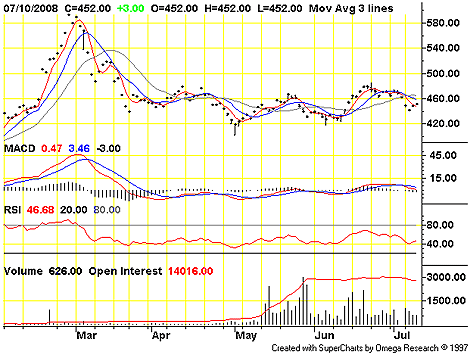 Stillwater's stock took a similar roller coaster ride. Topping out over $22 a share in early March, Stillwater fell below $10 when labor talks stalled.
There'd been no strike at the company's Montana mine, though negotiations between Stillwater and the USW International Union, which represents mine workers, went to the wire. In fact, talks went past the wire. The expiring labor agreement ran out at the end of June, but the two sides agreed to extend talks another couple of weeks.
 Stillwater Mining Co. (SWC)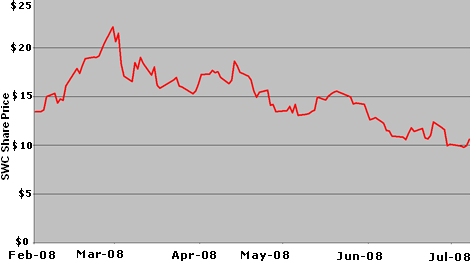 Stillwater's stock wobbled a lot as talks moved into the terminal phase, first swooning, then finding buyers at ten bucks. Stillwater shares ended Thursday's session at $10.61, after a two-day rally that boosted the stock 8%.
Fundamentals for palladium, says analyst Shawn Hackett of Hackett Financial Advisors, are "very bullish." Recession fears, he admits, have kept the metal's price in check, trumping "the positive implications for a massive shift in substitution demand for catalytic converters and jewelry," says Hackett.
Declines in Russian production and the drawdown in stockpiles should also shape up as bullish factors. Hackett's looking at a target over $800 an ounce by next summer if Russian supplies hold out and stretch to $1,000 an ounce if stocks are completely depleted.
Gee. That'll make these the good ole days.