Since the beginning of June, the Shanghai Composite has dramatically underperformed the S&P 500. The divergence in performance is quite striking. Over the past three months (through Aug. 31), the Shanghai Composite was down 13.7%, while the S&P 500 was up 7.3%.
The Shanghai Composite's underperformance extends beyond the U.S. market. It has underperformed markets throughout Asia, including Singapore, Thailand, the Philippines, Korea, India, Australia and, to a lesser extent, Japan and Taiwan.
The chart below shows the recent performance of the Shanghai Composite plotted against the S&P 500, along with two technical indicators: relative strength (above) and MACD (below). The bottom two panels show the relative performance of the Hang Seng and Taiwan Weighted Indexes vs. the Shanghai Composite. The chart is provided courtesy of Stockcharts.com.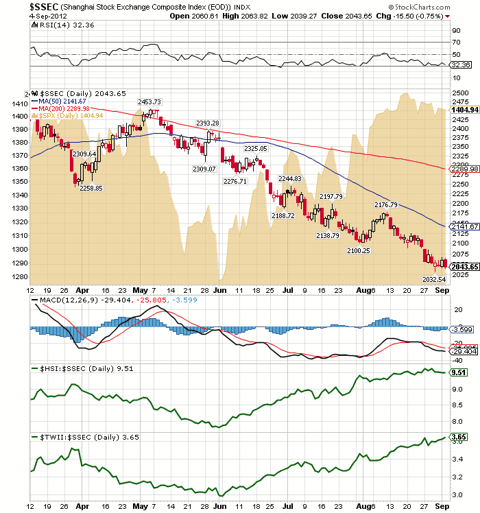 Some of the Chinese market's weakness is due both to country specific factors, most notably the downturn in its real estate market, and also to the slowdown in global economic growth, which has left it saddled with high inventories of export-oriented goods.
Up until recently, the financial markets have been anticipating a soft landing in China. With the Shanghai Composite's fall and the drop in the key economic indicators, such as the Purchasing Managers Index, there is a growing fear of a hard landing.
Earlier this year, Premier Wen Jiabao announced a 7.5% GDP growth target, down from just over 9% in 2011. Now, that target looks optimistic. Another downward revision to expected GDP growth will probably push Chinese stocks lower.
At current levels, the Chinese market has a P/E multiple of 6.8, according to the Financial Times. That's down from 7.8 at the beginning of the year and from 8.4 one year ago. Of the 54 international markets tracked by the FT, only Russia and Venezuela have lower P/E values.
China undoubtedly looks cheap; but does the low price and weak relatively performance make China the golden goose that will eventually bring great riches? Or is China the canary in the coal mine, exhibiting weakness that will spread eventually to the rest of the world?
At this time, the stronger relative performance of the other Asian tigers and indeed in most markets around the world suggests that China's stock market weakness is a reflection of its own internal problems. Even so, five years ago, such a decoupling of China from the global market would have seemed unthinkable: For more than a decade, China has been an engine of global growth. Trouble there would have reverberated around the world.
So it is curious, then, that the U.S. and Chinese stock markets have so plainly diverged. On the one hand, the relative dynamics of the two economies are obviously different. The U.S. has been pumping money into its economy and driving interest rates lower in an effort to boost growth. China, meanwhile, had raised interest rates sharply in an effort to cool an overheating real estate market and tamp down inflation. It appears to have succeeded a bit too well and so it has reversed course, cutting rates and loosening reserve requirements to avoid any further slowing in the economic growth.
China is still very dependent upon exports to keep its economy humming. Yet, it has also taken steps to bolster domestic consumption to reduce its dependence on exports. Citing Chinese government figures, the WSJ recently reported that wages for urban households were up 13% in the first half of 2012, and monthly wages for migrant workers were up 14.9%.
This increase in wages is meant to boost domestic demand, but it has also raised the cost of producing low value-added products considerably. As a result, some manufacturers have already shifted production to lower cost countries, like Vietnam and Bangladesh.
At the same time, however, China has also embarked on an effort to upgrade the value-added content of its manufactured goods. It is striving to make products whose manufacturing processes are more complex, where labor is more skilled and expensive. This should serve to insulate the country better against the vagaries of the business cycle and also facilitate the growth of the middle class, which will boost domestic demand and reduce the country's dependence upon export markets. China still has a labor cost advantage, especially against developed economies. Over time, China undoubtedly will seek to become as innovative in product design and manufacturing as the world's most technologically-sophisticated countries like Germany, Japan and the U.S.
This appears to be a sound long-term strategy. For now, though, the current slowdown in export demand is having a significant impact on economic growth. Some China watchers are predicting 2012 GDP growth of only 5%, well below the government's target.
The slowdown in China is also hurting industrial commodity markets. Prices for aluminum, coal and iron ore have plumbed new lows recently, even as oil and the agricultural complex have bounced back.
China will eventually bounce back. If global economic growth rebounds, China's factories will be humming once again. This would help put a floor under China's expected GDP growth rate. If the global growth picture worsens, China may have to take additional measures to boost the economy. There have been rumors and even some statements by local officials that the government will undertake additional stimulus measures to boost the economy, but so far little has materialized. By most accounts, China's aggregate debt level is still modest, so it should have the capacity for more stimulus, should it choose to do so.
This year's decline in the Shanghai Composite should be viewed from a broader perspective. It extends losses from the most recent peak of 3478.01 in mid-2009. Although the Index rallied sharply from a low of 998.23 in mid-2005 to a peak of 6124.04 in late 2007, that surge and subsequent collapse was a departure from a more gradual long-term pattern of advances and declines. At the Aug. 31 level of 2047.52, the Shanghai Composite is down 9.6% from a previous peak of 2245.42 in mid-2001. Thus, investors in the Shanghai market have on average a negative return over the past 11 years.
This is quite surprising, considering that China's GDP growth rates averaged more than 10% annually until 2005 and about 7% annually on average since then. Clearly, the economy is more developed and the country has created national champions, including Lenovo, ZTE and Huawei, that will fuel its next phase of growth.
From a technical perspective, the Shanghai market is clearly oversold and due eventually for at least a snapback rally; but the steady decline in May puts potential investors in the position of "catching a falling knife." Typically, after such an extended decline, there should be a period of consolidation at the trough before it is safe to buy. Since it is often difficult to pick a bottom, however, it may be prudent to begin building a position gradually.
Templeton Dragon Fund (NYSE:TDF)
One way that I am monitoring the performance of the Chinese market is through a closed-end fund: the Templeton Dragon Fund . This fund was one of the original flagships of Templeton's emerging markets business. Legendary investor Mark Mobius has been at the helm of the fund since 1994. Portfolio manager Eddie Chow has been on board since 2006. Mr. Mobius is now 76 and it is not clear how much longer he plans to keep working. Still, since he also runs all of Templeton's emerging markets business, I suspect the Mr. Chow has been doing most of the heavy lifting on TDF for some time now.
The fund's goal is to seek long-term capital appreciation by investing at least 45% of its total assets in the equity securities of "China companies." These are defined, according to the Closed-End Fund Association, as companies whose primary business [is] conducted in or whose main offices are in China. This may also include companies whose business is expected to improve from development in China. It may also include other Asian firms.
(TDF's periodic financial reports say that the term "China companies" is defined in the fund's prospectus, which is very difficult to obtain. This is a concern, but the problem is not unique to TDF or even to the Franklin-Templeton closed-end funds. Most closed-end fund companies do not make the prospectuses for their closed-end funds available on their websites, probably because the prospectuses were issued only at the funds' IPO and are rarely, if ever, updated. In the case of TDF, I called both Templeton and BNY-Mellon, the custodian of the fund, and have so far been unable to obtain a copy.
Despite this problem, I prefer closed-end funds to both ETFs and open-end mutual funds, because their financial reporting is typically more complete. Shareholders of closed-end funds get a full set of financial statements with footnotes at least twice a year. The periodic reports also include manager commentaries on the fund's performance that are usually more descriptive and insightful.
On the other side of the ledger, closed-end funds are typically smaller and therefore are less liquid than many ETFs or open-end mutual funds. Many of them are also leveraged, which raises risk. Still, all other things being equal, I would prefer to invest in a closed-end fund.)
The Templeton Dragon Fund was founded in 1994. It is one of the largest closed-end funds covering the Chinese/Asian market, with net assets in excess of $1 billion. The fund employs no leverage to enhance its returns. Expenses were 1.33% of net assets in the first six months of 2012 and averaged 1.47% annually from 2007 to 2011. Portfolio turnover was 1.54% in the six months period and 2.07% in 2011, both of which are quite low and below the 2007-2011 average of 8.92%.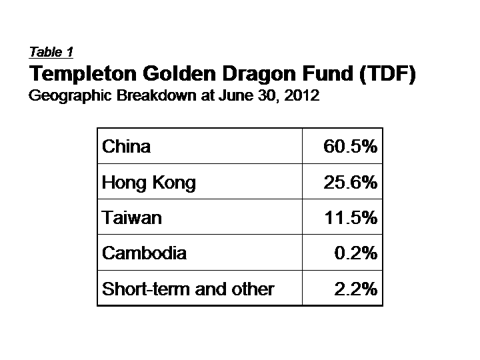 At yesterday's closing price of $25.21, TDF is selling at a 12.0% discount to its net asset value of $28.65. This is well below its 10-year average discount of 9.4%.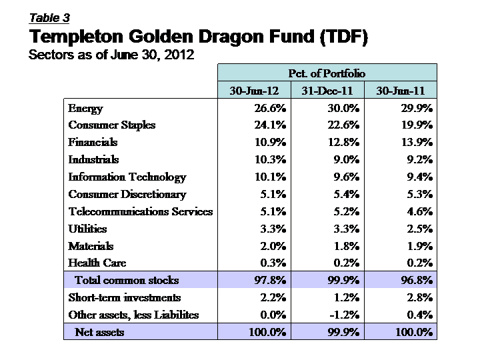 At June 30, 2012, TDF sector weightings were more concentrated than the typical investment fund. It had 26.6% of its net assets in Oil & Gas companies, mostly SinoPec, CNOOC and PetroChina. The next largest sector at 24.1% was consumer staples, which included its largest position, an investment in Dairy Farm International Holdings, a food and staples retailer, which accounted for 18.7% of the fund's assets.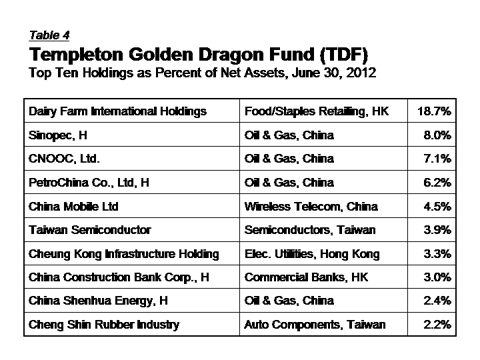 The Fund's investment strategy anticipates the shift toward a more domestic-oriented economy, but it has clearly made some big bets, most notably on Dairy Farm International and its portfolio is more concentrated than most, with the top ten holdings accounting for 59.3% of net assets. This is typical of the fund manager's approach, which emphasizes fundamental bottoms-up analysis that seeks stocks with long-term earnings appreciation potential.
In the most recent semi-annual period (ended June 30, 2012), TDF's shares earned 3.34% on net assets and 4.13% on market value. By comparison, its benchmark, the MSCI Golden Dragon Index, which tracks stock market performance in China, Taiwan and Hong Kong, posted a 4.83% total return in U.S. dollars.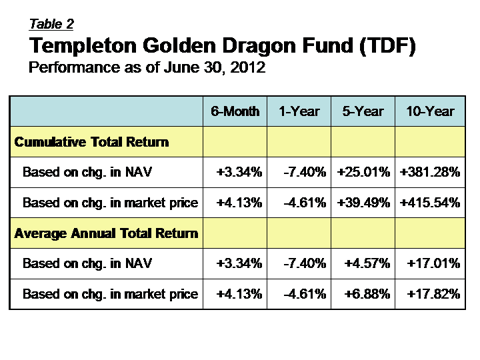 In 2011, TDF posted a 7.4% loss on NAV and a 4.61% loss on market value, better than the MSCI Golden Dragon Index's 18.36% decline in U.S. dollar terms.
The Templeton Dragon Fund is certainly not the only way to invest in China and a potential turnaround in its stock market, but it does represent an opportunity to invest through an experienced management team that has navigated through the recent downturn reasonably well so far. At this point, I would approach TDF or any other investment in China cautiously, waiting to commit a full allocation when there are more signs of stabilization. If the global economy continues to weaken or stock markets in developed regions like the U.S. and EU resume their fall, China's market will likely plumb new lows. On the other hand, the Chinese stock market clearly looks cheap now and it appears to be in a better position to address its near-term challenges and maintain a superior long-term growth rate than many of its developed and emerging markets peers.
Disclosure: I have no positions in any stocks mentioned, and no plans to initiate any positions within the next 72 hours. I wrote this article myself, and it expresses my own opinions. I am not receiving compensation for it (other than from Seeking Alpha). I have no business relationship with any company whose stock is mentioned in this article.