Wisconsin Energy (NYSE:WEC) is a strong, steady dividend paying utility. It is a stock that is comforting to own during the especially worrisome economic environment of today. Customers numbers and revenues are unlikely to fall much even in a severe downturn. WEC generates electricity, and it distributes both electricity and gas to approximately 1.12 million electric customers in Wisconsin and Michigan and 1.07 million gas customers in Wisconsin (as of December 31, 2011). These states get hot and humid in the summer, and they get extremely cold in the winter. Not many people will skimp on the energy needed to cool and heat their homes in these states. WEC has a truly captive audience, and that is what an investor wants. WEC also invests in commercial real estate in southeastern Wisconsin.
WEC pays a 3.13% dividend. It plans to grow the dividend to a 60% payout ratio target by 2014. To help this along the WEC board recently approved a $300 million stock share repurchase plan to be completed by the end of 2013. WEC expects the above policies to lead to double digit growth in the dividend in both 2013 and 2014. This should bring WEC's payout ratio closer to peers such as Duke Energy (NYSE:DUK), Consolidated Edison (NYSE:ED), Southern Company, (NYSE:SO), and American Electric Power Co. (NYSE:AEP). WEC did raise its dividend 15.4% in January to $0.30 per share quarterly or $1.20 annually.
On the growth front, WEC has two major projects underway. The 50 megawatt biomass plant in northern Wisconsin and the air quality upgrade at the original Oak Creek units. The biomass plant is set for completion on or below budget by the end of 2013. Construction was 39% complete at the end of July 2012. WEC is nearing completion on the air quality upgrades. Some of the units have already gone into production, and the other units are expected to go into production soon. WEC also announced plans to convert the fuel source for the Valley Power Plant from coal to natural gas on August 17, 2012. This is expected to reduce emissions and costs. If approval is received, WEC plans to complete the work by 2015 to 2016.
WEC also signed an agreement July 27, 2012 to purchase the Montfort Wind Energy Center (a 30 megawatt wind farm located in Ohio County, Wisconsin) from NextEra Energy Resources. Since WEC had already been contracting for all of the power being generated at this wind farm, the purchase will not add to WEC's electricity generating capability. However, it will eventually make that wind energy cheaper for WEC's customers. It will ensure that WEC will retain that "green" generating capacity. Most other projects over the next few years are equipment upgrade actions needed for equipment that is sometimes 50+ years old. WEC is looking for other projects though. WEC expects to get reimbursed for all of these projects through at least temporary rate increases.
WEC did get a Michigan rate case approval recently for a base rate increase of $9.2 million effective on June 27, 2012. It approves a return on equity of 10.1%. The rate increase allows for the cost recovery of the air quality project at Oak Creek, the Glacier Hills Wind Park, and the Oak Creek Expansion costs.
For Q2 2012 WEC had EPS of $0.51. This was up 24.4% year over year from $0.41. It was driven by warmer summer temperatures, lower operation and maintenance costs, and the old $320 million share repurchase program. Revenue in Q2 was $944.7 million. This was down 4.7% from $991.7 million in the year ago quarter. Residential sales were up 8.3% year over year. Sales to small commercial and industrial customers were up 5%. However, sales to large commercial and industrial customers were down 3.7%. The likely explanation is that big businesses are spending money to become more energy efficient. There is probably a finite limit to how energy efficient they can get. This is probably not a long term problem for WEC.
All told the picture for WEC looks good. You can feel safe buying WEC. The two year chart of WEC provides some technical direction to the trade.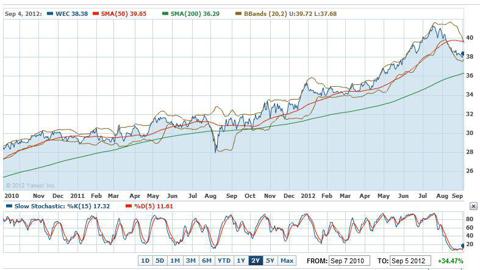 The slow stochastic sub chart shows that WEC is oversold. The main chart shows that WEC is in a strong uptrend. However, it has recently cycled below its 50-day SMA. This is normally a good time to buy WEC. If the uptrend weakens much more though, then WEC should be avoided near term. For now you probably want to start averaging in. The fundamentals and the technicals indicate that WEC is a strong stock that should continue to rise. It is trading at a P/E of 16.70 and an FPE of 15.98. This is reasonable for a steady, good dividend paying utility. When you add the steady average analysts' five year EPS growth estimate per annum of 6.05%, you are further reassured. This is good growth for a mature, regulated utility. In sum now is an opportune time to at least start to average in.
Note: Some of the fundamental financial data is from Yahoo Finance.
Good Luck Trading.
Disclosure: I have no positions in any stocks mentioned, but may initiate a long position in WEC over the next 72 hours. I wrote this article myself, and it expresses my own opinions. I am not receiving compensation for it (other than from Seeking Alpha). I have no business relationship with any company whose stock is mentioned in this article.