The U.S. national debt has now surpassed $16 trillion. This equates to over $50,000 of debt per citizen. Take a look at the U.S. debt clock to watch the figures grow. The more this debt grows, the greater the risk of future inflation. The price of gold has risen significantly since the national surplus turned to national debt over a decade ago. More and more dollars are being pumped into the monetary system which is devaluing the dollar. Gold tends to rise as the value of the dollar falls.
We have not yet seen the implications of high inflation. The sluggish economy has kept overall inflation in check. However, high prices are hitting us where it hurts - as in high fuel prices. With the price of gasoline uncomfortably close to $4 per gallon, consumers and businesses are being squeezed. Once the economy increases to a stronger pace in the form of greater than 3% GDP growth, overall inflation will pick up. When the prices of most goods rise significantly, the price of gold should really accelerate. It may take a few years to get the GDP to expansion levels, so now is the time to own gold to hedge this inflation risk.
There are a variety of ways to play gold. Owning the physical commodity is one option. Gold ETFs that hold physical gold bullion are another great option. SPDR Gold Shares (NYSEARCA:GLD) is one of these ETFs. Another great gold ETF is iShares Gold Trust (NYSEARCA:IAU). IAU is the less expensive version of GLD. The price of GLD is about $164, while IAU is trading at only $16. Both ETFs own 100% physical gold bullion. Therefore, you might as well can get more shares for your money with IAU. Also IAU has an expense ratio of only 0.25% as compared to GLD's expense ratio of 0.40%. So, GLD is more expensive on two fronts.
The gold miners are another way to gain exposure to gold. Most mining stocks have been lagging the price of the physical commodity and are highly undervalued. Just look at Barrick Gold Corporation (NYSE:ABX). The company has a forward P/E ratio of 7.79, a super low PEG of just 0.11, and a price to book ratio of 1.55. ABX has a profit margin of 27% and is expected to grow earnings annually at 81% for the next five years.
If you prefer to have a more diversified exposure to the gold miners, consider the gold mining ETFs. The Market Vectors Gold Miners ETF (NYSEARCA:GDX) and the Market Vectors Junior Gold Miners ETF (NYSEARCA:GDXJ) give you diverse gold mining exposure. GDX owns the large-cap gold miners, where Barrick Gold is its largest holding. GDXJ holds a basket of small and mid-cap gold mining companies. GDX has an expense ratio of 0.52%, while GDXJ has an expense ratio of 0.54%.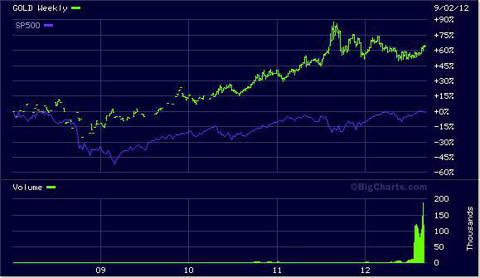 With the national debt continuing to grow, there is also the risk of the U.S. defaulting on its debt. Although that is a worst-case scenario, the risk is there. Owning gold can be considered a hedge against this risk. Gold has outperformed the S&P 500 over the last decade and nothing fundamentally has changed to reverse this trend.
Disclosure: I have no positions in any stocks mentioned, and no plans to initiate any positions within the next 72 hours. I wrote this article myself, and it expresses my own opinions. I am not receiving compensation for it (other than from Seeking Alpha). I have no business relationship with any company whose stock is mentioned in this article.