We have been long attracted to Accenture plc (NYSE:ACN) because it is an industry-leading, best-of-breed professional services firm. We remember the old Accenture Tiger Woods advertising campaign and it spelled out its three key services: Consulting, Technology and Outsourcing at the end of the commercial. We like that Accenture has built itself into a worldwide leader in outsourcing services and IT consulting solutions, and because the company stock price is nearly 10% off its all-time high, we believe that Accenture is an undervalued industry leader, as well as a best-of-breed firm.
We also believe that Accenture is a better investment opportunity than Hewlett-Packard Co. (NYSE:HPQ), Dell Inc. (DELL), and Xerox Corporation (NYSE:XRX). We are aware that these three companies have a long heritage in IT and business office equipment hardware. We are also aware that these companies have made blockbuster acquisitions of IT Services and Solutions companies, albeit of a more routine Business Process Outsourcing manner. We had actually considered adding Xerox to our portfolio, but we were unimpressed with its performance since it acquired Affiliated Computer Services in 2010. In this comparison, we are comparing Accenture against the applicable software and services divisions of HPQ, DELL and XRX.
Comparison of Accenture with Peer Sample
Accenture generates all of its revenue from its consulting, technology and outsourcing services and solutions. However, we noticed that HPQ, DELL and XRX have each generated a significant portion of revenue from services due to acquisitions of BPO companies. HPQ acquired Electronic Data Services (which was founded by Ross Perot in 1962) in 2008; Dell acquired Perot Systems (which Ross Perot founded in 1988 after leaving GM) in 2009, and Xerox acquired ACS (which was founded in 1988 by Perot acolyte Darwin Deason) in 2010. We see that Xerox generates 51% of its revenue from BPO Services in the most recent quarter, while HPQ gets 32% from software and services and Dell gets 21% from software and services.
Click to enlarge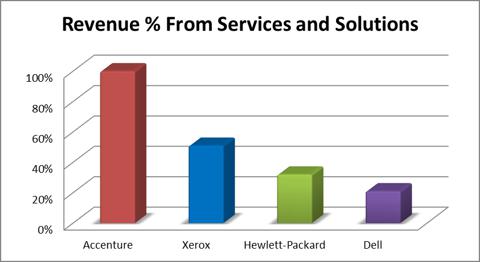 Sources: Most Recent Quarterly Earnings Releases for Accenture, Xerox, H-P and Dell
We also find that Accenture has a higher operating margin that the three companies we are comparing it to because Accenture has a Management Consulting and IT Consulting practice in addition to its IT/BPO Outsourcing services. These services enable it to enjoy a higher operating margin in comparison with the three peer competitors because these companies are primarily involved in low-margin BPO services.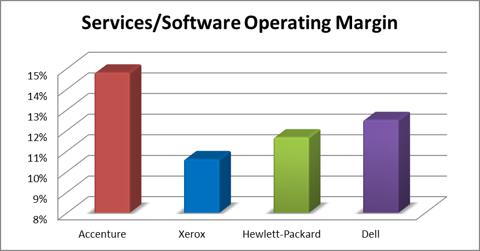 Sources: Most Recent Quarterly Earnings Releases for Accenture, Xerox, H-P and Dell
Towards the end of August, our firm released our report in which we identified Accenture's strong and diversified business model. We were impressed with its revenue diversity by division, by geographic segment and by client group, plus this diversity enabled the firm to generate strong revenue growth without resorting to blockbuster acquisitions. This compares favorably to Xerox, H-P and Dell, as these companies got into the IT software and services segment through blockbuster acquisitions and these companies have had mixed results from the services business. In its most recent quarter, Accenture generated 6% revenue growth year-over-year in US Dollar terms and 9% in currency equivalent terms. This is stronger than the 5% growth from Xerox ACS (7% currency adjusted). Both Accenture and Xerox ACS outperformed Dell (1% revenue growth in USD) and HP Services (-1.27%).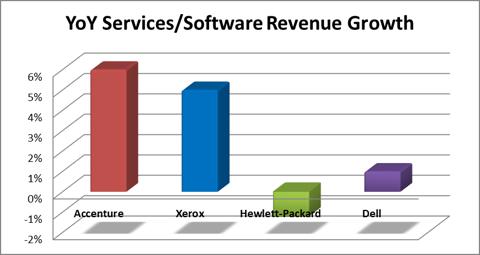 Sources: Most Recent Quarterly Earnings Releases for Accenture, Xerox, H-P and Dell
Accenture's Corporate Asset Management
Dividends: We love companies that generate strong free cash flows and that's one reason why we like Accenture. Accenture initiated its dividend in October 2005, with an annual dividend of $.30 per share. In April 2010, it switched its dividend payment to a semi-annual payment structure and its dividend growth has not skipped a beat. Accenture's annualized dividend has increased from $.30 in FY2006 to $1.35 in FY 2012.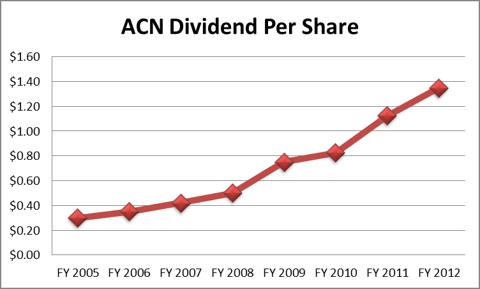 Source: Accenture's Investor Toolkit Website
Share Repurchases: Since its 2001 IPO, Accenture has been a buyback champion. The company has bought back nearly $14B in shares during this time period based on $20.3B in gross share repurchases and $6.5B in stock issuance for employee compensation programs. Since 2004, Accenture has seen its diluted shares outstanding decline by 27% from 2004 to 2012.
Liquidity Position: Because Accenture is a professional services business that relies on strong human intelligence resources, it is not a capital-intensive business that requires the company to significantly reinvest its cash flows in order to maintain its operations. We can see it in its balance sheet even though ACN's shareholders' equity only accounts for 26.4% of its assets. We see that although the company has $11.43B in liabilities, over 95% of these liabilities are non-interest bearing sources of business-operations working capital. The company only has three sources of financial capital liabilities that have an explicit or implicit cost of capital and those sources are as follows:
$49K in Long-Term Debt
$5.381M in Short-Term Debt
$482.1M in Minority Interests Payable
This is more than offset by $5.65B in cash and marketable investments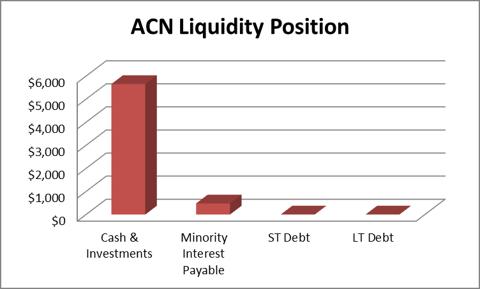 Source: Accenture's Q2 2012 10-Q
In conclusion, Accenture is an undervalued, industry-leading, best-of-breed blue chip professional services firm. Despite facing global macroeconomic challenges, we see Accenture continuing to put up solid financial and operating performance. We see that it is a much stronger company than three notable IT/BPO Services companies that have been acquired by large hardware companies (XRX, HPQ and DELL). We love asset-light firms that have strong liquidity and free cash flow generation and we can see that Accenture gives us a light to like. We believe that investors should take advantage of market weakness to enter into or add to their position in Accenture. In our next report, we will be comparing it against IBM and other consulting firms.
Disclosure: I have no positions in any stocks mentioned, and no plans to initiate any positions within the next 72 hours. I wrote this article myself, and it expresses my own opinions. I am not receiving compensation for it (other than from Seeking Alpha). I have no business relationship with any company whose stock is mentioned in this article.
Additional disclosure: This article was written by an analyst at Saibus Research. Saibus Research has not received compensation directly or indirectly for expressing the recommendation in this article. We have no business relationship with any company whose stock is mentioned in this article. Under no circumstances must this report be considered an offer to buy, sell, subscribe for or trade securities or other instruments.