Tax rebates appear to be helping Americans pay down their credit card debt, according to a new report from Standard & Poor's.
The rate at which obligors pay down their outstanding balances and determines how quickly investors are paid out under adverse conditions, improved 100 bps to 19.7% in May, a four-month high since January 2008, S&P said.
Tax rebate checks may have aided the improvement, along with more collection days in May compared with April.
More than 80% of the credit-card trusts tracked by S&P reported higher payment rates in May, and more than 40% of the trusts recorded payment rates exceeding 20%.
Delinquencies in the 30- and 60-plus-day categories were down 10 bps to 4.3% and 3.1%, respectively, while 90-plus-day delinquencies were unchanged at 2.2%.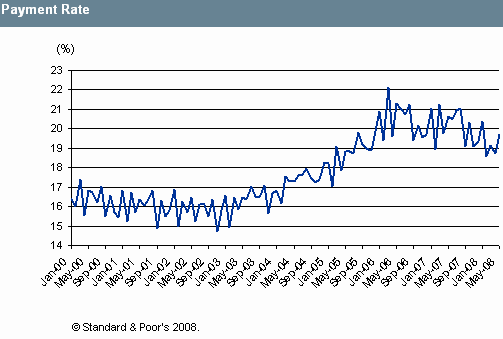 S&P said the payment rate had been relatively flat starting in 2006 until the last quarter of 2007, when it started to trend downward slightly. "The decline may reflect the impact of a weaker economy and the lack of alternative funding sources that helped borrowers pay down credit card debt in past years. The payment rate averaged 19.3% for the first five months of 2008, which was 90 bps lower than the full-year 2007 average of 20.2%. Nonetheless, the payment rate has increased nearly 20% since 2003 and is almost 10% higher than the average since 2000 (17.7%). "
We expect the payment rate to remain strong unless there are significant changes in consumers' card use patterns or the minimum payment rate policy.