In January 1955 Missouri Pacific Railroad issued Corp. bonds due in 2045. Missouri Pacific was purchased by Union Pacific Corp. (NYSE:UNP) in 1980. However outstanding Missouri Pacific debt prolonged the merger until 1997.
Omaha, Neb., December 10, 2007 - Union Pacific Corporation announced today ...its intention to voluntarily withdraw the listing and registration of certain debt securities originally issued by Missouri Pacific Railroad Company and assumed by Union Pacific Railroad as of January 1, 1997 in connection with a merger transaction. Upon completion of the delisting and deregistration, the following securities will be eligible for trading on NYSE Bonds, an automated trading platform for debt securities, as "Traded" securities...

Missouri Pacific Railroad Company 5% Income Debentures due 2045 (NYSE: UNP/45)

Union Pacific Corporation and Union Pacific Railroad decided to voluntarily withdraw the listing and registration of these securities to eliminate the cost and administrative burden associated with making duplicative filings with the Securities and Exchange Commission.
| | | | | |
| --- | --- | --- | --- | --- |
| | Issued / Maturity | Credit Rating | Price | Yield |
| Missouri PAC Rr Co Income Deb 2045, Annual Coupon, Cont Call 10/09/12@Par (cusip: 606198LH0) callable | 01/01/1955 / 01/01/2045 | Baa2 | $87 | 5.90% |
| Burlington Northn Santa Fe Cp Deb 4.4% 42, Cont Call 09/15/41 (cusip: 12189LAJ0) callable | 02/28/2012 / 03/15/2042 | A3 | $105.53 | 4.07% |
Long-Term Railroad Bonds
Railroads frequently issue long-term bonds. Canadian Pacific Railway Ltd. (NYSE:CP) paid a 4% coupon on Toronto Grey and Bruce Railway 1,000 year bonds issued in 1883 (due in the year 2883,) and Canadian Pacific "perpetuals" issued in 1889.
Moody's upgraded Union Pacific's Senior Unsecured debt to Baa2 in October 2003. Since then some of Union Pacific's new notes have been rated higher, however the Missouri Pacific bonds maintain a Baa2 rating.
OMAHA, Neb., March 19, 2012 PRNewswire Union Pacific Railroad Company announced today that it has determined the contingent interest and sinking fund payments due in respect of Available Net Income for 2011 under the terms of certain bonds and debentures originally issued by the Missouri Pacific Railroad Company (MPRR)... Union Pacific Railroad Company will make contingent interest payments ($5.00 per $100 principal amount) for the Missouri Pacific Railroad Company 5% Income Debentures Due 2045.
Union Pacific's 2011 10-K shows average annual net income of $2.4B in the past five years.
| | | | | |
| --- | --- | --- | --- | --- |
| 2011 | 2010 | 2009 | 2008 | 2007 |
| $3.29B | $2.78B | $1.89B | $2.33B | $1.84B |
The 10-K also states:
As a result of the merger of Missouri Pacific Railroad Company (MPRR) with and into UPRR on January 1, 1997, and pursuant to the underlying indentures for the MPRR mortgage bonds, UPRR must maintain the same value of assets after the merger in order to comply with the security requirements of the mortgage bonds. As of the merger date, the value of the MPRR assets that secured the mortgage bonds was approximately $6.0 billion. In accordance with the terms of the indentures, this collateral value must be maintained during the entire term of the mortgage bonds irrespective of the outstanding balance of such bonds.
Another very important fact raised in the 10-K is Union Pacific's significant debt:
At December 31, 2011, the fair value of total debt was $10.5 billion, approximately $1.6 billion more than the carrying value. At December 31, 2010, the fair value of total debt was $10.4 billion, approximately $1.2 billion more than the carrying value. At December 31, 2011 and 2010, approximately $303 million of fixed-rate debt securities contained call provisions that allow us to retire the debt instruments prior to final maturity, with the payment of fixed call premiums, or in certain cases, at par.
Long-Term Bond Criticism
In his article Disney Amazes Investors With Sale of 100-Year Bonds, Thomas T. Vogel quotes PIMCO's Bill Gross, "'People are chasing higher yields... 'From a buyer standpoint, it doesn't make any sense'... 'from an issuer standpoint,' it does make sense to lock in a low yield for a century.
The Disney (NYSE:DIS) century bonds are callable and have a 7.5% coupon. Mr. Vogel points out this was "0.95 percentage point above 30-year U.S. Treasury bonds," in 1993. Currently the Disney bonds yield less and are callable.
Interestingly the Missouri Pacific bonds currently yield more. Mr. Vogel concludes:
... the longer the maturity, the more susceptible a fixed-income bond is to the ravages of inflation. Take a 90-year bond issued by the Atchinson Topeka & Santa Fe Railway in 1908. That bond carries a coupon of 4%, just barely above inflation now, but far below inflation for much of the past two decades. The bonds still exist, but investors aren't eager to own them.
Currently a 4% yield is something investors are considering. The iShares Barclays 20+ Year Treasury Bond ETF shows that prices are through the roof.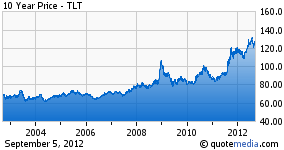 Consider Use of Fixed Income
Now may not be the time to invest in Corp. bonds or treasuries; they have sky rocketed. Eventually when rates go up the prices will go down. However two important strategic considerations are:
Allocation (total ultra long-term not to exceed 1% of a portfolio.)
Balancing the spectrum of investment grades (with near-term and intermediate-term bonds. Consider between 10%-15% allocation.)
Use interest to raise overall yield by diversifying into income funds.
Though the Missouri Pacific bonds are 33 years from maturity, investors may still treat them as ultra long-term. Keep in mind any security can succeed or fail and this is not a recommendation to buy.
In Mr. Vogel's article Bill Gross stated "it's crazy... look at the path of Coney Island over the last 50 years and see what happens to amusement parks." However it turns out the Disney ultra long-term bonds have done well, because the rates dropped precipitously (for now.)
The Missouri Pacific bonds may suit some investors' strategies, because the bonds are under par. There should be plenty of opportunities to speculate railroad bonds in the future also. It is important to consult a financial adviser and / or Union Pacific Corp.'s investor relations to determine a course of action.
Disclosure: I am long DIS, BRK.B. I wrote this article myself, and it expresses my own opinions. I am not receiving compensation for it (other than from Seeking Alpha). I have no business relationship with any company whose stock is mentioned in this article.
Additional disclosure: I am considering the Missouri Pacific 5% 2045 bonds.