Wendy's International Inc. (NYSE:WEN) can blame stiff competition in the fast food market for its lagging same store sales in the second quarter, says UBS analyst David Palmer.
Last week, the hamburger chain reported same store sales of 1% at franchised stores and flat sales at company operated stores. 
In a note to clients, Mr. Palmer said:
Competition for Wendy's core consumer has become particularly difficult. Home meal demand seems high – evidenced by very strong food sales at Costco (NASDAQ:COST). Taco Bell & Subway are pushing value, and McDonalds (NYSE:MCD) and Burger King (BKC) have maintained solid same store sales growth.
The analyst said Wendy's could also be hit hard by hamburger beef inflation which could exceed 10% in the third quarter versus about 5% during the first half of the year.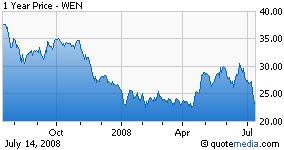 The inflation could account for up to 25% of Wendy's cost of goods sold, however, Mr. Palmer said the company could offset the rise in hamburger beef costs through some strategic cost initiatives, in particular by outsourcing parts of the supply chain to a purchasing cooperative.
He maintained his "neutral" rating and $27 price target.