In the first article in this series (click here to view), we reviewed the basic mechanics of the dividend capture strategy, a few reasons the strategy exists, and, finally, we referenced two examples of price movements surrounding ex-dividend dates. Whereas the last article dealt more with the mechanics and philosophy of the dividend capture strategy, this article is more focused on dividend capture security selection and real examples of model-selected trades from the last couple of weeks.
Two Basic Methodologies and a Wildcard
There are at least two standard methodologies for dividend capture plays. The first method that I am familiar with involves trading as many dividend captures plays as possible in order to increase diversification (limit individual company risk) and assume that the overall returns from the strategy will be positive. This type of haphazard trading leads to massive trading costs and a lot of effort expended in the process.
Another standard approach deals with trying to identify broad categories of potentially successful dividend capture stocks, and is quite a bit more grounded in statistics. I have completed such a study, as well as brainstormed with industry professionals that actively trade based on their results from this type of data manipulation. Our independent models suggested that even after trading costs and taxes, some of the metrics were statistically significant, while others were definitely not. Two of the most concrete findings that came out of the study were that low beta and/or large market cap stocks tend to show positive trends with this strategy. The other interesting finding was that certain industries fare better than others.
In the end, however, even when using our independent models, our overall categorical selections were surprisingly similar but many of the models failed to provide positive statistically significant alpha over time.
After I digested the findings of the study more completely, I then started going through each trade with a fine-toothed comb to see why each trade was successful or unsuccessful. The major "Ah-Ha!" moment was when I sorted the data by company and noticed that some companies show significant price resilience on their ex-dividend dates, while other companies perform very much in line with the standard ex-dividend price performance (no alpha). The conclusion was that in many cases, a small number of companies with large, positive, abnormal returns were skewing the data.
An Alternative Framework
The next logical step for the study was to determine which companies were the outperformers. I switched my strategy from categorizing companies into broad buckets to looking at the returns for individual companies.
After analyzing a significant number of factors, I settled for a mix of statistics found by calculating the dividend capture returns based on historical data. I created a model to analyze each stock on its historical performance and a few of the results can be referenced below.
Model Configuration
The focus of the study was to test whether the model had any predictive power when run before we had results, so I ran the model before the weeks to be analyzed (August 19th-August 25th and August 26th-September 1st) and came up with surprising results. My standard data sources were unavailable during this time, so please forgive any slight data issues, as I was working with unfamiliar datasets. Also, I understand that there are dividend capture plays that performed much better during these time frames. However, for whatever reason, the model excluded these companies (one possible exclusion reason is for small market cap, low average trading volumes, etc. which can signal that the trades may not be realistic because of price movements due to shallow market depth).
Just as a side note, I will, at times, reference alpha returns, which are the returns of the strategy minus the beta-adjusted market returns. This calculation allows one to separate the return of the strategy from the return generated from the correlation the stock has with the market. Although I am aware of the implications, for simplicity sake, I used SPY for the market proxy and the beta from Yahoo! Finance. In the future, I plan on improving my calculations by using my conditional beta model outlined here.
As an example of alpha calculation, if we look at the first company analyzed, Johnson & Johnson (NYSE:JNJ), the alpha calculation is thus:
In this case:

Basically, the strategy returned an independent return of approximately 1.57%. Below are the top few model-chosen capture plays with additional data on a selected few stocks. In the order of fairness, by no means am I implying that the companies that I am not specifically addressing: AVA, ZION, DBD, FMER, PSEC, MAT, HSH, FNB, and NVE are less successful trades. Rather, I chose three companies that would provide interesting visualizations.
Model Results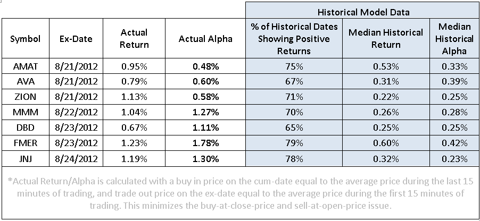 Johnson & Johnson
JNJ passed through the model with flying colors, with statistically significant greater returns (than the market) with p ≤ .10. One impressive visualization are histograms showing the average dividend capture returns versus the standard market returns for the same time period (below). We typically like to see the blue bars off to the right, with most results appearing typically at the 0.00% mark (meaning 0.00% to 0.50% return). In this case, it shows that although the long only return has a few higher highs, there are opportunities to limit risk and decrease the number of negative returns by using a market-neutral strategy. And, in the case of investing, Buffett's rule still rings true: "The first rule of investing is don't lose money; the second rule is don't forget Rule No. 1."
Long Only Return (blue) vs Market Return (red)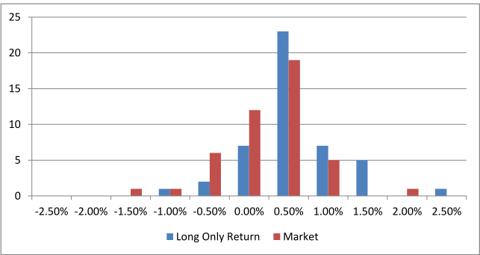 Market Neutral Return <SPY> (blue) vs Market Return (red)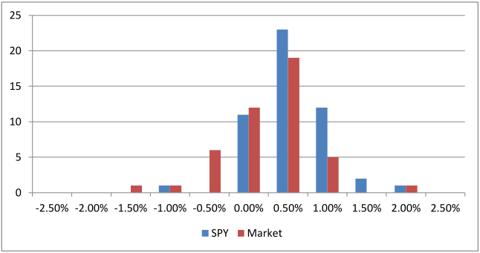 3M (NYSE:MMM)
If you are not familiar with value at risk [VAR], I apologize and suggest you either reference this link or feel free to skip this section. As a summary, the risk of holding MMM for the dividend capture strategy can be significantly reduced, and can even be lower than holding the market proxy (NYSEARCA:SPY) alone. This phenomenon is especially apparent when referencing the historical VAR (circled). Basically, if the strategy is going to lose money, it will typically lose less than the market when referencing the green shaded boxes.

Applied Materials (NASDAQ:AMAT)
This last example is somewhat of a preview to the next article in the series, which will focus on dissecting intraday data to try and find behavioral-finance type patterns. The chart below shows the return profile on the ex-date for AMAT, with the raw return (blue line) and the alpha (green bars). The data is calculated by keeping the buy-in near the close of the cum-date and varying the exit time on the ex-date. The takeaway from this chart is that in many cases, there are additional returns and/or alpha to be had if the investor is patient, and that the returns conveyed previously have the possibility of being improved, since the standard dividend capture play only references a small, volatile time frame (buying near the close, and selling near the open).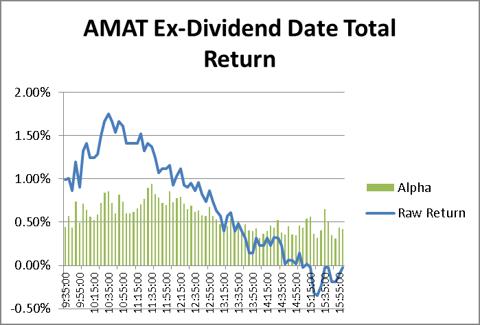 Additional Examples
The results listed below are from the last week in August. As in the previous results, these all passed statistical significance tests with the p ≤ .10, with 4 out of the 5 having p-values less than .012. Nevertheless, in some cases, even when statistics seem like the trade will be a home run, you should always be prepared for the possibility that you may have to hold the security for a while before realizing a positive return. To that end, I recommend that an investor, regardless of the strategy, also layer on a good helping of fundamental analysis, just to make sure that even in worst case scenarios you are comfortable owning the names you have bought.
In any case, I will forego any details on this set of analyses, as this article is already waxing quite long. If you are looking for additional information on these particular companies, feel free to message me via the link on the left of the page.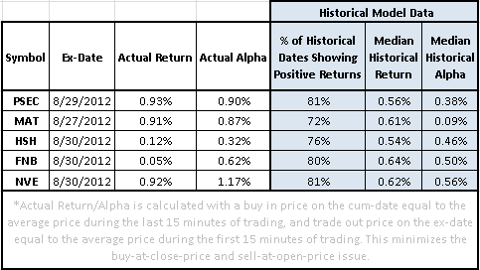 Moving Forward
This article gives a decent preview of what is to come, and the final article in this series will expound further with additional details on my intraday studies. More importantly, I am excited to announce that I will be releasing the results of my dividend capture model through a newly-created platform before the end of 2012, and will include the model top-picks well before each trading week. Additionally, I will also continue to publish selected model picks and results through Seeking Alpha, so if you would like to get updates, please follow me via the link on the left.
Finally, I am always improving my methodologies and models, so if you have any additional insight, please feel free to leave comments below or message me directly.

One very common criticism about the dividend capture strategy is that, "There is no such thing as a free lunch." I completely agree with this statement. As referenced in my previous article, the raw returns and alphas given here ignore trading costs, tax implications, and other market participants. In many cases, those three issues are enough to kill excess return. As well, there is an inherent amount of risk in dealing with this strategy, and should only be attempted with a careful eye on overall portfolio diversification. As well, one must also keep an eye on trading costs, and should be working with a very low cost brokerage (message me if you would like a referral). Finally, due to the fact that a successful trader of this strategy may realize quite a few gains, it would be wise to consider the tax implications of trading and either trade in a tax free account like a Roth IRA, or seek professional tax liability guidance.
Disclosure: I have no positions in any stocks mentioned, and no plans to initiate any positions within the next 72 hours. I wrote this article myself, and it expresses my own opinions. I am not receiving compensation for it (other than from Seeking Alpha). I have no business relationship with any company whose stock is mentioned in this article.