Business/Overview
GT Solar (SOLR) is a leading global provider of proprietary technology based equipment which is used to produce various key and basic inputs used in manufacturing of a solar cells like polysilicon and multicrystalline ingots.(Multicrystalline ingots are used to produce solar wafers and, ultimately, solar cells.)
In order to provide a complete turnkey solution to its customers, the company provides some third party equipment along with its own equipment, with design and integration expertise. Turnkey solutions are complete production lines designed to produce a specified level of output.
The company also provides a portfolio of products that are used in the cell and module manufacturing process.
The company operates through two segments:
Polysilicon Business
Polysilicon is the key raw material used to produce solar cells. Under this segment the company offers CVD reactors and related equipment. (CVD reactors are used to react gases at high temperature and pressure to produce polysilicon.)
The company had delivered reactors to one customer, but due to its revenue recognition terms, the company has yet to generate any revenues from this business segment, thought it is expected to generate significant revenues from this segment starting this year.
PV Business
PV systems are used in industrial, commercial and residential applications to convert sunlight directly into electricity. Under this segment company provides
DSS units (specialized furnaces used to melt polysilicon) which produce multicrystalline ingots,
a portfolio of products that are used in the cell and module manufacturing process along with replacement parts and other consumables,
Turnkey solutions,
and a range of services in connection with the sale of equipment, including facility design, equipment installation and integration, technical training and manufacturing process optimization.
So far the company generated all of its revenue from this segment. Its DSS units alone accounted for 86% of it's total PV revenue in FY 2008.
Business Model
The company works under a unique outsourced manufacturing model, where the company outsources most of the components used in its PV equipment, and its factory focuses on assembly operations and the production of proprietary components.
All of the components of its polysilicon products are manufactured by third parties using its designs and shipped directly from its vendors to the installation site. The company's main function is to take care of product design, providing technical know-how and process development related to the efficient production of polysilicon.
Financials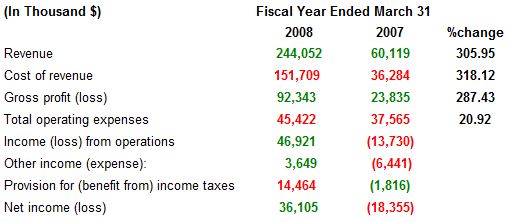 The company shows a phenomenal rise in revenues of over 300% in FY 2008 as compared to FY2007 due to an increase in sales of its DSS units enhanced with its proprietary technology. Due to this high revenue growth coupled with less growth in other expenses, the company makes a profit of $36 million in FY 2008 as compared to a loss of $18.3 million in FY 2007.
All the revenues for FY 2008 come from its PV business segment.
The company's balance sheet is strong with a comfortable debt position, and cash flows are enough to support the company's R&D and other needs.
The company expects to generate over 95% of its revenues from Asia in FY 2008.
Industry growth and outlook
(Note: These are just assumptions and the company/industry can perform differently than these expectations.)
Solar power has emerged as one of the most rapidly growing renewable energy sources.
According to "Solarbuzz," the global solar power market, as measured by total PV installations at end-customers, increased from 598 MW in 2003 to 2,826 MW in 2007, which represents a CAGR of approximately 47%.
As per estimates (under normal conditions), annual installations are expected to grow at a CAGR of 28% from 2007 to 2012, which gives the industry a positive outlook. 
Rising oil and coal prices, and environmental concerns, are also expected to contribute positively towards industry growth.
However, current high/volatile prices and scarce availability of polysilicon can limit the growth to some extent.
Valuation/Offer value ($ In million)
At an offer price of $16.50 per share, the company shares are available at a PE of nearly 65 (considering FY 2008 net profit).

**Excludes 6,532,539 shares of common stock issuable upon the exercise of outstanding options as of March 31, 2008, at a weighted average exercise price of $3.86 per share, and 19,177,461 additional shares of common stock reserved for issuance under equity incentive plans.
Company's Expectations/Outlook
(Note: These are just assumptions and the company/industry can perform differently than these expectations.)
The company is expected to show over 150% growth in the next year (taking order backlog into consideration) and 20-30% thereafter (industry growth rate).
The polysilicon business is expect to bring in revenues from current year which will add another dimension to company's revenue stream.
With this rise in revenue, margins from the PV segment are expected to rise, but margins from polysilicon segment are uncertain due to a lack of previous revenue history.
The current high/volatile price and scarce availability of polysilicon is a concern for the whole industry as well as for the company.
The company operates in the high growth solar power industry and does have a very significant order backlog, which gives an outlook of high growth (which, to a great extent, is already factored into the company's offer pricing). In the solar power industry, technology plays a key role in growth. If any competitor develops a better technology, then GT Solar is at a significant risk. However, the company itself is an R&D focused company with a successful track record, and this reduces the risk to some extent. Fundamentally, at an offer price of $16.50 and PE of 65 per share, the company offers a "Moderate Risk Moderate Growth" long term investment opportunity (assuming that the company performs in line with expectations).
Negatives
Short operating history
The company's operating history is short, and so the performance history of its equipment and technology is also short, particularly that of its polysilicon business, which is less than one year old and has very few installations so far.
Dependence on very few customers
Historically the company generated most of its revenues from very few customers, so losing a key customer could lead to significant revenue loss.
Geographical risk
The company generates most of its revenue (over 95%) from Asia and this trend is expected to continue in the near future.
Third party manufacturing
The company normally has much of its equipment manufactured from third party vendors.
Dependence on government support
Growth of the solar power industry is mostly dependent on government support through various incentive schemes. Any reduction or withdrawal of these incentives will negatively affect the growth of the industry. (However, this is highly unlikely to happen as governments around the world are becoming more and more concerned about rising pollution levels and are promoting pollution-free sources of energy.)
Development of any other alternative technology
Around the world, more and more companies, universities and other institutes are currently trying to develop technology to make solar power a less capital intensive industry. Development of any better technology by a competitor will affect the company negatively.
Fully priced
The company's future growth potential (over the next year) seems to be fully priced in at an offer price range with little or no room for further appreciation (particularly in the current stock market).
Uncertain margins in polysilicon business
In the future, the company's polysilicon business is expected to contribute a significant part of revenue growth, but since no revenue is recognized so far under this segment, margins under this segment are not known.
Expected slowdown in growth in the medium term
The company has shown an exceptional growth rate of over 300% in FY 2008. In FY 2009 the company is expected to show over a 150% rise in revenue, but after that company's growth rate is expected to moderate and the company is expected to have growth in line with its industry (20-25%).
Issue proceeds
The company will not receive any amount from the issue proceeds (which will go to the selling shareholders).
High rate of income tax for Chinese subsidiary
The company has a wholly owned subsidiary in China which provides installation and customer support services to its customers in Asia. The applicable tax rate on this subsidiary has gone up to 25% from 15% earlier due to the expiration of a tax holiday (on December 31, 2007).
Exchange rate fluctuations
The company's reporting currency is the U.S. dollar and almost all of its contracts are denominated in U.S. dollars. However, historically, most of its revenue was generated from sales to customers located outside the United States. This means that the company to some extent is vulnerable to any currency movements. (The company does enter into foreign exchange rate contracts to hedge its risk, but it still doesn't cover the whole risk.)
Positives
Positive outlook of solar power industry
Very healthy order backlog
As of March 31, 2008, the company's order backlog was approximately $1.3 billion. Nearly one-half of this order backlog relates to orders expected to be recognized as revenue by March 31, 2009. This gives a clear visibility of the company's growth potential over the next year (although the growth is expected to moderate after that). Order backlog is almost 50-50 for both segments.
Margins are expected to rise
With rising revenues, the company's margins are expected to rise by 3-5% (in PV business segment).
R&D focus
GT Solar is a manufacturing company with strong R&D focus, which is necessary to stay ahead of its competitors. The solar power industry is still evolving and lot of R&D is needed to be done to make the industry more competitive against conventional power sources (coal, oil) and other alternative power sources (wind).
Acceptance of proprietary technology
Past high installations and current health order backlog indicates the company's proprietary technologies developed through its own R&D are well accepted by its customers. This also indicates the quality of its R&D department.
Outsourced manufacturing model
GT Solar's unique business model (discussed above) allows the company to focus more on R&D and also make its business less capital intensive, almost isolating it from any capacity constraint problems. (However, this type of business model needs a high focus on quality checks of all third party equipment and also makes the company more dependent on other manufacturers.)
Peer comparison
Their is no listed company doing the same business as GT Solar.
There are a few listed companies that do business in solar power, but most of them manufacture solar wafers, cells, panels or complete solar power setups. Similarly, there are many listed steel manufacturing companies but very few that manufacture equipment/machinery for steel production.
The current financial year (FY 2009) is a very important year for the company, as for the first time it will generate revenues from its polysilicon business. If its polysilicon business equipment show the same level of margin and acceptance by customers as its PV business-related equipment, then GT Solar can outperform the broader market in the long run.