With all of the major indices now in bear market territory it seems as though the best way for a long investor to play this market is to avoid the losing stocks and switch into the winners. I sometimes liken investing to gambling, but the advantage of investing over gambling is that you can change your bet at any time. Imagine if you were playing blackjack only to find that you had a very weak hand. But in this particular game of blackjack you can swap cards with the person sitting next to you and as luck would have it, that person has a very strong hand that looks very likely to win. Now, you could always risk going bust and take another card to try to strengthen your hand, but given the option virtually any gambler would take the bet that is closer to a sure thing. Unfortunately, when gambling a player doesn't have the option to change his/her hand, but an investor can change investments at any time.
So, my question to all of the investors out there is simple. Would you rather risk your money in the struggling industries of the market or would you like to put your money in an industry that is actually making money in 2008? Or for those of you who enjoyed my gambling analogy above, would you rather hold the cards that lose more often than not or the cards that have won more than not?
For those of you that want to bet on the industries that have been outperforming the market then I would recommend investing in industries that are more or less 'recession proof'. Typically investors think of such industries as grocery and tobacco as 'recession proof', but I'm here to suggest another industry that is, as a whole, reporting in positive territory in a year that has seen all of the major indices fall into bear market territory. That industry is garbage disposal, otherwise known as waste management services.
Why is this industry performing so steadily? It's simple really. This industry always performs quite steadily. People, in times of boom or recession, will always produce garbage, as will businesses and municipalities.
The beauty of the business model for the waste disposal companies is that, for many of their customers, they charge a set period fee regardless of the amount of trash taken. Most customers (especially individual people) have to pay the waste disposal companies the same amount whether or not their trash can is full every week. So, even if individuals were able to cut back on their trash levels, they are locked in on their garbage disposal prices.
Waste disposal companies are also finding ways to benefit from one of the more popular trends... recycling. These companies will haul away recyclables and sell them back onto the open market, meaning that this can be a separate source of income for the companies (and a quite lucrative one given the prices that many materials are selling for currently).
Some of the more successful companies within the waste disposal industry include the behemoth Waste Management Inc. (WMI), Republic Services, Inc. (NYSE:RSG), Allied Waste Industries (AW) and Waste Connections (NYSE:WCN). Three of these four companies have seen their share prices increase in 2008. With WMI, AW and WCN being up 12.1%, 8.8% and 5.2% year to date, respectively. Only RSG has seen its share price fall, being down 11% for the year.
Focusing on the Waste Management (WMI) in particular, this company has shown steady but shallow growth over the past 8 years.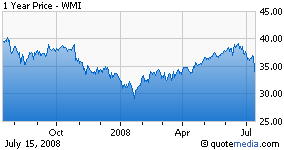 They are easily the largest company within this industry having a market capitalization of just over 18 billion dollars, over three times larger than their nearest competitor. They have shown extremely steady revenues over the past several quarters, reporting between 3.2 billion and 3.4 billion in their last several quarters. They have shown steady operating income as well ranging between 500 and 600 million per quarter. They have even reported yearly net incomes at over $2.00 per share for the past three years. As if that weren't enough, they also yield a dividend of just under 3% (competitive with the current yield on many savings accounts).
Waste Management has a few other tricks up its sleeve that help to put it ahead of the game. It owns 16 waste to energy plants and owns or operates 277 landfills. The company reports that 5.6% of their revenues are derived from these waste to energy plants and 20% of revenues come from the usage of their landfills by others. They are seeking to expand many of their landfills and are looking to divest underperforming recycling plants and collection locations. This will make them a "leaner" company that is focused solely upon creating profits and value for shareholders all while operating under an environmentally focused political environment that views the company rather favorably.
The only major concern is rising fuel costs which make it more expensive for waste collection vehicles to function. These vehicles are not particularly fuel efficient and they are operating nearly non-stop. The margins, however, for WMI and its peers do seem adequate at the current time to absorb the fuel costs and keep them still operating in the black. They will also probably pass on much of the higher fuel costs to customers in the form of price increases and WMI's planned divestiture of the less profitable collection routes will also help them to shed the routes that may have fallen into the red due to higher fuel costs.
Like Waste Management, the other players in the waste disposal business mentioned above (AW, RSG and WCN) all have also shown very steady revenues, expenses and profits. It is very likely that they along with WMI will all continue this trend and see higher share prices by the end of the year. It is also very possible that investors may push the price of these stocks even higher than they would otherwise go as more and more investors look for "safe haven" investments. So, the window of opportunity on these stocks is here now and may be closing fast.
The bottom line is that if you're looking for an investment that is likely to be higher at the end of 2008 and that will yield better than a money market account, then waste disposal may be just what you're looking for. The waste disposal companies have exhibited positive trends in a more or less "insulated" industry and these trends are more than likely to continue. If you're looking for a steady investment in rather unsteady times then perhaps you should think about picking up some trash.
Disclosure: None