In a 2010 interview, Keven Lindemann, Director of Real Estate at SNL Financial, stated he thought that an average debt ratio of 35% for the REIT industry would be "sustainable" going forth;
...but at the end of the day the market is going to determine that, and if there is evidence that REITs that operate at lower debt levels are rewarded in the market a higher valuation I think that REITs will trend that way.
Leverage in the REIT industry has long been a seesawing phenomenon. REIT's historical debt / market cap ratio average is estimated to have been 34% up until 1995 (Barron's, December 18, 1995). The debt ratio rose to a 43% average by the end of 2003 before dropping to a low of 36.5% in 2006 when stock prices were high. By the middle of 2008 average debt ratio rebounded to almost 45% when REIT stock prices dropped and that ratio continued to climb to over 60% ((NAREIT)).
The bear market's effect on the debt ratio led many REITs to sell assets and offer new equity, and by Q3 of 2010 average debt ratios dropped to 41.1% on average. Debt ratios have since continued to slide to a present average of 35.6% (NAREIT Market Reit, August 2012 Issue) - a level the market has only briefly experienced in the past 20 years.
Sector
Number of Companies
Debt
Ratio
Industrial / Office
31
42.0
Office
19
41.3
Industrial
7
43.4
Mixed
5
42.3
Retail
31
37.6
Shopping Centers
18
38.2
Regional Malls
8
38.3
Free Standing
5
27.9
Residential
19
34.9
Apartments
16
34.1
Manufactured Homes
3
44.9
Diversified
15
37.6
Lodging / Resorts
16
42.3
Health Care
12
32.7
Self Storage
4
11.2
Timber
4
25.8
Infrastructure
2
22.6
Equity Totals
134
35.6
SRC: NAREIT Market Reit, August 2012 Issue
Lindermann's 35% "sustainable" debt ratio has been reached, and the market has rewarded those leading the way: The 3 sectors with the lowest debt ratios - Self-Storage, Timber, and Infrastructure, also have the highest price / book values. Further, the 2 sectors with debt ratios above 40 - Industrial / Office and Lodging /Resorts, also have the two lowest price / book values.
Price / Book Value
Industrial / Office
Office
1.367
Industrial
1.545
Mixed
1.7636
Retail
Shopping Centers
2.392
Regional Malls
2.873
Free Standing
1.885
Residential
Apartments
2.272
Manufactured Homes
2.875
Diversified
1.668
Health Care
2.198
Lodging / Resorts
1.202
Self Storage
2.929
Timber
6.06
Infrastructure
4.983
Weighted Average
2.1
SRC: NAREIT, Ycharts
REIT leverages are being reduced across the board. Whether this is an aftereffect of the 2010 and 2011 deleveraging efforts and rise in equity prices is yet to be determined. REIT managers have no easy task reducing leverage. First, the debt ratio is highly dependent on how the market is pricing REITs at any given moment. Second, REIT managers must choose their financing based on the present costs of debt and equity capital and cannot solely focus on reaching a target debt ratio. For example, if the market favors REITs at a particular moment, stock prices will be up and REITs will be more likely to issue equity offerings. REIT managers will be more inclined to issue debt securities when the risk premium for long-term debt is low. These complexities make the reduction of the debt/ratio a multi-year process.
Still, investors should be leery of REITs bucking the trend by steadily increasing leverage. A tool to determine how a REIT is managing its debt is a comparison to similar REITs. For example, below are 5 of the largest shopping center REITs: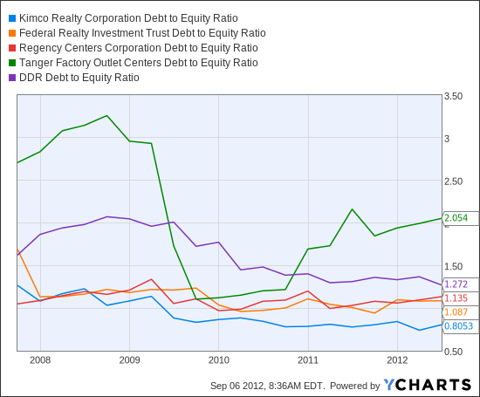 The chart reflects the deleveraging occurring across the entire REIT industry, but it also highlights a REIT that is seemingly bucking the trend. Despite enjoying a 15% stock price increase over the past 6 months, Tanger Factory Outlet Centers (NYSE:SKT) continues to increase its leverage, which is already well above the average for shopping center REITs. A more detailed inspection of SKT's debt is deserved, but this should raise flags, especially given the deleveraging trend and premium the market has been awarding those REITs leading the way.
Disclosure: I have no positions in any stocks mentioned, and no plans to initiate any positions within the next 72 hours. I wrote this article myself, and it expresses my own opinions. I am not receiving compensation for it (other than from Seeking Alpha). I have no business relationship with any company whose stock is mentioned in this article.