Triangle Petroleum (NYSEMKT:TPLM) completed the transition from non-operated Bakken wannabe player to operated and vertically integrated Bakken player on a growth path similar to household Williston Basin names Oasis (NYSE:OAS) and Kodiak (NYSE:KOG) with the release of today's 2Q13 results. The quarter beat analyst estimates (more on that in the table and notes below) but more importantly TPLM reiterated its long term focus on the North Dakota side of the play where they have proven, largely derisked acreage in both Williams and McKenzie Counties, North akota. First some comments on the quarter with gleanings from the conference call, then a few graphs as we like those and then a nutshell.
The 2Q13 numbers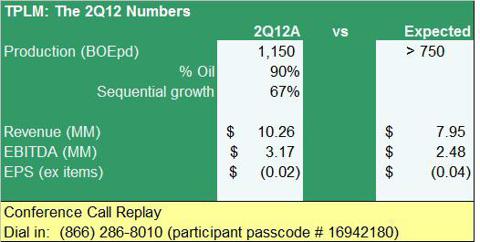 Highlights from the quarter
Production continues to ramp in line with guidance and will accelerated further as the operated program kicks into higher gear with its 2 rig program. Current production is 1,206 BOEpd from 4 of 6 completed wells. Two wells are currently shut in (one due to a neighboring downspaced Bakken well completion of TPLM's and the other well is being put on pump). Production in August was in the 1,300 to 1,400 BOEpd range and will begin to really stack up near term as the following wells get added to the mix:
5 more operated wells have been drilled
2 wells are being zipper-fracced by Rockpile, their in house frac spread, now and
3 more wells are waiting on completion in McKenzie County (and Rockpile will head there next).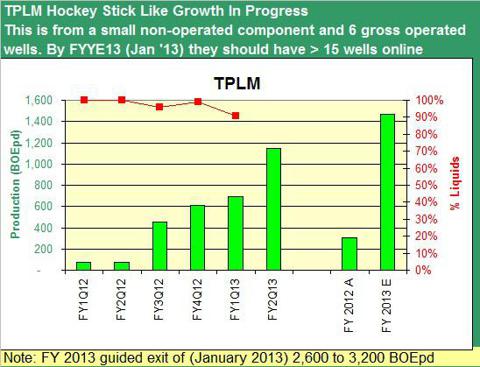 E&P segment operating costs are improving as Triangle scales up production with 2Q LOE coming in at a respectable low $11.16 per BOE. This stacks up well against their larger Bakken player peers. The improvement is not unexpected but it highlights proper infrastructure planning and the early fruits of drilling efficiencies and we should see this number further modestly reduced as volumes increase and more wells are tied into gas gathering lines (recall high BTU gas here gets a nice premium to Henry Hub).
Rockpile is humming. Revenues for the quarter (in which the crews only fracced two wells and only worked 2 out of the 12 weeks) were $2.6 mm yielding gross margins of 29%. Going forward, Rockpile is expected to handle all of TPLM's operated program and busy itself with 3rd party work in between. Looking at a 2 rig program that comes to probably 6 wells fracced per quarter so around 24 per year. Management is looking for an EBITDA contribution from Rockpile of $3 to $5 mm per quarter, pretty much from now on (they'll complete 10 or so wells in the remainder of FY13). The low end of the scale effectively matches this quarter's whole company EBITDA ... not bad for a $20 mm investment and it gives them control and there's still upside from any 3rd party work the spread wins bids for. Given the level of activity in the Williston it's not hard to imagine the Rockpile crew being very busy boys.
Mid year reserves report issued showing 380% reserve growth over year end FY12 levels. Internal estimates of 7.044 MBOE (87% oil) coming almost entirely from the their operated wells and a conservative approach to PUD booking around them. The PDP component was 7.7 net wells and they should have north of 15 operated wells plus a small non-operated component to consider for the official January 2013 ended report. Nice.
Liquidity remains more than adequate and borrowing capacity should stair step with reserve additions. Cash on hand at the end of the quarter was $116.4 mm and an untapped, $27.5 mm revolver is highly likely to be upsized in October and again in January. Given their recent capital infusion by NGP, that revolver will remain untapped for at least the medium term unless they get a lot more aggressive with the FY14 budget.
Hedging to protect cash flow and the budget. They've taken the next logical step in the big boy pants timeline by taking on oil hedges to protect their drilling program as they grow:
Collars on 1,000 bopd of production (about 83% of current volumes but likely about one-third of year end volumes as they ramp production) with $87 floors and $103.60 ceilings.
They also added 500 bopd for calendar 2013 and 2014 with floors of $85 and $80 respectively.
They have good liquidity as stated above and they are not time pressured to get HBP'd and they are not saddled with long term rig contracts but I find it wise to hedge production without giving up too much in the way of near term upside and it's highly likely they continue to add hedges at these levels.
Guidance - near term strong, year end exit guidance remains unchanged as they take the smart, conservative approach.
For 3Q, without putting a fine point on production volumes aside from the range given in their presentations for some time now, they indicated E&P revenue will track north of $10 mm for the quarter. They see Rockpille adding another $16 to $18 of which they should get about half (5 operated wells and no outside frac jobs assumed), so probably over $18 mm for the topline for the third quarter. Note that the Street is looking for total 3Q revenue of $17.9 mm so a little light and we may see the EBITDA line advance a touch as well. More important than the numbers for the moment are the ongoing string of good looking Bakken wells (look for their first Three Forks well on the 3Q call) and a first full quarter's contribution from Rockpile as the spread stays busy. The impact of higher utilization is not only key for our modeling of margins / EBITDA contribution going forward but also as to the savings on capex to the company which may appear more ephemeral to track but which are no less important.
Exit range guidance of 2,600 to 3,200 BOEpd (end of January 2013) was reiterated and I think that's the smart call for now. The program is working well but it's still early stages and you don't sabotage success by trying to please analysts who are always going to want more, especially when your exit rate may hinge on the timing of one or two wells and especially since we're talking about January in North Dakota.
Nutshell: Nice beat, production growth on track, and more importantly, their plan of becoming a self sustaining operated Bakken Player. Management is delivering on promises in what is becoming an MO of under promise and over deliver. Rockpile is probably exceeding expectations and will likely make some who questioned such a small cap taking on the endeavor eat their worlds over the next several quarters. The current production rate is where one would expect as they ramp into 3Q and 4Q. When those two wells come back on line production will still only be from 6 gross operated wells (plus the small non operated wedge) and they will likely get 10 more gross wells on by FY13 year end. If you look back OAS 3 years ago or KOG 2 years ago, this is where TPLM is not at. Except they have the benefit of an accelerated learning curve and they were quicker to make the vertical integration leap that Oasis only made recently as well. We continue to hold the name.
Disclosure: I am long TPLM, OAS, KOG. I wrote this article myself, and it expresses my own opinions. I am not receiving compensation for it (other than from Seeking Alpha). I have no business relationship with any company whose stock is mentioned in this article.