Investors in shipping stocks are well familiar with the current state of affairs. Plagued by a vicious over-supply of modern vessels, the industry is struggling to keep its head above water, just long enough to see the next recovery.
Companies that are best suited to sustain such prolonged period of depressed freight rates ideally must be well capitalized to meet their capital expenditure requirements, must provide earnings visibility, and must sport low running costs. In this article I look at two leading shipping companies, namely Diana Shipping Inc. (NYSE:DSX) and Safe Bulkers Inc. (NYSE:SB) and how they fare in these three categories. Both companies are run by first-class ship owners who have lived through (and survived) several shipping cycles. They both specialize in the dry-cargo segment of the bulk shipping industry.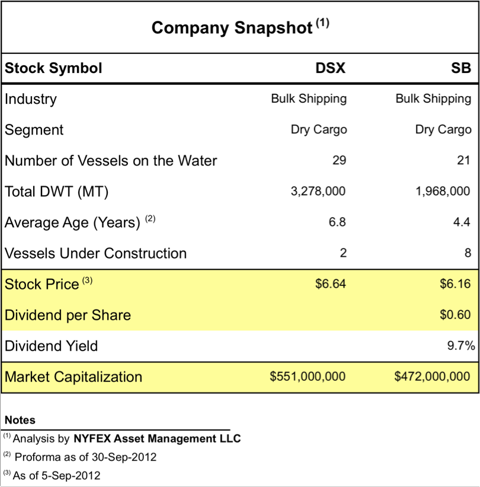 Please note that Safe Bulkers has continuously paid a quarterly dividend of $0.15 per share since the beginning of 2009. During the same period, Diana Shipping has not paid a dividend.
Capital Expenditure Requirements
On the table below I summarize the capital expenditure requirements for the two companies.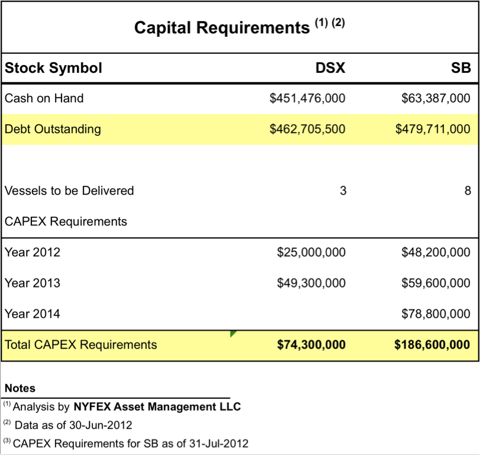 Both companies have manageable levels of debt and are in full compliance with all debt covenants. But when it comes to capital investments things start being a little different. Diana Shipping had amassed a huge war chest with over $450 million in the bank as of June 30, 2012. It has since taken delivery of a new-building vessel and has ordered two additional units scheduled for delivery in 2013. I expect Diana Shipping to put its cash reserves to work and acquire several vessels at very attractive prices in the coming quarters.
One the other hand, Safe Bulkers is already in the midst of an ambitious new-building program, with 8 vessels scheduled for delivery through the end of 2014. The existing capital requirements and dividend payments leave the company little room for additional new-building orders. In fact the company last March raised approximately $38 million in a public offering to finance its existing new-building program.
Earnings Visibility
Earnings visibility in the shipping industry is synonymous with fixed-rate coverage. Vessels typically are employed on fixed-rate charters (with charter length or duration, ranging from a few months to several years), or trade in the spot market. A recent development in the industry has seen vessels fixed on period terms but at a variable rate, usually tied to a spot index. Fixed-rate coverage provides earnings visibility but also a safe refuge during periods of market turmoil.
Customarily, shipping companies provide information regarding their fixed rate coverage in terms of percentage of fixed days to total ownership days. For example, Safe Bulkers on their presentation for the second quarter of 2012 reported that the percentage of fixed days for years 2012, 2013, and 2014, was 89%, 59%, and 30% respectively.
The problem with this kind of disclosure is that it provides very little insight regarding the quality of earnings visibility. Sure, Safe Bulkers has fixed 59% of its total ownership days for year 2013 but at what average rate? How does the average rate for year 2013 compare with the current spot rate? And finally how does the average rate for year 2013 compare with the competition?
I like to analyze earnings visibility in a different way. First, I want to know how many vessels are employed on fixed-rate time charters (i.e. not counting vessels in the spot market, or employed on spot index-based charters). Second, I calculate the average duration for all vessels on fixed-rate charters. Third, I calculate the weighted average time charter rate (also known in the industry as TCE or time charter equivalent). I weigh each individual time charter rate by its duration. This way long-term charters at above market levels have a greater weight than short-term charters at market levels.
The table below summarizes my analysis regarding fixed-rate coverage as of September 30th, 2012.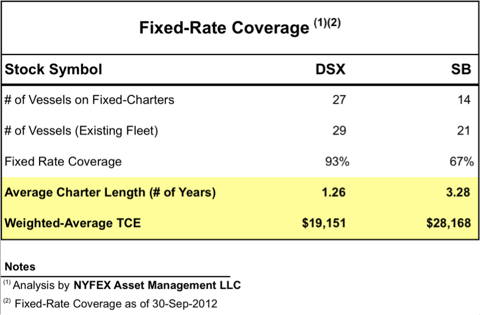 Diana Shipping will have 27 vessels or 93% of its existing fleet employed on fixed-rate time charters, with an average 1.3 years left on their charters, and projected to earn a weighted-average TCE rate of $19,151 per day. (For good orders' sake the remaining two vessels will be coming off-charter as early as this October. I expect that the company will also fix these vessels on period charters.)
On the other hand Safe Bulkers has less extensive fixed-rate coverage, with only 14 out of 21 vessels currently fixed on period charters, or 67% of vessels of its existing fleet. But its average charter length and weighted average TCE are substantially higher at 3.9 years and $28,168 per day respectively.
Running Cost
Running cost is the area most often overlooked by investors and analysts. Running cost is the sum of operating cost and cash interest expense. Also known as cash break-even rate, it represents the minimum TCE rate that a vessel has to earn in order to generate a positive operating cash flow.
Operating cost consists of vessel expenses, dry-dock costs, and cash general & administrative expenses. For purposes of calculating the operating cost I do not take into account any stock compensation expense because it is a non-cash item. This is not to say that stock-compensation expense is irrelevant (as many company executives would like us to believe). Restricted share awards, stock options, etc., have an anti-dilutive effect on shareholders.
For example Diana Shipping has awarded its senior management team with more than 2.8 million restricted shares since 2008, representing approximately 3.4% of total shares outstanding. Safe Bulkers has only given modest share awards to its non-executive board members, amounting to just over 56,000 shares during the same period!
I have summarized the two companies' running costs for the previous calendar year in the table below.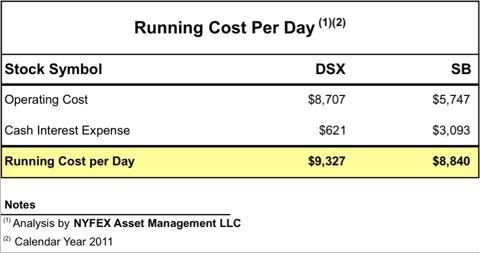 Please note that Safe Bulkers fully hedges its interest risk exposure using interest rate swaps. Its debt outstanding is in effect on a fixed-rate basis. On the other hand Diana Shipping has only partially hedged its interest rate exposure with an interest rate collar. Safe Bulkers would be totally immune to any increase in LIBOR rates over the next several years. The cash interest expense for both companies incorporates any realized gain or loss from interest rate derivatives.
Safe Bulkers has clearly done an outstanding job keeping operating costs under tight control. Even after factoring in the cost of fully hedging its interest rate exposure, Safe Bulkers has among the lowest running costs in the industry.
Summary
Diana Shipping has the most fortified balance sheet with substantial levels of cash reserves, modest debt levels, and a well-executed conservative chartering strategy. It is better suited to capitalize on asset acquisitions at very attractive prices in the coming quarters. But it has stubbornly high operating costs and provides generous stock awards to its senior management at the expense of shareholders. In addition, it has paid no dividends since 2009.
Safe Bulkers enjoys superior earnings visibility (albeit with some spot exposure), and manages to keep its costs under tight control. It has continuously paid the same quarterly dividend since 2009 and has not enriched its management team at the expense of shareholders. But it does have its hands tied with eight new-building units still to be delivered.
Both companies should be excellent candidates to add in a diversified shipping portfolio. In future articles I will look at the intrinsic valuation for each stock.
Disclosure: I am long DSX, SB. I wrote this article myself, and it expresses my own opinions. I am not receiving compensation for it (other than from Seeking Alpha). I have no business relationship with any company whose stock is mentioned in this article.