Today I want to talk to you about a company that ordinarily would never have shown up on my radar, Chromadex (NASDAQ:CDXC), but before I do, I just want to revisit what I wrote in my first post on Bank of Internet (NASDAQ:BOFI)
I began with "I hate banks. I hate many if not most bank stocks, and I hate analyzing them even more, the reasons for which could be the topic of an entire post itself." Lo and behold, a new client asked me to research a company in another area that I generally loathe analyzing: Biotech/chemicals.
Often, such firms go about betting the farm on what they hope will become blockbuster products that make oodles of money, alas, for any company and the industry as a whole, the hit rate is far closer to zero% than 100%. As an investor, you're essentially betting on an asymmetric binary outcome; a new product does, in fact, become a blockbuster and the stock price skyrockets 100%, 200%, 1,000% or whatever incredible percent, OR the product flops, the stock languishes or worse, the company goes the way of the Dinosaurs.
Curiously enough, though, Chromadex isn't one of these traditional biotech/chemical companies, which is why I think it offers investors a margin of safety to combat any potential downside while simultaneously presenting a very compelling upside opportunity, with a true chance of turning into a multi-bagger.
I'm not going to run you through the entire history of the company and all of the various products and services it provides (which you can find on its website, starting here and in this presentation from a conference on 8/29, the latter of which I implore you to go through so I don't have to post 2 dozen screen shots here in operation: redundancy), but I think its necessary to explain why CDXC is uniquely positioned to likely achieve sustained future growth.
The core/legacy business consists of:
Testing chemicals for dietary supplement, food/beverage, cosmetic, pharmceutical industries as well as academia,
Publishing reference standards used by scientists/researchers in the aforementioned industries
Providing a myriad of services
Because CDXC is able to gather intelligence from IP holders, research labs, customers (e.g. supplement and food/beverage companies), the company is in a unique position to use its legacy businesses to enter into new, as-yet untapped markets and opportunities. This sort of 360 degree business model is what truly differentiates Chromadex from its competitors and provides what I think is a significant competitive advantage. This graphic from the 8/29 investor presentation provides a nice summary: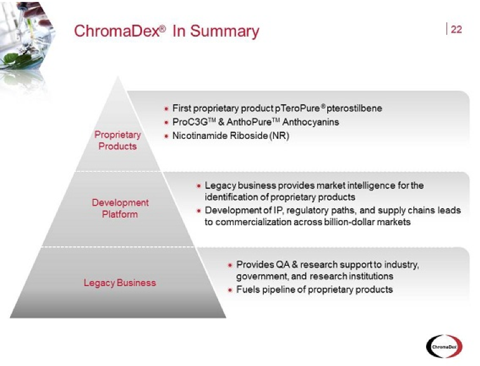 The company has proven this business model with its first proprietary product a, pterostillbene called pTeroPure which it sells to customers and forms the basis for its first retail dietary supplement line, BluScience, which already has achieved broad distribution in top retailers like GNC, Walgreens, Drugstore.com, Vitamin World, and Puritan's Pride :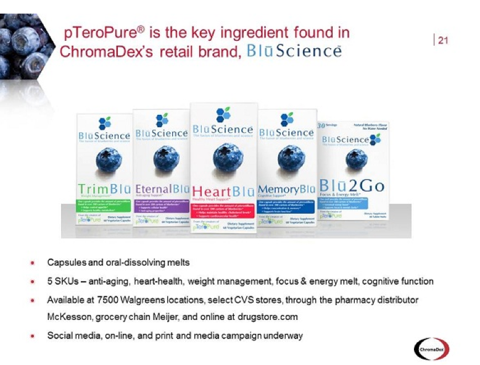 For those of you looking for more than a promising story - that is, a near term catalyst - you're in luck. Chromadex partnered (licensed IP from as well) the University of Mississippi, which has conducted a study on the safety and efficacy of pTeroPure for a variety of health issues ranging from blood pressure, cholesterol, weight, cognitive maintenance, etc. The safety results came out earlier this year and they're positive, but the real catalyst for pTeroPure will come on 9/20 (with likely public announcement a day or so after) when the efficacy results get announced at the American Heart Association's High Blood Research Conference, a prestigious event just to get invited to. While I have no knowledge of the results of the efficacy study, after speaking with company insiders, to say they're extremely optimistic would be a gross understatement. Of course I'd be remiss if I didn't acknowledge optimism comes with the territory, but they've been buying a boatload of shares, backing up their optimism, that much is certain.
Insiders own A LOT of the company and have been buying A LOT of shares (see the insider transactions) . The Chairman, Dr. Phillip Frost (who is also the Chairman of Pharmaceutical giant Teva) owns ~16% of the stock, Vice Chairman Honig and his consulting/investment firm own almost 8.5% of the stock, as does CEO Jaksch and his family (these numbers don't count options & warrants). All together, insiders own ~50% of the shares out, which is a pretty clear signal that they're putting their own money where their mouths are; such insider ownership and sustained buying of shares shows that they believe the company's prospects are quite stellar, to say the least.
So, to summarize the opportunity (I'll likely be doing a follow-up post going into more depth/detail soon):
The Good:
Long-tenured management and insiders with big stakes in the company
A shifting business model from a relatively staid operation to a high growth one
Positive early studies supporting the firm's products
Excellent traction and penetration with leading national retailers/distributors in a very short time period for the firm's first retail branded supplement
A (my term, by the way) 360 degree business model that allows the firm to see trends and predict demand from customers before competitors can and position itself accordingly
Several big Pharma firms have acquired, licensed and/or formed JV's with firms like Chromadex for tens, hundreds, and billions of dollars. Given Chromadex's current valuation, even one such deal - and one on the smaller side - could significantly increase the stock price.
The Challenges and other Questions (I'd be remiss if I didn't mention these):
The financial statements don't exactly look very good, to put it gently, although a not-insignificant part of this is due to the aforementioned changing business model, as opposed to perennial financial mismanagement
While the company doesn't anticipate any need to raise additional funds in the near to intermediate future, especially with the success of their BluScience line and related operations, only time will tell. Potential investors/traders should know though (if you haven't read the 10-q's/k's) that much of the income, cash flow, and balance sheet impact was the result of 1-time expenses relating to the launch of the BluScience line and two other very -- if not even more -- promising chemicals in the pipeline. As Keynes said, though, sometimes markets can stay irrational longer than you can stay solvent.
As I mentioned, human safety/efficacy studies on the firm's compounds are limited (although there is a good amount of positive animal data available). While this is not unique for new and potentially industry-altering chemicals, its something to keep in mind.
Ultimately, pTeroPure and BluScience are just the beginning of Chromadex's transformation into a high growth company if not a high multiple acquisition target. The company currently has a market cap of around $55 million and trades around $0.60-$0.70/share, so even retail investors can buy a few thousand shares without even touching their core holdings, and institutions can buy tens if not hundreds of thousands similarly
Additionally - and for those technical/momentum traders out there this should be a seriously bullish indicator, "Over the past few months, there has been a considerable increase in interest from both institutional and retail investors regarding ChromaDex. The Company plans to attend and present at a number investor conferences this fall." This, by the way, is a direct quote from the company that I received after asking a few questions of insiders and IR.
Disclosure: I have no positions in any stocks mentioned, and no plans to initiate any positions within the next 72 hours.
Business relationship disclosure: Stone Street Advisors' company policy is to keep the bespoke, paid research and analysis we do for clients confidential. However in certain circumstances – and only with a client's explicit permission – we may share some or all of that research publicly. The above (the analysis/article) contains some of the research we performed for/with a client, however the opinions presented herein are those of Stone Street Advisors LLC. Neither Stone Street Advisors LLC nor any of its members has a position in Chromadex, nor do we have any plans to initiate one in the immediate future. The information and opinions presented in this article are presented as-is, and do not constitute any offer, solicitation or investment recommendation. Stone Street Advisors LLC makes no representation as to the accuracy or completeness of the information contained herein and has no duty to update the information and opinion in the article. The content presented is not investment advice, nor is Stone Street Advisors LLC a Registered Investment Advisor.