What has been will be again, what has been done will be done again; there is nothing new under the sun. - Ecclesiastes 1:9-14 NIV
Back in the early 1990s, the mainframe was considered Zombie Tech. A few old veterans still chugged along, but they were on the endangered species list, more a testament to IBM's (NYSE:IBM) shortsightedness than a vindication of its business model. Mainframes were big and clunky and they consumed vast amounts of electricity. They took up a tremendous amount of space. The operating systems that ran them were minimalist enough to make Frank Lloyd Wright seethe with envy. They ran as hot as open-hearth furnaces and needed constant ventilation, or the circuit-boards would literally melt. They crashed all the time and required a small army of network engineers to operate them. Bill Gates had learned his way around on a mainframe in high school, but Microsoft (NASDAQ:MSFT) never bothered to replicate IBM's achievement. Apple's (NASDAQ:AAPL) infamous "1984" commercial wallowed in IBM's perceived stodginess and antiquity. It ran in the third quarter of Super Bowl XVIII, in front of 77.62 million viewers.
Fig. 1: IBM 7094 Mainframe in the early 70s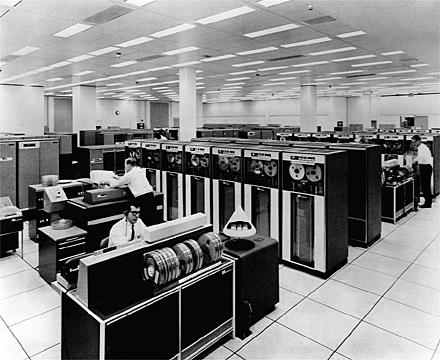 But IBM kept the mainframe alive, and Big Blue is about to reap a windfall for standing by its proven architecture. With the release of the zEnterprise EC12 line of mainframe servers, IBM is poised to dominate the Data Center market.
Mountains Of Data
The world's hunger for new data is producing mountains of consumer behavioral data as a by-product, which in turn generates new opportunities to profitably exploit. For sectors that routinely generate large amounts of transactional data, it's like sitting on the top of a mountain stuffed with gold deposits but no way to extract it. IBM has spent more than $1 billion at 18 sites worldwide developing the zEnterprise line to provide a solution.
Fig. 2: IBM's New zEnterprise EC12
The zEnterprise EC12 has added capabilities for analyzing Web traffic and corporate databases to predict consumer behavior and quantify business risks. Much of this data is specific to the consumer, which would traditionally make it an ideal target for resale to advertisers. However, from Big Box retailers to casinos, shipping centers, multinational banks, social networks and wholesale e-tailers, the "big data problem" involves high-speed payment transactions.
According to Doug Balog, general manager for IBM System z products, "The heart and soul of the new server is its ability to monitor high-speed transactions and determine if they're genuine."
IBM = Inventing Big Mainframes
IBM is targeting an increasingly receptive market for heavy computing. The mainframe is still the plow-horse for telecommunications, financial systems and nation states due to its security features and stability, as well as its flexibility and the ease with which it can incorporate legacy applications.
Existing IBM customers tend to stick with the company. In 2011, Primerica, a financial services company, purchased its 19th mainframe in 30 years. According to IDC Canada, IBM mainframe revenue in Canada for 2011 doubled that of the previous year.
One of the reasons behind all the enthusiasm is that businesses are recognizing the importance of data centers in cloud computing. Forrester Research's projections for the cloud market 2011-2020 gives a pretty good indication of what all the fuss is about.
Fig 3: Projected Growth Of The Cloud Market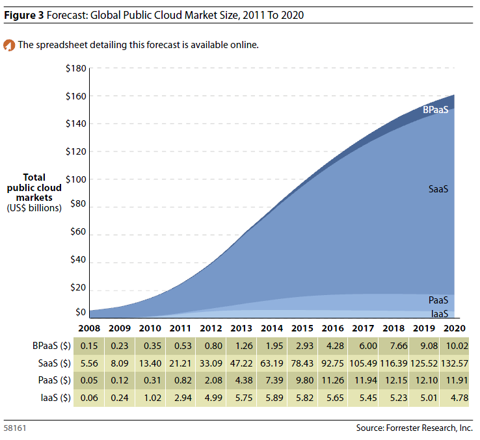 Mainframes are a natural fit for cloud centralizing data centers. The mainframe-terminal paradigm was the first "cloud", after all. According to IDC's white paper on the role of cloud computing in job creation, 75% of IT spending is tied up with maintenance of legacy systems and routine upgrades, or "legacy drag." Cloud computing allows IT organizations to shift some of that legacy work to the cloud. By 2015, one of every seven dollars spent on packaged software, server, and storage offerings will be through the public cloud model.
Fig. 4: Cloud-generated Jobs by Sector (Pending:IDC)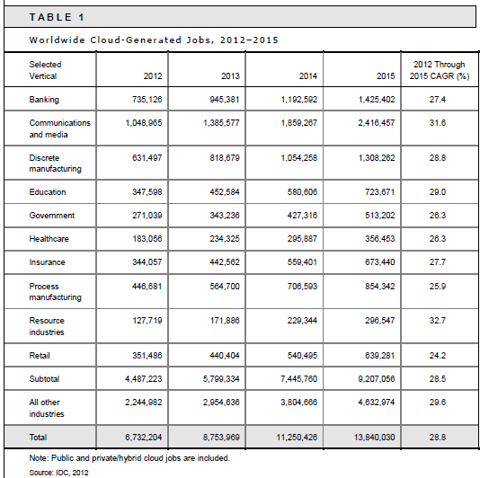 Bottom Line
For the "old man in the room", IBM appears to be making some very smart positional plays lately. The Kinexa aquisition has given Big Blue one of the largest footprints in the business/social-networking space, and IBM's new server line has the potential to be an even bigger payoff: While mainframes account for only 2% of IBM's sales directly, the service packages and upgrades associated with the mainframe ecosystem account for 25% of IBM's revenue stream and 40% of its profits. The bottom line is that Cloud computing is very good for mainframes, and what's good for mainframes translates to outperformance for IBM.
Disclosure: I have no positions in any stocks mentioned, and no plans to initiate any positions within the next 72 hours. I wrote this article myself, and it expresses my own opinions. I am not receiving compensation for it (other than from Seeking Alpha). I have no business relationship with any company whose stock is mentioned in this article.