Harry Browne developed a simple system called the Permanent Portfolio which invested equally in gold, stocks, long-term treasury bonds and cash. The idea is reminiscent of the Modern Portfolio Theory where you diversify into asset classes that do not move up or down with high correlation. The performance chart of this originally conceived idea is below:
Chart compliments of crawlingroad.com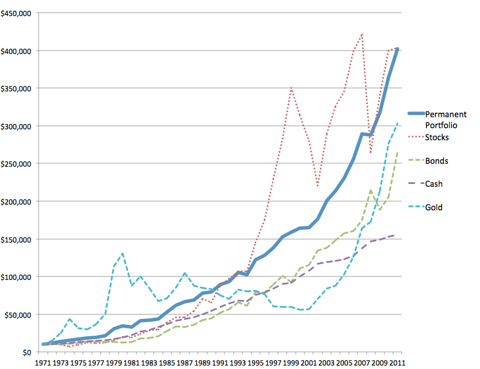 The Permanent Portfolio Mutual Fund
There are mutual funds that have taken the Permanent Portfolio concept and altered it somewhat. One example is the Permanent Portfolio Mutual Fund (MUTF:PRPFX) that allocates 20% gold, 5% silver, 10% Swiss franc, 15% US stocks and foreign real estate and natural resources, 15% aggressive growth stocks, 35% Dollar assets.
Chart compliments of Google.com

Between the 10 year period of 2002 until the end of 2011, the Permanent Portfolio tracked by Crawlingroad delivered a 9.33% compound annual growth rate while the mutual fund (PRPFX) delivers a 9.69% return during that same time frame.
Below is a chart comparing the trailing 10 year performance of the Permanent Portfolio Mutual Fund (PRPFX) to the S&P 500 ETF (NYSEARCA:SPY) which gives a nice visual depiction of volatilty - or lack thereof.

Another option would be the Global X Permanent ETF (NYSEARCA:PERM), but there is not enough historical data for me to make a meaningful comparison with.
Building My Own Permanent Portfolio ETF
The idea of building a very boring core position of ETFs appealed to me. While investing in the Permanent Portfolio (PRPFX) would no doubt be a whole lot simpler, I am a 'do it yourself' investor and I wanted to see whether I could quickly assemble a similar type portfolio of my own with comparable results.
My portfolio would only contain 5 ETFs and will not as rigidly follow the asset allocation rules. I include one of each in my portfolio which I feel are a good mix of defensive and growth products without high correlation:
Health Sector ETF
Fixed Income ETF
Income ETF
Metals ETF
Value ETF
As you can see I have a much higher allocation in stocks than what was originally recommended. My ETFs making today's list are as follows:
| | | |
| --- | --- | --- |
| Ticker | Name | Last |
| (NYSEARCA:MORT) | Market Vectors Mortgage REIT ETF | 27.39 |
| (NYSEARCA:BBH) | Market Vectors Biotech ETF | 51.65 |
| (NYSEARCA:PPLT) | ETFS Platinum Trust | 154.58 |
| (NYSEARCA:SLYV) | SPDR S&P 600 Small Cap Value ETF | 74.46 |
| (NYSEARCA:BABS) | SPDR Nuveen Barclays Capital Build | 60.98 |
This fund is re-balanced every 3 months. The trailing 5 year return is below with a compound annual growth rate of 11.5%:
Chart compliments of Portfolio123: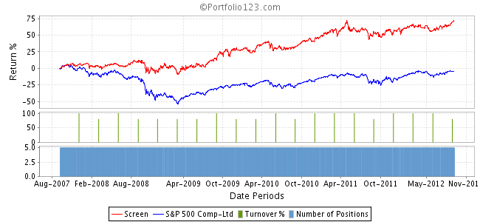 Building on Harry Browne
In summary, if ETFs are going to be my trading vehicle, it seems that sticking to the Permanent Portfolio mutual fund (PRPFX) is a simpler route where I can buy and go on with my life and have comparable returns. It is simply not worth my time to screen and trade these funds every few months when the returns are comparable.
But is it possible to use the Permanent Portfolio concept as a broad guide where I can create sophisticated investment strategies in each asset class such as these: hyper-compounding income stocks, precious metals, bonds, value stocks, defensive utilities, growth stocks, healthcare and more? Could I lower my risk of tactical stock picking by including this asset allocation scheme? A future article will discuss how this can be done.
Disclosure: I have no positions in any stocks mentioned, and no plans to initiate any positions within the next 72 hours. I wrote this article myself, and it expresses my own opinions. I am not receiving compensation for it (other than from Seeking Alpha). I have no business relationship with any company whose stock is mentioned in this article.