Turns out that the color yellow was the best investment theme of the past five years. Corn and gold have posted the biggest gains since the onset of the financial crisis in the summer of 2007, according to an asset class ranking from Deutsche Bank.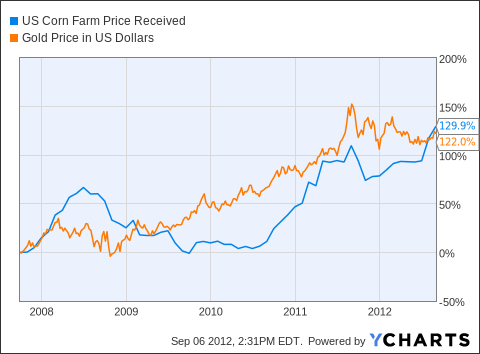 US Corn Farm Price Received data by YCharts
Stocks? Not so much, based on the broad market barometer.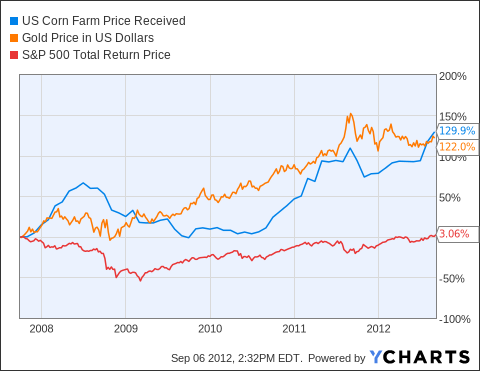 US Corn Farm Price Received data by YCharts
Coming on the heels of the Bill Gross death of the cult of equities manifesto it looks like another nail in the stock coffin.
But only if you just stick to the headline numbers. There's no denying that stocks in the aggregate have had a lousy five years. Or 10. But what the index benchmark obscures is that plenty of individual companies have made a lot of money for investors the past five years.
Not obscure small caps that you need extra-refined stock picking radar to locate. We're talking big time blue chips. Taking a spin through the Standard & Poor's 500 index, Priceline (PCLN), Apple (NASDAQ:AAPL), TJX Companies (NYSE:TJX), Amazon (NASDAQ:AMZN), and MasterCard (NYSE:MA) all posted price gains that beat the corn/gold trade.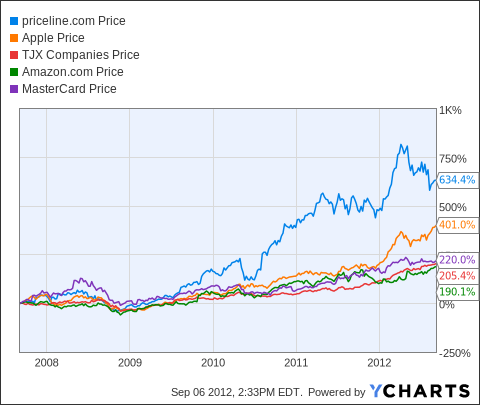 PCLN data by YCharts
Just a notch lower than those S&P 500 scorchers, DirectTV (NYSE:DTV), Union Pacific (NYSE:UNP) and YUM Brands (NYSE:YUM) managed to almost or more than double investors' money over the past five years.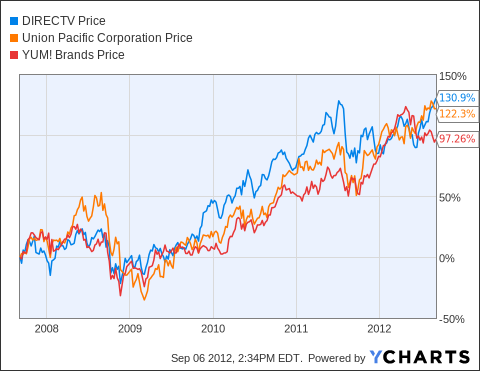 DTV data by YCharts
And another batch of S&P 500 constituents, including McDonald's (NYSE:MCD), IBM (NYSE:IBM) and Nike (NYSE:NKE) delivered a pretty sizable equity premium over bonds for the past five years.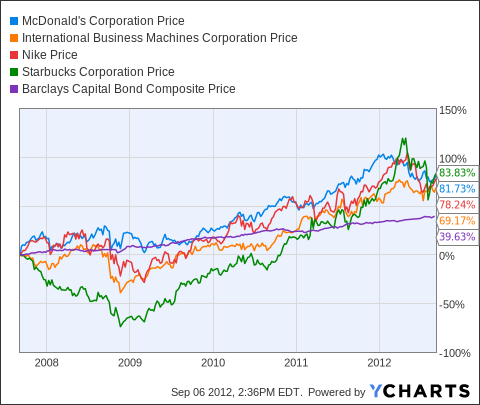 MCD data by YCharts
Granted, the 40% price hike for the Barclays Bond index was a much smoother ride than what stock investors had to stomach. That shouldn't be surprising. The more important takeaway is that while the debate will continue to roar over whether the overarching cult of equities is dead, clearly opportunities abound for individual stocks.
Disclosure: I have no positions in any stocks mentioned, and no plans to initiate any positions within the next 72 hours. I wrote this article myself, and it expresses my own opinions. I am not receiving compensation for it. I have no business relationship with any company whose stock is mentioned in this article.