Cocktail party conversation can take some strange turns at times. Over the Independence Day holiday weekend, I found myself in the unusual position of defending a fellow partygoer's purchase of Valero Energy Corp. (NYSE: VLO) shares to others.
Not that I recommended Valero shares, mind you. I was merely attempting to illustrate how such a transaction could be rationalized in response to the question originally put to the buyer: "Why buy an oil stock when you could buy the oil itself?"
A good question, that.
Of course, the simple answer is this: Some folks can only buy the stock; they can't buy the oil itself. These investors could be limited by charter or disposition to equity investments. For them, oil futures are anathema. There are, of course, exchange-traded funds that track oil futures. Those, like the United States Oil Fund (AMEX: USO) and the PowerShares DB Oil Fund (AMEX: DBO) are stock-like securities with a commodity backbone.
Even if one were permitted to use the equity backdoor to the commodity market, an investor may still not wish to cross the threshold. Commodities, over time, can only be expected to earn the inflation return. Folks invest in stocks to derive returns in excess of inflation. Put another way, companies that issue stocks can improve efficiencies and grow their earnings. Commodities can't. That's enough to keep some investors out of direct involvement with the commodities market.
If stocks are the only way for an investor to play the oil game, there's a further choice to be made: What kind of oil company to buy? After all, there are companies that specialize and those that generalize. The really big companies are integrated and control the entire value chain from exploration to distribution. Among these are Exxon Mobil Corp. (NYSE: XOM), Chevron Corp. (NYSE: CVX) and ConocoPhillips (NYSE: COP). Specialists include refiners, exploration and development companies, and oil services outfits.
The stocks of integrated oil companies are essentially defensive issues. Their share prices are relatively stable (emphasis here on "relatively") and they pay decent dividends. The average dividend yield for the big three companies is 2.2%. Not inflation-busting, but still offering a decent risk premium to three-month Treasury bills. It's the capital gains potential of integrated oil stocks that beats inflation. Since May 2006, for example, Exxon Mobil's stock has risen at an average compound rate of 15.6% per annum. Granted, most of that gain was realized last year, but we'll get to that momentarily.
Investors, as consumers, are most keenly aware of refiners such as Valero or Tesoro Corp. (NYSE: TSO). These firms don't own their own oil reserves, so they make their money by purchasing crude from others and refining it into gasoline and other distillates. Not surprisingly, the earnings of refiners are much more volatile. In times of cheap oil and relatively expensive products, refiners' earnings can grow disproportionately fast since they're operationally streamlined.
These are obviously not such times. Refining margins have been universally pressured because distillate prices, most particularly those for gasoline, can't be raised to keep pace with increases in the cost of crude.
Over the past 12 months, crude's risen 91% and unleaded gasoline has ticked up 54%. In that time, the "crack spread" - the profit potential earned from distilling crude into heating oil and gasoline - has shrunk 35%.
Refining Margins Shrink & Stagnate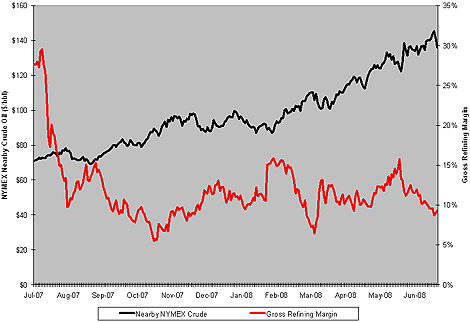 So, why would I defend the purchase of Valero, a refiner whose fortunes are clearly at the mercy of the crack spread?
Because Valero's problem is narrowly defined and very fixable if one has the right tools.
Over the past year, crude oil's cost trajectory torpedoed Valero's stock price, but the resulting margin squeeze also stymied Exxon Mobil shares. Analysts are now building in expectations of moderating oil prices for the coming year into their outlooks. These estimates differentially affect the companies' growth prospects. Earnings growth for Exxon Mobil is estimated to decline from 32.3% this year to 7.2% in 2009. Valero's, meanwhile, is expected to swing from -43.3% to 24.4%.
The opportunity for Valero holders, if expectations are thought to be reliable, is significantly better than that for Exxon buyers. But there's that pesky problem with current margin volatility.
That's where a tool, namely an exchange-traded oil fund, comes in. Suppose we compare the outright purchase of 100 Exxon Mobil shares versus an oil-protected version of Valero: 50 shares of the company's stock bought for cash, together with a margin position in 100 United States Oil Fund shares.
If we'd put our position on a year ago, we would have significantly increased our profit potential with a negligible increase in risk. The hedged Valero stock would have produced a 63% gain, fully 60 percentage points better than the return generated by Exxon Mobil, even after accounting for a year's worth of margin account interest.
Better still, the hedged Valero position needed only 75% of the capital requirement of the Exxon Mobil stake.
Make more and pay less for roughly the same risk. What's not to like?
Tale of the Tape (02-Jul-08 to 08-Jul-08)


 

Annualized

Return

Annualized

Volatility

Reward-to-

Risk Ratio

Capital

Commitment

 

 

 

 

 

Exxon Mobil (XOM)

2.5%

26.7%

0.09

$8,482

Unhedged Valero (VLO)

-49.9%

39.5%

-1.26

$7,427

Hedged Valero (VLO+USO)

63.2%

35.9%

1.76

$6,390

United States Oil Fund (USO)

112.7%

30.9%

3.67

$5,353

Hedged Valero position combines a cash account purchase of 50 VLO shares with a margin account purchase of 100 USO shares, meeting the 50% equity requirement with cash. The return depicted reflects the resulting margin loan carried at 1.25% below prime; all other positions depicted reflect cash account purchases of 100 shares.
Hindsight, of course, is 20/20. There's no guarantee that the next 12 months will look like the past. Still, this notion does make for some interesting chatter while the canapés are served. Try it at your next party.
Daily Performance Chart