Who said grains were better than gold? Oh, that's right. WE did ("Agribusiness Outshines Gold").
Well, truth be told, we actually compared agribusiness - chemical and equipment production related to raising grain, together with other agriculture ventures in livestock and oilseeds - to the yellow metal.
Back in November, agribusiness stocks were leaving gold in the dust. Now, after more than a couple of lead changes in the profit derby, agribusiness and gold are neck and neck. The Market Vectors Agribusiness Fund (AMEX: MOO), an exchange-traded fund that tracks the DAXglobal Agribusiness Index, has ticked up 40% since its September 2007 launch. The SPDR Gold Shares Trust (NYSE Arca: GLD) just caught up with a 40% gain of its own.
Not that these two trackers have come to their present positions similarly, mind you. The correlation between them is only 30%. When one zigs, the other heads in a zaggy direction. Agribusiness, too, is much more volatile. Gold's almost stock-like standard deviation makes it, oddly enough, less risky than agribusiness.
But MOO's underlying index encompasses more than three dozen stocks in diverse lines of business. There's, of course, only one thing being tracked by the bullion trust. Normally, that kind of diversification would make for less volatility. When an index is populated by agrichemical companies like Agrium, Inc. (NYSE: AGU), however, that may not be the case.
Agrium is probably best known for its Vigoro-branded seeds and lawn care products, but the company supplies a wide range of other agricultural nutrients, chemicals and fertilizers.
The company's been a driver of the DAXglobal Agribusiness Index, making up nearly 5% of the benchmark's market capitalization. Since the launch of the Market Vectors Agribusiness Fund, Agrium's shot up 117%, though the stock's correlation to the ETF has weakened recently.
AGU Vs. MOO And GLD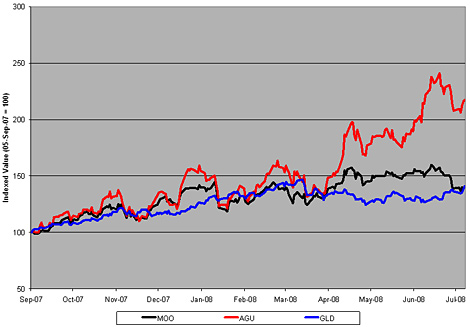 Heading into earnings season, Agrium's prospects continue to look rosy. Consensus earnings estimates are $3.21 a share now, but some analysts are more optimistic given the fact that Agrium came up with outsized earnings in the last two quarters. In the quarter ending in March, actual earnings were more than double analysts' estimates, following a 40% earnings surprise in the previous reporting period.
Nobody's expecting such grand outperformance when Agrium next releases its numbers August 9. In this environment, though, even modest upside surprises are welcomed.