eBay Inc. (NASDAQ:EBAY) has impressive fundamentals, and is the world's favorite place where buyers and sellers converge to exchange a variety of goods. In addition to ebay.com, EBAY operates other online commerce platforms like Half.com, Rent.com, classified websites, and global payment platform PayPal that offers a convenient, yet secure way to make online payments.
PayPal, a market leader in the online payment idustry, provides a convenient way for users to make online payments, and for merchants to receive payments. EBAY's stock is bound to get a boost in light of the recent developments relating to PayPal's partnership with Discover Financial Services (NYSE:DFS), which will give the company substantially wider access to physical retailers around the country.
Discover Financial Services operates the Discover Network (its credit card network). Recently, in a study by J.D. Power and Associates, Discover's cards were second only to American Express in overall customer satisfaction. The collaboration will give PayPal access to Discover's 7 million U.S. retail locations. PayPal currently boasts a total user base of $113 million. Considering the aforementioned developments, and the current attractive valuations that we provide at the end of this article, we recommend that investors long the stock.
The partnership will work this way; PayPal's U.S. accounts will eventually be eligible for a PayPal card, which will allow cardholders to transact at stores (using their cell number and PIN code). This presents a huge opportunity for merchants, since the deal will give the 50 million active users of PayPal the option to pay at retail stores that already accept Discover's cards. This comes at no initial incremental cost for retailers, since no new hardware needs to be set up to accommodate transactions. For Discover, which will enable PayPal on its already existing network, the advantage comes with the collection of Network Switching/Processing fees on PayPal transactions.
We expect healthy increases in transactions per account once the system is fully incorporated with the existing Discover networks. Beginning in the second quarter of 2013, the initial roll-out will include 1,500 merchants, and the rest will be implemented over the course of the year. To make the adoption of the plans more successful, PayPal will launch an aggressive campaign along with Discover, resulting in expenses without revenue increments. PayPal also estimates that the business will have higher margins, and a lower revenue take rate (commission eBay charges). These are indeed massive opportunities, but PayPal will face mounting pressure from other credit card issuers like Visa (NYSE:V), MasterCard (NYSE:MA) and American Express (NYSE:AXP), which have many more customers compared to the 50 million that PayPal has.
PayPal also intends to shift to card-free solutions using mobile devices. Shifting to a card-free system presents a lucrative opportunity for retailers around the globe, since sales are bound to increase with the adoption of the payment system. But PayPal and Discover aren't the only ones counting on the system for increased profitability. Wal-Mart (NYSE:WMT), Best Buy (NYSE:BBY) and other large retailers have founded a joint venture called Merchant Customer Exchange, the purpose of which is to enable smartphone-based transactions.
Recent Financial Performance
EBAY registered an earnings surprise of 1.8% in the last quarter, with EPS of $0.56. Analysts expect EPS of $0.56 and $2.34 for the next quarter and full year ending December 2012, respectively. PayPal accounted for 55% of total revenues for the quarter. The Marketplace segment saw a sequential increase of 2% in active users, and a YoY increase of 8%. Gross merchandise volume grew at 10% YoY, but fell by a marginal amount sequentially. Gross margins are expected to remain stable over the years, as table (1) below shows. Revenues have shown a consistent upward trend and are expected to touch the $16b mark by the end of 2013.
Table 1:
| | | | | | |
| --- | --- | --- | --- | --- | --- |
| | FY2010 | FY2010 | Current/LTM | FY2012E | FY2013E |
| Gross Margin | 72% | 70% | 70% | 71% | 71% |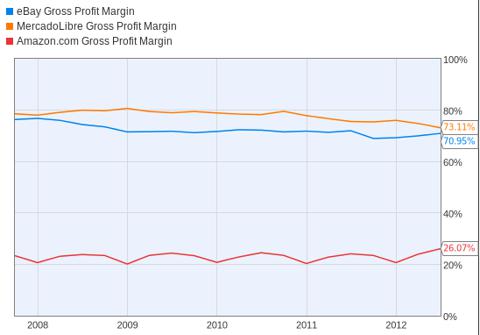 Valuations
Since 2005, the company has never missed analyst expectations, and the stock has on average shot up 10.5% after an earnings release. It is currently trading at 17x its forward earnings (2013), against its five-year historical average of 20x. Furthermore, it also trades at 4.5x its sales, below its seven-year average of 6x. Long-term earnings growth rate is estimated at 13%. The PEG ratio stands at 1.3. Its competitors, MercadoLibre, Inc. (NASDAQ:MELI) and Amazon.com, Inc. (NASDAQ:AMZN), are trading at 28x and 104x, respectively.
Based on historical averages, the recent encouraging developments with Discover Financial Services, and its comparison with its competitors, we consider the stock to be attractively valued at the moment, and recommend it as a buy. Although we believe the partnership with Discover will ultimately expand PayPal's addressable market, the company hasn't provided any guidance on the potential financial impact. Hence, there remains a potential risk in the performance of the stock should the company fail to realize the benefits, as is currently expected by the market.
Disclosure: I have no positions in any stocks mentioned, and no plans to initiate any positions within the next 72 hours.
Business relationship disclosure: The article has been written by Qineqt's Technology Analyst. Qineqt is not receiving compensation for it (other than from Seeking Alpha). Qineqt has no business relationship with any company whose stock is mentioned in this article.