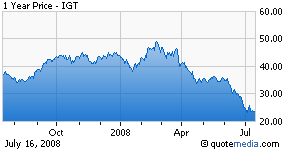 International Game Technology (NYSE:IGT) is expected to report Q3 earnings Thursday, July 17 before the market open with a conference call scheduled for 9:00 a.m. ET.

Guidance
Analysts are looking for a profit of 36c on revenue of $680.55M. The consensus range is 33c to 39c for EPS, and revenue of $632.1M to $722.8M, according to First Call. The gaming sector has been pressured as consumers tighten discretionary spending due to the continued housing slowdown, eroding credit, rising food and gas costs and recession worries.
Analyst Views
A Citigroup analyst expects server-based replacement sales to increase in 2010, with 2009 sales largely dependent on the initial performance of the company's new products. The analyst said International Game's new server-based products is compelling and that initial performance at MGM Mirage's CityCenter should stimulate replacement sales at existing properties starting in 2010.
However, due to strong competition, an analyst at Morgan Stanley believes the company may find it tough to regain market share in the U.S., particularly with consumers making additional cuts to their spending habits. International Game recently acquired UK gaming machine provider CyberView Technology for $76M in cash.