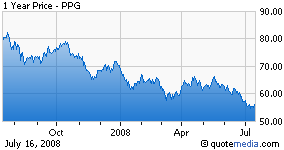 PPG Industries (NYSE:PPG) is expected to report Q2 earnings Thursday, July 17, before market open, with a conference call scheduled for 7:30 am ET.
Guidance
The consensus estimate is $1.54 for EPS and $4.17B for revenue, according to First Call.
Analyst Views
With more evidence of further weakness in the US economy led by soft consumer spending, housing woes and a rapid escalation in energy prices, 2Q08 is shaping up to be a challenging quarter for the chemicals industry. In particular PPG's shares have been under significant pressure recently as anxieties around a housing meltdown and an impeding slowdown in Europe have hurt sentiment on the stock.
Goldman, while it remains encouraged by PPG's efforts in upgrading its portfolio and diversifying its geographic reach, believes the current ongoing cost inflation and volume erosion in Coatings are likely to temper near-term growth and investor enthusiasm. One light at the end of the tunnel is that the U.S. chemical sector is likely to see a new wave of deals in coming months, driven by strategic buyers looking to build a more profitable and streamlined portfolio of assets. Much of this is on the heels of the recent Dow Chemical (DOW) bid for Rohm & Haas (ROH).
Moreover, valuations in the chemical sector have undergone a sharp correction since the heady highs of last summer, when a spate of private equity buyouts buoyed the share prices of U.S. chemical makers.
Key issues for the conference call: Forward guidance; commentary on the state of the housing market and how it is effecting PPG; additional details on the sale of PPG's auto glass business to KKR within the quarter; and PPG views on the consolidation within the industry and how it will effect PPG.
On July 13, Jim Cramer on his "Mad Money" show recommended PPG Industries as a next possible takeover target in the group. With a 3.8% dividend yield, Cramer said PPG is the safest way to speculate on a takeover. Cramer said PPG and its peers are incredibly cheap. And, if PPG were given a more realistic multiple, he said the stock should be worth $81 a share.