In our previous reports focusing on Sprint Nextel (NYSE:S) we had stressed that Sprint was the only company that had still offered unlimited and unthrottled data for postpaid contract customers with regards to the Big Four national mobile carriers (AT&T (NYSE:T), Verizon (NYSE:VZ), Sprint and T-Mobile USA). T-Mobile USA throttles customer data speeds once a cap is hit and that the second-tier prepaid carriers Leap Wireless (LEAP) and MetroPCS (PCS) had unlimited data plans, not to mention Boost Mobile and Virgin Mobile USA (Sprint's prepaid brands). While Sprint is a distant third in terms of lucrative postpaid contract customers, it has been putting distance between itself and T-Mobile USA and it is the unquestioned leader in the prepaid segment. That probably explains why T-Mobile USA recently revived a quasi-unlimited data plan and why MetroPCS is offering a special promotion to reduce its unlimited data plan from $70/month to $55/month (and it is grandfathered for those who sign up now). Despite these recent headwinds, we believe that Sprint still offers the best value for the customer and the best value for the investor.
Postpaid Contract Customer Segment
As everyone knows, Sprint is the #3 mobile carrier in the US with regards to revenue and postpaid customer base. When a company is a distant third in an industry that is referred to as a duopoly, it is going to have to try harder in order to compete for market share. We noticed four notable initiatives that Sprint has undertaken in order to position itself to catch up to the AT&T/Verizon duopoly for postpaid customers, which are as follows: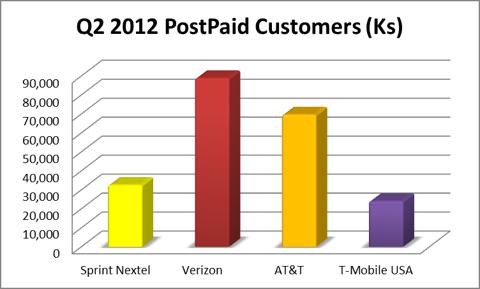 Sources: Most Recent Company Earnings Releases
Initiative #1, refocusing on the Sprint Network and Brand: One way Sprint has been doing so is concentrating all of its postpaid resources on its legacy Sprint 3G CDMA network and migrating customers away from the 2G iDEN Nextel Network. Because of Sprint's weak performance in light of the fact that the Nextel purchase has been Next-Hell, we believe that people have forgotten that Sprint built the first nationwide digital PCS network from the ground up. People also forget that Sprint transformed itself from a rural local exchange carrier to a company that was on the verge of creating a $129B long-distance and wireless telecommunications giant in 1999 with MCI Worldcom. Sprint Labs has a strong history of delivering innovative technologies even though it did not have the benefit of a 100+ year legal monopoly over telecom services like AT&T and its former affiliate Verizon.
Initiative #2, Network Vision: The second notable initiative we saw was the Network Vision initiative. This program was announced at the end of 2010 and it involves formally decommissioning Nextel's obsolete 2G iDEN network and building out a 4G LTE network nationwide. It has already begun 4G LTE coverage in 19 US cities, including 4 cities deep in the heart of AT&T's service area such as Atlanta (AT&T Mobility's headquarters), Dallas (AT&T's worldwide headquarters), San Antonio (AT&T's former headquarters) and Houston (3rd most populated city in AT&T's service area). It will reduce its wireless tower needs by 45% and will triple its Sprint Push-To-Talk service area from 900K square miles to 2.7M square miles.
Initiative #3, Apple's (NASDAQ:AAPL) iPhone Device: Another way it has responded to its competition was committing $15.5B over four years to purchase the innovative and wildly popular iPhone smartphone device from Apple Inc. There were analysts who raised concerns that Sprint would not be able to meet its purchase commitment to Apple. In our report evaluating Sprint's Q2 2012 performance, we had concluded that based on a statistically unlikely and extremely pessimistic scenario (Sprint only selling iPhone 4 devices and no 4S devices and seeing no grew in its iPhone smartphone sales during the ensuing periods) Sprint was on pace to satisfy 91% of the purchase requirement. That gave us confidence in that Sprint's Apple commitment would not be a millstone around its neck. Unlike T-Mobile USA, Sprint is able to satisfy customer demand for the iPhone and has sold nearly 5M devices in the 3 quarters it has been carrying the device.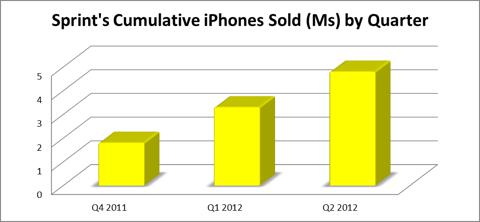 Source: Sprint's Last Three Earnings Releases
Initiative #4, Sprint's Low-Cost Service: Despite T-Mobile USA's new quasi-unlimited plan, Sprint's unlimited and unthrottled data plan offers the best value to consumers, especially those who want an iPhone. We believe that Sprint's 450 minutes for $79.99 per month with unlimited and unthrottled data on a nationwide 4G LTE network will be the best telecommunications value since the Sprint Sense deal from Sprint and the Dime Lady. We're hoping that Sprint will also increase the anytime minutes associated with the plan as well in order to neutralize Verizon's unlimited voice offering. We can see that Sprint's truly unlimited text and data plan beats the data plans offered by other carriers and at a significantly lower cost than AT&T and Verizon. Unlike T-Mobile, Sprint customers can get a subsidized iPhone without an activation fee.

Source: Mobile Carrier Websites
Prepaid Contract Customer Segment
Sprint is the leader in prepaid and wholesale customers, thanks to its stable of prepaid brands (Virgin Mobile USA, Boost Mobile and Assurance Wireless). Sprint's prepaid and wholesale customer base is significantly higher than any other carrier in the industry and Sprint's Virgin Mobile USA brand has been selling the iPhone since June 29th. While we would have liked to have seen Sprint take out MetroPCS back in February, we believe that Sprint would have been paying too high a price to acquire the company. Another reason we were glad that Sprint's Board of Directors halted the proposed buyout of MetroPCS is because Sprint needs to first focus on completing the Network Vision Project. Leap Wireless's Cricket Brand also offers the iPhone even though it is a prepaid network. AT&T and Verizon allow customers to buy an iPhone without a contract; however you still have to pay the high monthly phone bill that contract customers pay. While Leap's Cricket wireless has a lower price for the iPhone device versus Sprint's Virgin Mobile brand, Virgin Mobile has greater availability because it is powered by Sprint.

Source: Mobile Carrier Websites
Connected Devices Segment
For whatever reason, we were surprised that Verizon does not break out its wholesale customers and tablet computing customers like AT&T does. Sprint has always broken out its wholesale customers and began itemizing its tablet computing customers in Q1 2012. While Sprint is far behind AT&T in terms of data-driven connected devices, the company has made progress in the most recent quarter. Sprint's Year-over-Year growth in connected devices in Q2 2012 versus Q2 2011 was nearly 20% and while it was smaller than AT&T's 24.5%, the YoY growth rate for Sprint's Q2 2012 was higher than the 16% that was achieved in Q1 2012. AT&T's YoY growth rate in Q2 2012 of 24.5% was a slight decline from the 25.4% posted in Q1 2012. Sprint's linked-quarter growth rate for connected devices was 5.4%, which exceeded the 2.9% at AT&T. AT&T's growth in connected devices was due to the fact that it was the first carrier to offer Apple's cutting edge iPad tablet computing device. We were disappointed that Sprint did not get to offer the iPad for sale however we believe that Sprint's management had a solid case to make to Apple in order to earn the right to sell the iPad. Our reasons are as follows:
Sprint's linked quarter connected devices customer growth in 2012 exceeded AT&T's despite the fact that Sprint only currently offers the ZTE Optik, the Motorola Xoom and Samsung Galaxy Tab, which are Android Devices.
AT&T has shown their lack of gratitude to Apple by giving the Nokia Lumia Windows Phone a big push in order to reduce its handset subsidy expense at Ralphie de la Vega's request.
Verizon is enamored with the various Android POS phones.
Sprint has gone above and beyond in promoting the iPhone since October
It would be a great way for Apple to stick it to Samsung (for ripping off its iPhone), Google (for ripping off its operating system) and the AT&T/Verizon duopoly (for promoting second rate phones from second rate competitors)
For customers and investors, we still believe that the best alternative to the AT&T and Verizon U.S. wireless duopoly is Sprint. We think Sprint offers stronger absolute and risk adjusted investment prospects, as well as a better customer value experience versus its competition. We can see that this isn't Gary Forsee's Sprint Nextel and that AT&T/Verizon stakeholders ignore Sprint at their own peril. We also can see that Sprint's strength in the low-end of the mobile carrier segment is causing pricing pressures at T-Mobile USA and MetroPCS. Unlike Sprint, these companies don't have Apple's cutting edge, innovative, wildly popular iPhone smartphone device. We believe Sprint offers the best value proposition to consumers and investors based on the following factors:
Sprint's Network Vision project to rationalize its network systems and offer 4G-LTE service,
Sprint's reasonable prices for smartphone service
Sprint's product offerings in the prepaid and postpaid channels
Sprint has the iPhone and is making progress in connected device growth
Disclosure: I am long S, AAPL. I wrote this article myself, and it expresses my own opinions. I am not receiving compensation for it (other than from Seeking Alpha). I have no business relationship with any company whose stock is mentioned in this article.
Additional disclosure: This article was written by an analyst at Saibus Research. Saibus Research has not received compensation directly or indirectly for expressing the recommendation in this article. We have no business relationship with any company whose stock is mentioned in this article. Under no circumstances must this report be considered an offer to buy, sell, subscribe for or trade securities or other instruments.