Bristol-Myers Squibb (NYSE:BMY) seems to be a textbook case of the risks that big pharma investors face these days. Not only has its biggest drug gone over the patent cliff, but the company is facing some big headwinds because of research losses.
Bristol-Myers Squibb has admitted that it will have to take a $1.8 billion loss because of the failure of its Hepatitis C drug, BMS-986094. Testing on that drug was halted last month after a patient died during drug trials. The loss of the hepatitis drug might lower Bristol-Myers Squibb's leveraged value because the Center for Disease Control estimates that as many as two million American baby boomers might be infected with the virus.
Even if this is a one time loss, it will affect Bristol-Myers Squibb's net income because the company's sales for the last year totaled $20.49 billion. Still, a company with a market capitalization of $55.46 billion will be able to take a $1.8 billion loss in stride. Mr. Market seems to disagree with this assessment if the chart below is anything to go on.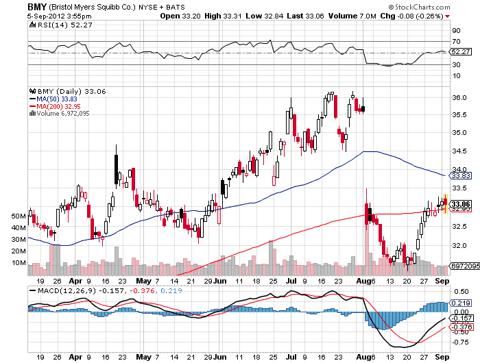 As you can see, Bristol-Myers had a huge fall in share value around $35.50 to almost $31 early in August. It has since rebounded, but the share price is still below what it was in July. Investors don't seem to be buying Bristol's claims that it can absorb the hepatitis drug losses.
Value investors will wonder if this makes Bristol-Myers Squibb a good buy. After all, research and development losses are an everyday occurrence at big pharmaceutical houses. Bristol-Myers has some other figures that look pretty good, including sales growth of 9% and income growth of 19% for the past year. That of course looks like a value buy, but what are Bristol-Myers' long term prospects?
Negative Revenue Growth in Bristol-Myers' Immediate Future
The truth is that they are very bad, and they are about to get a lot worse. Despite its falling share price, Bristol-Myers Squibb is not a value buy because it is about to lose a lot of money from the loss of its number one drug, Plavix.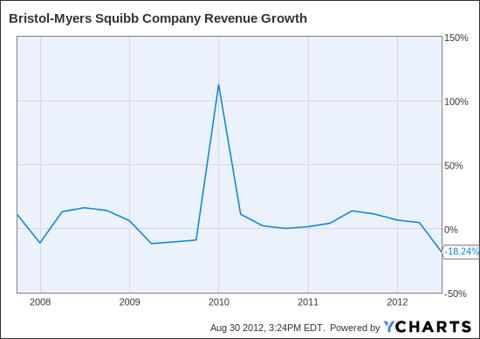 Well, they're not good because of the patent cliff as the chart above demonstrates. The patent cliff is the drop in revenue that almost every member of the Big Pharma family is facing because of patent expiration. When patents expire, generic drug makers like Teva Pharmaceutical Industries (NYSE:TEVA) and Mylan (NASDAQ:MYL) can start making medicines and undercutting Bbg pharma's prices.
Bristol is going to take big losses because its blood thinner, Plavix, went over the patent cliff in May. Bristol sold $7.1 billion worth of Plavix in 2011, but now a number of companies have gotten the approval to sell a generic version of Plavix or clopidogrel in the United States. The U.S. Food and Drug Administration (FDA) has granted at least seven companies the right to sell generic clopidogrel in the United States alone. These companies include four upstarts from India: Wockhardt Limited (WOCKPHARMA), Sun Pharmaceutical Industries (SUNPHARMA), Dr. Reddy's Laboratories (NYSE:RDY), and Aurobindo Pharma Limited (524804 in Mumbai).
To make matters worse for Bristol, four established U.S. generic drug makers have also been given a piece of the Plavix pie. They are Teva, Mylan, Apotex, and Roxane Laboratories Inc. Since Teva and Mylan are the two biggest players in the generic pharmaceuticals business, it is easy to believe the predictions of negative revenue for Bristol-Myers Squibb in the next year.
No Substitute for Plavix Revenue
It is safe to assume that the only place Bristol-Myers' revenues and share prices are going in coming months is down. Plavix is by far the company's best-selling drug; its second best seller, Abilify, only brought in $2.8 billion in 2011.
Strategies such as offering discount coupons for Plavix might keep a few customers, but they're not going to preserve the business. Most insurance plans, including government health insurance programs such as Medicare, require their members to use generic alternatives if they are available. Prescription management companies like Express Scripts, which has 100 million members in the United States also require their members to use generic pharmaceuticals. Therefore, it is safe to assume that most of Bristol-Myers' Plavix customers are going to switch to generic clopidogrel at some point in the near future.
It looks like Mr. Market might be on target with his assessment of Bristol-Myers' Squibb; this company looks like it is heading for negative revenue and big losses. There seems to be no way that it can make up the revenue it's going to lose from the loss of the Plavix patent.
Bristol-Myers Squibb is not a value buy right now because the damage from Plavix's fall off the patent cliff has not really begun yet. We will have to wait until next year to see if Bristol-Myers Squibb can recover from this loss or not.
Disclosure: I have no positions in any stocks mentioned, and no plans to initiate any positions within the next 72 hours. I wrote this article myself, and it expresses my own opinions. I am not receiving compensation for it (other than from Seeking Alpha). I have no business relationship with any company whose stock is mentioned in this article.