We mentioned in a previous article on Seeking Alpha how we think that business spending may be a way for the economy to start growing at a faster pace. We understand that that would imply putting the cart before the horse for some observers, but Accenture, one of the largest consulting firms in the world, has conducted research that shows how some companies actually distance themselves from the competition based on what they do during recessions or slower periods of slower economic growth. To read more about their research, go to (What did the winners in the last recession do right?)
To try to take advantage of this scenario, we looked for companies within the business software and services industry to try to identify some possible beneficiaries from an increase in capital spending on technology and software services.
Since these companies tend to be in the small and mid-cap range, without name recognition, we wanted to try to limit our risks to only those companies with little to no debt. In addition, we wanted to find companies with expected EPS next year that was on the high end compared to the investment universe, indicating to us that analysts have a positive view of these companies' prospects.
EPS growth next year: Earnings per share growth indicates that earnings growth expected over the next year. Looking at both the numerator and denominator of EPS, it can be driven by several factors. It may be driven by revenue (preferred), cost reductions (still beneficial but not as good as revenue growth), and accounting adjustments (should be evaluated on a case by case basis). It is also possible that earnings per share can increase simply by lowering the number of shares outstanding. This is good for investors who already hold the stock but can be misleading for an investor looking to evaluate a new investment.
Debt/Equity: Debt to equity gives an analyst some perspective on how a company is capitalized. While debt can be a cheaper method of financing, it often comes with the burden of interest payments that can reduce the available cash flow of a company. If those interest payments become burdensome, the company is at risk of failing to continue as a going concern without making radical changes.
We looked for companies with EPS growth for next year forecast at greater than 25% according to finviz.com, and companies with absolutely no debt on their balance sheet. Within the business software and services industry, we came up with the following list of 3 companies. Evaluate for yourself if they are a good fit for your portfolio and whether you think the current price is a good entry point.
1. Bottomline Technologies (NASDAQ:EPAY)
Bottomline Technologies provides collaborative payment, invoice and document management solutions to corporations, insurance companies, healthcare organizations, financial institutions and banks worldwide. Its solutions are used to automate and manage processes and transactions involving global payments, invoice receipt and approval, collections, cash management, risk mitigation and document management. It offers hosted or Software as a Service (SAAS) solutions, as well as software designed to run onsite at the customer's location.
With more and more companies looking to automate the Purchase-to-Pay process, Bottomline is well positioned to take advantage of any increase in spending. Think about it, the quicker a company gets paid for a product they sell or a service they provide the effort increases their cash flow. And if you don't know by now, cash flow is king. Without adequate cash flow, companies may have to settle for expensing bridge financing, and/or unfavorable credit terms with suppliers. Historically, these processes have been manually intensive with only the very largest of companies investing in software to automate the process. Now, more and more companies are going paperless and are automating their payment processing to become as efficient as the global companies they compete against.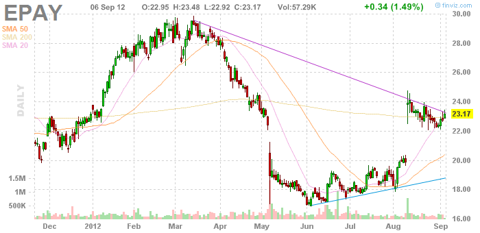 2. Interactive Intelligence Group Inc. (NASDAQ:ININ)
Interactive Intelligence is a provider of software applications. Its principal product consists of a range of applications, which provides customers with a software-based, multi-channel communications platform. It is engaged in the global contact center market, where its software applications provide a range of pre-integrated functionality. It uses this same platform to offer its solutions for business communications, including business process automation. Its solutions are delivered both on-premise and through cloud-based models hosted in its data centers.
Once again, the name of the game is automation. In the case of Interactive, they automate communications between customer-Interactive-supplier, and interdepartmental communications that help companies provide better service to their customers. Ever chatted with a customer service rep online about your cellular bill or utility bill? It may have been provided by Interactive. And with the trend towards cloud computing gaining traction, ININ is well positioned.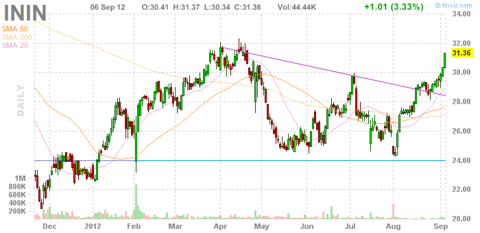 3. Qlik Technologies (NASDAQ:QLIK)
Qlik provides business intelligence (BI) solutions that help people create and share insights and analysis in groups and across organizations. Business users can explore data, ask and answer their own stream of questions and follow their own path to insight on their own and in teams and groups. The QlikView user experience is powered by its in-memory engine, which maintains associations in data and calculates aggregations rapidly, as needed.
Have you ever wondered how some investors seem to be better at finding good investment opportunities than others? Or how some companies seem to always out-compete their peers within the industry? According to the efficient market hypothesis the market always reflects all known information, right? And companies within the same industry should have access to the same macroeconomic trends that drive their business right? Of course, but it is the collecting, organizing, analysis, and presentation of this information in a timely fashion that enables certain companies to make better and quicker decisions with the information that is readily available. That's what QLIK does. They provide a solution that enables business to use information quickly and efficiently to make better decisions.
In a world that has become even more competitive than ever with new technology often a catalyst to dethrone an industry titan, it is crucial for companies to identify trends sooner rather than later. And this trend is what we think will drive QLIK to succeed.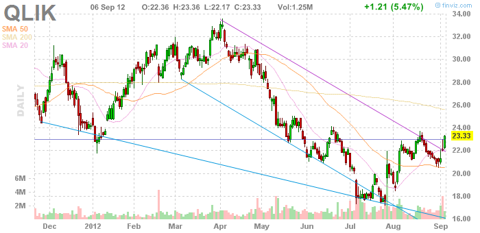 Key Metrics

Disclosure: I have no positions in any stocks mentioned, and no plans to initiate any positions within the next 72 hours. I wrote this article myself, and it expresses my own opinions. I am not receiving compensation for it (other than from Seeking Alpha). I have no business relationship with any company whose stock is mentioned in this article.