Noble Roman's Inc (OTCQB:NROM) is an undiscovered, profitable microcap company with 35% operating margins at an inflection point of growth. Historically, Wall Street has given some of the largest PE multiples to restaurant rollout stories and especially to companies with high operating margins. The key is finding them before the growth materializes, and buying the stock before the "smart" money buys them. Noble Roman's is currently on a $0.13 pre-tax EPS run rate, and in this article I will outline how I believe the company will be on a $0.20 EPS run rate by YE 2013 which will warrant a much higher stock price.
In 2010, US Pizza Sales were $35 billion, up 1% over 2009. Independents owned 57% of pizzerias and controlled 48% of sales. After independents, the Top Three pizza chains are Pizza Hut, Domino's Pizza (DPZ), and Papa Johns (PZZA). Pizza Hut, which is owned by Yum! Brands (YUM), holds the top spot with ~7500 units in the US and captures roughly 15% of all US pizza sales, followed by Domino's (9%), Papa John's (6%), Little Caesars (3.5%), and Papa Murphy's Take-N-Bake (1.9%). The top four chains have been mainstays for over a decade, but Papa Murphy's growth from #10 to #5 is the most notable, and illustrates why take-n-bake is the fastest growth arena in the pizza industry.

Noble Roman's, Inc., an Indiana corporation incorporated in 1972, sells and services franchises and licenses for non-traditional foodservice operations under the trade names "Noble Roman's Pizza", "Noble Roman's Take-N-Bake", "Tuscano's Italian Style Subs" and "Tuscano's Grab-N-Go Subs". The concepts' hallmarks include high quality pizza and sub sandwiches, along with other related menu items, simple operating systems, fast service times, labor-minimizing operations, attractive food costs and overall affordability. Since 1997, the Company has focused its efforts and resources primarily on franchising and licensing for non-traditional locations and now has awarded franchise and/or license agreements in 49 states plus Washington, D.C., Puerto Rico, the Bahamas, Italy and Canada.
Noble Roman's is a turn around story that has been plagued the last few years by a lawsuit which forced management's attention away from expanding the business in order to defend itself. The amazing thing is how profitable the company continued to be even while only having the business in "first gear". The company went on to prevail in the lawsuit and actually expects some monetary remuneration in the future. Most of the time required on the lawsuit is now behind the company, so now the management team is focused on growth.
The overriding macro trend the management team is looking to exploit moving forward is providing a better tasting product offering at affordable prices. The company is focusing its efforts on the take-n-bake (ie cook at home) arena, which is the fastest growing segment of the pizza industry. Take-n-bake has been embraced by the consumer because the product is "fresh and delicious" when compared to frozen pizza, is hot when the customer is ready to eat it as opposed to delivery pizza, since it is an unfinished food product there is no sales tax and the customers do not feel obligated to tip the drive, and, as a nice plus, the consumers can use food stamps to purchase the pizza at the grocery story or stand-alone locations. A further analysis of the role food stamps play can be found [HERE].
Noble Roman's is currently focusing its sales efforts primarily on three growth verticals.
Selling franchises/licenses for non-traditional locations primarily in convenience stores and entertainment facilities.
License agreements for grocery stores to sell the Noble Roman's Take-n-Bake Pizza.
The Company has recently developed a stand-alone take-n-bake pizza prototype and has entered into agreements with two separate existing independent franchisees to open a total of four such units in the upcoming months.
Non-Traditional Franchises and Licenses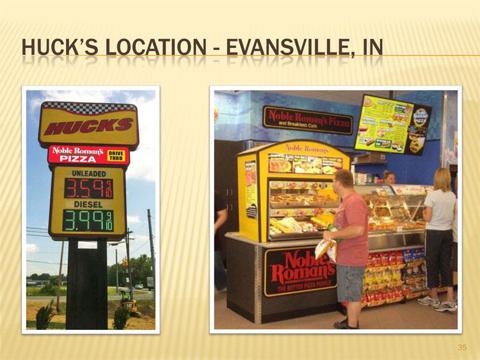 The Company believes that in today's macroeconomic circumstances, it has an opportunity for increasing unit growth and revenue within its non-traditional venues, particularly with convenience stores, travel plazas and entertainment facilities. The Company's franchises in non-traditional locations are foodservice providers within a host business, and usually require a substantially less investment compared to a stand-alone traditional location. Non-traditional franchises and licenses are most often sold into pre-existing facilities as a service and/or revenue enhancer for the underlying business. In 2012, the company has signed franchise agreements for 27 new non-traditional locations other than grocery stores including 12 locations with Huck's, a 110-unit convenience store chain located in five states, plus an agreement with The Pantry, Inc (PTRY)., a convenience store chain of over 1,650 locations. Normally, a convenience store chain will sign up for one or two units to test out the concept and if deemed successful will roll it out to a greater number of stores. As stated earlier, In 2012 Noble Romans has 27 signed non-traditional locations across 13 chains which in total represent a ~1,940 store opportunity. Each non-traditional franchise location is expected to produce ~$20,000 per year in revenues and operating income to Noble Romans, plus upfront fees of approximately $8,000 per location.
Grocery Store Take-n-Bake Licenses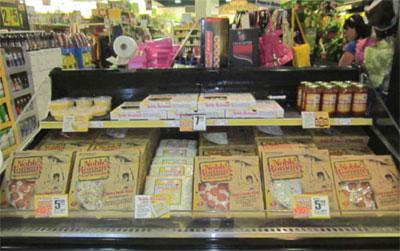 Since September 2009, when the Company started offering take-n-bake pizza to grocery store chains, through August 9, 2012, the Company has signed agreements for 1,206 grocery store locations to operate the take-n-bake pizza program and has opened take-n-bake pizza in approximately 945 of those locations. In 2012, the company has signed license agreements for 267 additional grocery store take-n-bake locations. The Company is currently in discussions with numerous grocery store operators for additional take-n-bake locations. To further accelerate the growth of take-n-bake pizza in grocery stores, the Company has focused on signing agreements with various grocery store distributors to market the take-n-bake pizza program to the distributors' current customer base. As of August 9, 2012, the Company had signed 13 grocery distributors to the program, and continues to pursue others as well. Each additional grocery store on average is expected to produce ~$2,000 per year in revenues and operating income to Noble Roman's.
Stand-alone Take-n-Bake Pizza Franchise Concept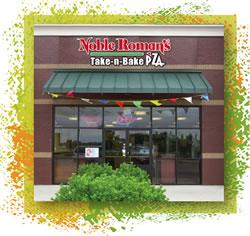 In July 2012, Noble Roman's announced that it signed its first franchise agreement for a new, stand-alone take-n-bake prototype, and since then has signed agreements for three additional locations. This really caught my attention, since they would be looking to go head to head against Papa Murphy's which has a dominant market share (1300 stores) position in the stand-alone take-n-bake market. Noble Romans believes this new stand-alone take-n-bake franchise will garner a lot of interest from franchisees. First, the company believes the product taste and product line are superior. Secondly, capital cost and operational cost are half that of buying and operating a Papa Murphy's franchise. This growth vertical is very exciting, and its one that will get wall street very excited with any signs that it is catching on. Each stand-alone store on average is expected to produce $44,000-$55,000 per year in revenues and operating income to Noble Romans and, in addition, will receive approximately $17,500 in upfront fees for each new unit.
Growth Moving Forward
Since 2009, one part of Noble Roman's has been in decline (Traditional Franchise) and two others increasing (Grocery Take N Bake and Non-Traditional Franchise) with the company showing flat sales overall. Management believes that the traditional franchise business has now stabilized which will stop negatively impacting overall sales of the company. As the three growth verticals kick in towards year-end, I expect to see meaningful top and bottom line improvement based on a conservative set of assumptions/inputs moving forward.
Assumptions and Inputs for Modeling Growth
Revenues are somewhat challenging to predict because of the lag that occurs when a grocer, non-traditional, and stand-alone are signed versus when they start selling product. I've found that it is normally about 3 months for a grocer, but could be 3-9 months for a non-traditional, and 6 months for a stand-alone. The good thing as an investor is it's only a matter of time until they are implemented. The bad thing is it's not going to be immediate.
Below, are three models representing what I believe are conservative, most likely, and best-case scenarios for growth in 2013 and 2014. The company has historically (since 2010 launch) signed 400+ grocery stores per year to take-n-bake licenses, so this input in all three scenarios is feasible based on past performance. Since the beginning of the year the company has signed up 27 non-traditional franchises, so again we have some historical record to show that adding 20-50 per year is feasible. As it relates to grocery store take-n-bake licenses and non-traditional additions, I feel I'm conservative across all three scenarios simply because I have no idea of what the attrition rate is amongst these verticals. For example, the company could also lose 100 grocers a year and 10 non-traditional, and I have no gauge on that, so I'm conservative on the additions to also reflect some sort of attrition rate. Noble Roman's announced the stand-alone take-n-bake initiative in late June and signed up 4 franchises by mid-August, so I feel my potential additions for 2013 and 2014 are feasible.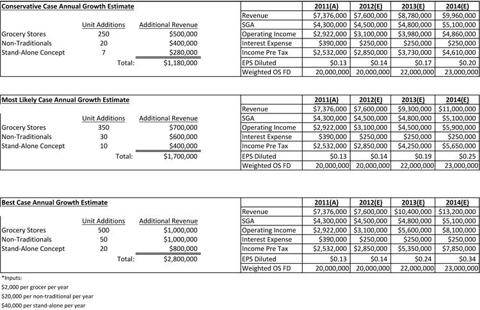 The company has stated they can double the size of the business with no material increase in SGA. Even in my conservative case model, you can see the operating leverage in the model. In the most likely case scenario I have the company earning $0.14 pre-tax EPS this year (2012), $0.19 EPS in 2013, and $0.25 EPS in 2014. Net operating margins exceed 50% by 2014.
Looking at the balance sheet, the company does have $5 million in debt that has just been refinanced with BMO. The debt is a 48-month facility at LIBOR plus 4% which the company pays $104,000 per month in principal. The company plans to use any increase in cash flow to pay down this debt quicker, including any remuneration from the lawsuit that they won. Based on my most likely case scenario model, I believe they could pay this debt off by mid-2015. Management's goal is to pay an ongoing meaningful dividend to shareholders once the debt is paid off.
Comparisons
Noble Romans has a licensing-franchising business model and doesn't own operate stores like all of he public comps I have found below. This allows Noble Romans to show superior financial performance while also not having the risk of owning and operating storefronts. I find that companies that demonstrate superior growth and superior margins always carry the highest valuations. Noble Romans has by far the best margins amongst the group, and even though growth has been flat, I expect that to change in 2013. When you look at the financial metrics, it is also easy to conclude that the company is currently undervalued based off what the company has already done/achieved, let alone future growth. For example, I think its interesting how Pizza Inn (PZZI) trades at 2x the market cap of Noble Romans and yet Pizza Inn literally earns less money and has 1/8 the operating margins.

Some Issues
I do see some issues that I think are warranted to bring to investors attention. Most of these issues derive fighting off lawsuits, and scrimmaging against a group of shareholders that wanted to take the company private. So a lot of the issues I see stem from watching the expense line like a hawk, while also being leery of bringing in "outsiders".
Paul Mobley and Scott Mobley pull a generous salary ($400k and $300k) which I believe they both earn, but this is double the amount of salary that is normal for a company this size. I believe this could scare off some potential investors. Paul does own a healthy equity position (17% of the company).
Paul Mobley is the CEO and CFO. In today's world of investors demanding more corporate oversight and governance I believe the company will

need to hire

a CFO. I would expect to see the company hire a full time CFO sometime in late 2013-2014, hence part of the bump up in SG&A in my model. Along with this Paul wears a lot of hats at the company which is fine to some regard, but who would be able to step in as CEO if something were to happen to him.
I would like to see some additional independent board members brought on that have backgrounds that would provide some real value to the company.
The website really needs some work on a variety of levels especially as it relates to communicating with potential consumers, investors, and franchisees.
Robert Stiller, the founder and recently ousted chairman of Green Mountain Coffee (GMCR), owns a large position (17.5%) of Noble Roman's. He has been a seller due to his financial issues, but since he is owns well over 10% he can only sell 190,000 shares every 90 days.
The company has $5 million in debt which it recently refinanced through BMO.
Valuation and Conclusion
Noble Romans looks to be set for a turnaround in late 2012 onward. The company has industry leading operating margins, and now with some legacy issues behind the company, management can start to execute on its growth strategy. Pizza industry comps trade anywhere from 14 - 44 PE (pre-tax), while Noble Romans currently trades at a 5 PE. The company does have some issues to work through but if we just apply a conservative 10 PE to Noble Romans TTM EPS of $0.13, it gives us a short-term target of $1.30 PPS. Below is a simple PE - EPS matrix and potential stock prices.

Given realistic and feasible inputs in my Most Likely Case growth model, Noble Roman's could be on a 20c pre-tax EPS run rate by Q4 2013. If you put more of a growth multiple on these expected earnings its easy to get a stock price that should be $3.00 PPS or higher.
I see the blue sky potential for the story being the stand-alone take-n-bake franchise. Wall Street always goes gaga over restaurant rollout stories, and if Noble Romans shows any type of success in rolling out the first 10-20 units and provides visibility for an increased rollout, the stock will likely trade at a very high multiple.
In conclusion, Noble Romans is currently trading at least 50% below where it should be trading which provides a nice margin of safety when looking at the potential 12-24 months out. If Noble Roman's is moderately successful in its growth strategy, the company will be able to double EPS (from 0.13 to 0.25) over the next 24 months. If a mediocre growth multiple of 15 PE is applied by that time, it would produce a stock price $3.75, which is 500% ROI from current prices. Management's goal is to have all debt paid off within three years and to then pay a meaningful ongoing dividend.
Disclosure: I am long OTCQB:NROM. I wrote this article myself, and it expresses my own opinions. I am not receiving compensation for it. I have no business relationship with any company whose stock is mentioned in this article.