The official unemployment rate is now 8.1%, an improvement from 8.3%, while the participation rate hit 63.5%, a number last seen in September of 1981. While job growth has obviously slowed, increasingly less people are participating in the labor force. Yes, I know that U-6 is much higher, although it decreased to 14.7% in August from 15.0% in July according to the BLS, but the data used for the chart below only considers U-3 data, or the official unemployment rate.
In calculating the real unemployment rate, the historic labor participation rate average of 67.1% for the period 1990-2006 is used, and while the current economic times are not the garden variety that we have grown accustomed to - although I've repeated that statement and it is now old news - the fact remains that without a strong labor market not much else moves forward. In truth, the consumer does not account for 70% of the economy, as is often stated, but rather 100% because without a final end user every business eventually stalls. B2B cannot flourish without B2C.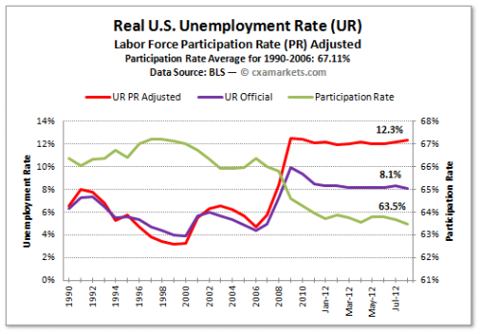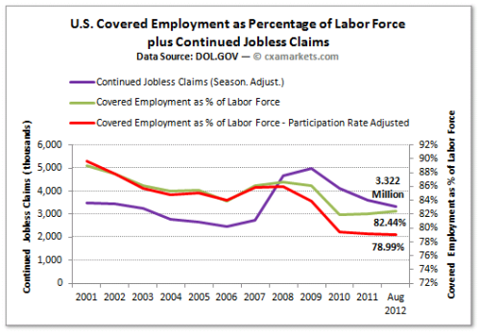 The other aspect of the labor market is measured through the weekly jobless claims, and while the weekly numbers do not tell us much, the "Covered Employment" paints a distressing picture. Not only are individuals saddled with the frustration of job hunting, unemployment benefits increasingly cover a smaller percentage of the population, bringing added pressure to consumer sentiment and feeding into a defensive vicious cycle. According to calculations based on official numbers, 82.44% of the labor force qualifies for jobless benefits, but when adjusted for the participation rate the percentage drops to 78.99%, or another 5.5. million individuals that have become economically invisible. In addition, the weekly jobless number is distorted, because it is obvious that a decrease in the number of individuals that qualify for benefits ultimately leads to a lower number of claims.
It's not news that Ben Bernanke hinted that QE3 is on its way, and if job growth is the measure, he may feel that it's time to pull the trigger next week. But how does the Fed sell the idea in the arena of public opinion that a monetary move is justified when unemployment dropped from 8.3% to a much palatable 8.1%, potentially indicating that the economy is turning? Maybe he will have to state that the headline rate is not a reflection of reality, and then sprinkle the argument with the fact that FedEx (NYSE:FDX) and Intel (NASDAQ:INTC), two major global companies, have warned about worldwide economic weakness.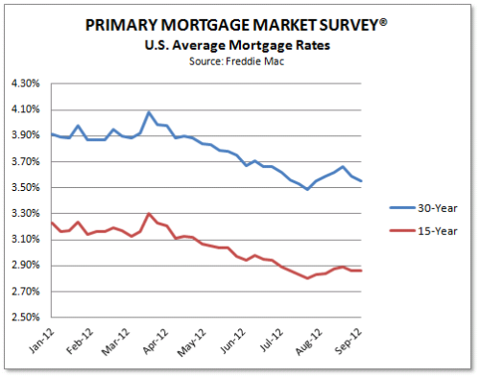 One other extremely important aspect of our economy is real estate, the Fed's favorite without a doubt, and the news recently have been positive, even if we're only experiencing a stabilizing effect. However many are calling for a market revival as if the past is completely forgotten. But looking at average mortgage rates, with the 30-year only 6 basis points above the record low of 3.49%, one must wonder about the simple principle of supply and demand, and why higher mortgage demand is failing to drive rates to the 4% level.
Disclosure: I have no positions in any stocks mentioned, and no plans to initiate any positions within the next 72 hours. I wrote this article myself, and it expresses my own opinions. I am not receiving compensation for it (other than from Seeking Alpha). I have no business relationship with any company whose stock is mentioned in this article.