Overview
As we enter a traditionally volatile September, many investors look for a safe haven to park assets. Unfortunately, very few asset classes provide safety, even in traditional "defensive" asset classes. Large-cap high dividend stocks ignored the slowing economy and rallied since the end of May, achieving an unattractive 14 P/E ratio (NYSEARCA:DLN). Most tradable commodities prices have rebounded due to the Midwest drought (corn, wheat, and soya), geo-political uncertainty (NYSEARCA:USO), or QE expectations (NYSEARCA:GLD). The treasuries and municipal bonds are often referred as "return-free risk assets." While Europe and Emerging Markets may look cheap, this is not an ideal place to invest money if you are risk-averse.
I discovered one asset not always highly correlated with the overall market: micro-cap equities. In general, I define micro-caps as equities with a market cap below $300 million. However, if you look at a sub $100 million-cap part of micro-caps (let us call them "nano-caps"), you can find many exceptional bargains. These stocks are followed by few sell-side analysts, under-owned by institutions, and widely held by their insiders. Many nano-caps failed to participate in a three-month "risk-on" rally, most likely because of their limited liquidity.
I will look at three very small companies: KSW Inc. (NASDAQ:KSW), MIND (NASDAQ:MNDO) and lakes Entertainment (LACO). Each has a "fortress" balance sheet, high insider ownership, and stable, if unspectacular, long-term prospects. Most critically, their price movements are highly idiosyncratic, often driven by a few large buy or sell orders and irrational investor behavior.
I will analyze a possible downside of these investments under the worst-case scenario - a new recession. Their upside should "take care of itself," given enough time, as their business is cyclical. The follow-up to this article (still in progress) will look at these companies' valuations and will try to explain the reasons why they stayed cheap while the market rallied.
"Safety" criteria for micro-caps
Micro-cap companies are less scrutinized than their larger peers are. Many of these companies are still run by the founders or their family members who often hold a large equity stake. Their business models are usually quite simple, as they know how to do only a couple of things well. Yet many of these micro-caps have survived a long time by possessing a narrow competitive advantage that helped them to keep away their much larger rivals.
My first pick is KSW, an HVAC engineering subcontractor in the metropolitan New York area conducting most of its business in Manhattan. The company was heavily engaged in the hotel and residential construction business before the 2008 financial crisis, but switched to public projects in the last few years to survive the private construction drought.
KSW is likely to return to its "bread and butter" residential and hotel business as evidenced by its two new projects worth $26 million announced in May: Baccarat Hotel & Residences and a luxury rental building for Glenwood Management.
KSW's current backlog of $74.6 million comfortably exceeds its last year $69.2 million revenue and it is actively bidding on new projects. The homebuilder index (S&P 500 Homebuilders XHB) has been "on a tear" in the past 12 months. KSW failed to participate in the rally despite its improving fundamentals and a high historical stock price correlation with the homebuilders.
Graph 1: KSW stock performance vs. Home Builder ETF (XHB) last 12 months: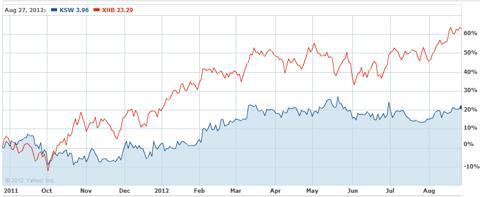 My second pick is MNDO, a small but well-positioned player that provides software solutions for smaller telecoms worldwide (tier 2 and 3). While the company is based in Israel and Romania, most of its revenue is generated in the Americas. It also has a strong presence in emerging markets. While about 35% of its 2011 revenue came from Europe, the fears of a steep revenue decline may be greatly exaggerated. A much larger competitor Amdocs (NYSE:DOX) reported Q2 results three weeks ago showing its European revenues have actually slightly grown year-over-year. Both companies engage in a similar business, are based in Israel, pay dividends, and have a similar debt-free capital structure. Yet, MNDO trades at a tremendous discount to its larger rival, which sports only a slightly higher growth rate.
The puzzling behavior of MNDO's equity price around the date of a dividend payout was covered in my earlier article. I find no fundamental reasons why the stock price has fallen from $2.76 on 02/10 to $1.73 today.
Graph 2: MNDO stock performance vs. Amdocs last 12 months: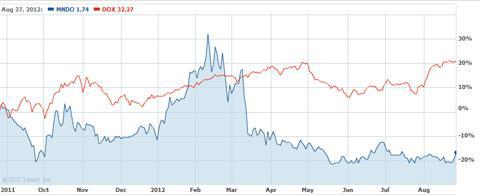 Finally, I really like LACO, which has its roots in managing and financing small casino properties, usually run by Native American tribes. LACO changed its business model two years ago as cash strapped states decided to open its own casinos, driving Native American interest groups out of business, but also creating new opportunities. I have written an article about its business last year. At first glance, its financials are outright puzzling. LACO has been running operational losses since 2010, yet its tangible book value has been steadily growing. The reason for this paradox is simple: GAAP accounting does not properly reflect the value of its assets. LACO has two "hidden" assets valued "at funding cost" of $35.9 million on its balance sheet: an 8% stakes in an already opened $350 million Cleveland Horseshoe casino and another 8% stake in the $400 million Cincinnati casino, which should open early next year. Just these two assets, taken at its construction cost ($750 * 8% = $60 million), are nearly equal to LACO's market cap of $65 million, completely discounting its 56% cap value in net unrestricted cash.
Graph 3: LACO stock performance vs. casino ETF (BJK) last 12 months:

Looking under the hood
1. Strong balance sheet
Many of micro-cap companies are very cyclical, preventing them from growing larger without acquisitions. Having a strong cash position, low debt and other off-balance sheet liabilities is critical. Most of these companies are too small to raise debt in capital markets. Instead, they rely on term and revolving bank loans. I prefer micro-cap companies that can survive if their credit lines are suddenly frozen during a banking crisis.
I use some valuation ratios, which may differ from those used in "popular literature." I want to evaluate the company's survivability under the worst-case scenario. Therefore, my definitions are very conservative.
Definitions:
Net Cash = Unrestricted Free Cash + Short Tern Cash Equivalents - Long Term Liabilities - Long Term off- Balance Sheet Liabilities
A business is priced by the market at its market cap net of cash also known as "enterprise value."
Total Liability = Long Term Debt + Short Term Liabilities + Present Value of Operating Leases + Other off- Balance Sheet Liabilities
If the company stopped doing business and paid off its short term obligations, this is how much it would have to pay off to its creditors before returning cash to its shareholders. Off-balance sheet items, such as operating leases, are important to show true "hidden" leverage.
Tangible Equity = Book Value - Goodwill - Intangible assets
If a company is liquidated and all its knowledge and intellectual assets are deemed worthless, this is how much (in theory) can be turned into cash. In real life, the "fire sale" liquidation prices could still be a lot lower.
NWC (Net Working Capital) = Current Assets - Current Liabilities
Short-term assets used to run a business plus cash "on hand" just in case.
OWC (Operating Working Capital) = NWC - Cash & Equivalents
Short-term assets used in day-to-day operations.
Table 1: Conservative Balance Sheet ratios
| | | | | |
| --- | --- | --- | --- | --- |
| | NetCash/MktCap | NWC/MktCap | TotalLiablity/TangEquity | LTLiaibilty/Equity |
| KSW | 62.46% | 83.46% | 5.89% | 3.98% |
| MNDO | 35.43% | 44.15% | 22.68% | 9.99% |
| LACO | 47.65% | 63.33% | 3.69% | 3.57% |
Bottom line: All three businesses are very well-financed both short and long term. The market places very little "business value" on intangible assets of LACO and KSW (i.e. expertise to run a business). MNDO is a software company so its "book value" is a poor indicator of its valuation, as most in-house created assets (software) do not show up on the balance sheet.
Table 2: Reference data used for calculation in MM (10Q and 10K)
| | | | | | | | | |
| --- | --- | --- | --- | --- | --- | --- | --- | --- |
| | LTLiab | MktCap | NWC | Cash | TangEquity | Equity | Operating Lease | PV Discount |
| KSW | 907 | 25,290 | 21,106 | 17,141 | 22,806 | 22,806 | 460 | 0.95 |
| MNDO | 2,031 | 32,470 | 14,337 | 14,884 | 14,909 | 20,339 | 1,500 | 0.90 |
| LACO | 3,964 | 65,570 | 41,526 | 35,211 | 107,356 | 111,012 | 0 | 0.00 |
2. Low run rate
While a company may have a strong balance sheet, having a low maintenance CapEx and an ability to lower its SG&A expenses without long-term damage to its business prospects are important during a crisis. For example, most high-tech companies have strong balance sheets, yet they have to spend a lot of money on R&D, even in bad times, just to keep up with the competition.
I prefer companies that can turn down its discretionary spending and still stay competitive once the business picks up.
Definitions:
Run-rate = SG&A + Maintenance CapEx
Maintenance CapEx = average depreciation and capital expenditures for last 3 years
Run-rate/Cash - years before company runs out of cash, even if all debtors default
Run-rate/NWC - years before company runs out of cash if all debtors pay
"Run-rate" is supposed to show how long the company can stay engaged in its business without large downsizing or "fire sales" of assets in an extreme case of no revenue at all. LACO, for example, currently produces very little revenue putting it in the "asset conservation" mode.
I took the average of last three years' deprecation and CapEx to arrive at "maintenance" CapEx, (a "guesstimate" indeed).
Table 3: Run-rate and years to survive
| | | | | | | |
| --- | --- | --- | --- | --- | --- | --- |
| | Av. CapEx (3 yr) | Av. Depr (3 yr) | Av. SG&A (3 yr) | Run Rate | Cash/Run Rate | NWC/Run Rate |
| KSW | 57 | 168 | 4,799 | 4,912 | 3.49 | 4.30 |
| MNDO | 4,367 | 333 | 4,000 | 6,350 | 2.34 | 2.26 |
| LACO | 101 | 9,225 | 15,918 | 20,581 | 1.71 | 2.02 |
Bottom line: even under the extreme conditions, all three companies can survive for a least a couple of years without seriously hurting its competitive abilities.
3. High idiosyncratic risk, low systemic risk
The stock prices of these companies are quite volatile, especially daily. However, a lot of volatility can be explained by lower liquidity and idiosyncratic factors. To prove this simple point, I looked at their daily betas with respect to S&P 500 (SPY ETF) and Russell 2000 (IWM ETF) and compared to the historical volatility of each company. I also took IBM (NYSE:IBM) as an example of a typical large cap stock that moves much more lock step with the market:
Table 4: Idiosyncratic vs. systemic risk (author's calculations):

Note: all values are daily-annualized volatilities for last 12 months while most financial Web sites will usually show you monthly 5-year betas.
Bottom line: the data above clearly shows that the small caps' volatility is very high. Yet the stock price is less correlated with the overall market, providing an excellent diversification choice. Owning any of these companies is a great portfolio diversifier. If you buy many different small caps, you can easily suppress their idiosyncratic volatility.
4. Management interests are aligned with the interests of shareholders
Small cap companies are often poorly managed. The management often has conflicts of interests, "sweetheart" payment packages and "golden parachutes," or participates in "related party" transactions (a "buyer" and a "seller" controlled by the same shareholders). Therefore, it is very important that the CEO have a very large stake in the company (making "stealing" from shareholders unprofitable).
Table 5: Tenures and equity stakes
| | | | |
| --- | --- | --- | --- |
| | Name | Years as CEO | Equity stake |
| KSW | Floyd Warkol | 18 | 11% |
| MNDO | Monica Iancu | 17 | 21% |
| LACO | Lyle Berman | 14 | 18% |
Conclusion
I identified three very safe micro-cap companies suitable to a long-term risk-averse investor. I plan to follow-up with another article where I will look at these equities' upside as well as discuss a trading strategy to take advantage of their illiquidity.
Disclosure: I am long KSW, LACO, MNDO. I wrote this article myself, and it expresses my own opinions. I am not receiving compensation for it (other than from Seeking Alpha). I have no business relationship with any company whose stock is mentioned in this article.