It's been a nagging question for many investors who are following trend following or so-called relative strength in asset allocation: how does the strategy perform over a long period of time?
Recently, a user commented:
John Hussman's article is actually shocking to me. I have been going by trend following since about 2009, and all of my research showed that it was pretty good. After reading that article I tried to duplicate his results. I could only get data back to 1987, not back to 1950, however the result was clear -- Trend following can reduce the volatility of a portfolio, avoiding most of the horrible drops of 2008 and 2001. However, it misses out on a lot of the gains. If your backtest experiments are only 10 to 12 years long, trend following looks just great. If you include the boom years of the 1990s and late 1980, trend following Stinks!

MyPlanIQ seems to do a lot of 5 to 10 year backtesting....
His comment is directed to a recent commentary made by John Hussman who showed that using moving average to time S&P 500, after taking trading friction (slippage) into account, the overall performance has been really mediocre since 1950 to 2012.
However, when one considers trend following in a set of diversified and uncorrelated assets, the overall performance has changed dramatically. This has been supported by two studies:
Mebane Faber's Relative Strength Studies
In the study titled as Relative Strength Strategies for Investing, Faber did back testing using 1,3,6,9 and 12 month relative strength individually and their combination. He showed the following chart for the combination strategy: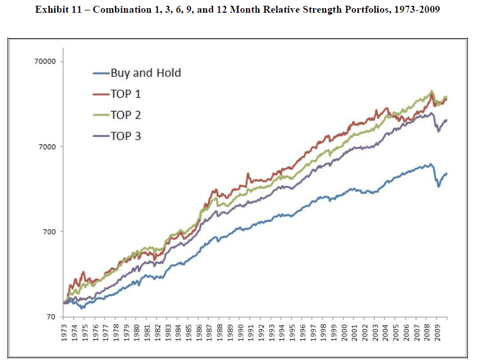 This clearly shows the relative strength strategy is working well in the period studied.
Gary Antonacci's Relative Strength Studies
Gary Antonacci further improved the multiple asset class relative strength strategy by applying the momentum to efficient frontier finder for asset allocation. In the latest study, his improved method performed very well in the period between 1974 to 2011 (similar to Faber's period).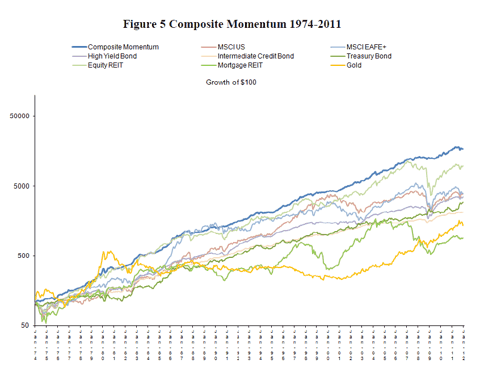 It is, however, a serious question unanswered: what would be the live portfolio performance (and its long-term performance) if one were to use the real index funds that have the longest history?
We construct this "live" portfolio that uses index mutual funds and gold (NYSEARCA:GLD) only. The reason we choose mutual funds over ETFs for this portfolio is that they have much longer history. Here is the portfolio P Relative Strength Trend Following Six Assets. It uses a relative strength or trend scoring to rank the following six index funds and then chooses the top 3 funds and invests equally among the top 3 funds each month. When stock funds are ranked lower than the bond fund (VBMFX or BND or AGG) or cash, it is replaced with the bond fund or cash.
The following is the detailed description of the portfolio:
Inception date: 6/28/1991.
This portfolio tries to use the funds with the longest price history. The international and emerging market and REITs are the ones with shorter histories.
Funds used in this portfolio:
U.S. stocks: Vanguard 500 Index (MUTF:VFINX), inception:3/27/1987
European stocks: Vanguard European (MUTF:VEURX), inception: 11/1/1990
Pacific stocks: Vanguard Pacific (MUTF:VPACX), inception: 11/1/1990
US REITs: Vanguard REITs (MUTF:VGSIX), inception: 6/28/1996
Gold: GLD, inception:1/4/1971. Before ETF GLD's inception on 11/18/2004, we use London spot gold price (monthly closing).
US Bonds: Vanguard Total Bond Index (MUTF:VBMFX), inception: 6/4/1990
CASH: calculated using 3 month T-Bill interest.
From 6/28/1991 to 9/4/2012, The following table shows the performance between VFINX (Vanguard 500 Index) and this portfolio:
| | | |
| --- | --- | --- |
| Return Metrics | VFINX | P Goldman Sachs Global Tactical Six Assets |
| Annualized Return | 8.572% | 11.5% |
| Sharpe Ratio | 34.141% | 89.0% |
| Standard Deviation | 18.866% | 10.6% |
Portfolio Performance Comparison (as of 9/6/2012)
Portfolio/Fund Name
1 Week
Return*
YTD
Return**
1Yr AR
1Yr Sharpe
3Yr AR
3Yr Sharpe
5Yr AR
5Yr Sharpe
10Yr AR
10Yr Sharpe
VFINX
1.6%
15.5%
22.0%
93.9%
14.0%
71.0%
1.8%
3.0%
6.84%
26.8%
P Relative Strength Trend Following Six Assets
2.0%
9.5%
4.1%
8.8%
10.7%
72.0%
8.1%
50.6%
12.1%
83.1%
*: NOT annualized
**YTD: Year to Date
This portfolio is currently live and we plan to monitor it daily.
This portfolio has the following properties:
It uses index mutual funds only.
It does not have survivability issue that has been cited as one of the biggest issues in many back testing studies.
It does not have slippage or trading friction issue as mutual funds are only traded at the closing price.
It has the longest history for public mutual fund or ETF based portfolios. As the moment, it has more than 21 years back testing history.
It uses geographical diversification among stocks. The reason to do so has more to do with the longevity of mutual funds: Vanguard European and Pacific stock funds have much longer history than Vanguard Total International Stock Market fund or Vanguard Emerging Market Stock Fund.
In real time, one can use the following index ETFs instead of mutual funds to avoid any mutual fund redemption limitation (though Vanguard recently has eliminated the minimum holding period restriction over all of the index funds used in this portfolio):
Also, instead of using geographical diversification, one can use iShares MSCI EAFE (NYSEARCA:EFA) and iShares Emerging market (NYSEARCA:EEM) or Vanguard Emerging Market (NYSEARCA:VWO) to replace the European and Pacific Stock funds. Furthermore, for diversification purpose, one can use PowerShares DB Commodity Index ETF (NYSEARCA:DBC) instead of GLD for commodity assets. This would result in an investment plan Six Core Asset ETFs. Interested readers can look at this plan and its strategic and tactical asset allocation portfolios. The tactical portfolio uses a similar trend-following strategy.
In conclusion, the performance of the portfolio shows a convincing result for trend following in tactical asset allocation. Its 21+ year history and index mutual fund based strategy can serve as a useful live case study to research and understand how the relative strength or trend following performs.
Disclosure: I am long SPY, GLD, IYR. I wrote this article myself, and it expresses my own opinions. I am not receiving compensation for it (other than from Seeking Alpha). I have no business relationship with any company whose stock is mentioned in this article.