Last year was a disastrous one for Western Digital (NYSE:WDC). The company's production took a beating due to floods in Thailand, where it has the majority of its production facilities. WDC has recovered superbly from the blow, and has posted stellar results for its fourth quarter and financial year. We believe that the prospects for WDC are tremendous, especially because of an imminent Windows 8 launch. The stock is currently trading at P/E of 5x, and we believe a Windows 8 launch can take it to 10x.
Business Overview
Western Digital Corporation is primarily involved in the business of making storage devices. The company has three main technology brand names; WD, HGST and G-Technology. WDC's primary business is making data storage equipment; however, it also manufacturers and markets networking equipment and home entertainment products. The company's products are approximately 73% dependent on notebook/PC sales. Western Digital has recently involved itself in making software applications for the smartphone/tablet market. The tablet/smartphone industry has shown tremendous growth in the last few years, and has resulted in a slowdown of the PC/notebook business. This has created a dynamic shift in the industry, as smartphone/tablets primarily rely on cloud-based applications. High demand for cloud-based applications has encouraged enterprises to use tiered storage architectures. Tried storage architectures use high performance/capacity storage and solid state hard drives (NYSE:SSD). According to company disclosures, it is expecting the growth in global storage to be 33% between 2011 and 2016.
As we mentioned in our previous write-ups, the market for patents is currently highly liquid. Therefore, it is worth mentioning that WDC has a highly valuable patent portfolio of 6,000 patents. Last year, the company faced a huge set back due to floods in Thailand. WDC relies heavily on its Thailand-based factories for manufacturing, and currently employees approximately 37,000 personal in the country. These floods adversely impacted the PC/notebook industry by creating a storage shortage, and resulted in an increase in prices. DRAM overcapacity was also created due to these floods.
FY2012

Source: YCharts
The recent fiscal year has been a magical one for WDC. The company reported stellar results for the year, beating analyst estimates. The exceptionally good performance in the last quarter made the major difference. Analysts were expecting EPS of $2.47, actual results showed a 35% increase, meaning that EPS were $3.35. The company reported revenues of $4.75 billion, beating consensus estimates of $4.25 billion. The primary reason behind these beats was a quick recovery from the Thailand floods disaster. The company had to suspend manufacturing at some of its biggest plants due to the floods.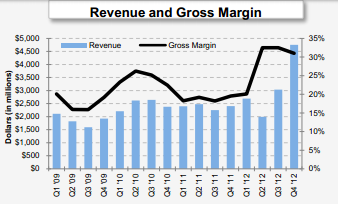 Source: Company Disclosures
Operational performance has improved in FY2012 as compared to previous years. 4Q2012 results were the best in the last four years, as can be seen in the figure.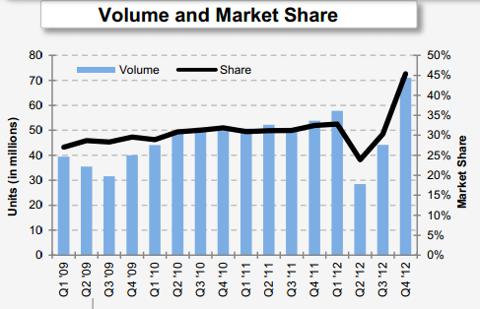 Source: Company Disclosures
The significance of the current year's performance can be assessed from the considerable improvement in the company's market share standing. During the last three years, WDC had a market share of approximately 30%. After a dip in 2Q2012, due to reduced production as a result of the floods, the company has bounced back and gained a market share of approximately 45%.
Figure: HDD units sold

Source: Company Disclosures
Total HDD units sold increase from 44 million in 3Q2012 to 71 million in 4Q2012. The increase comes from an increase in the number of units sold to notebooks and desktops. HDD sales to desktops increased by 40% to 21 million, and sales to notebooks increased by approximately 80% to 32 million. Enterprise, Branded and Consumer Electronic sales also showed significant increases QoQ.
Financial Strength
| | | | |
| --- | --- | --- | --- |
| | Company | Industry | Sector |
| Quick Ratio (MRQ) | 1.47 | 1.15 | 0.86 |
| Current Ratio (MRQ) | 1.77 | 1.43 | 2.72 |
| LT Debt to Equity (MRQ) | 25.49 | 17.4 | 9.6 |
| Total Debt to Equity (MRQ) | 28.49 | 51.25 | 17.89 |
| Interest Coverage (NYSE:TTM) | 781 | 5.4 | 67.89 |
Source: Reuters
As the data given above shows, the company has solid fundamentals. The quick ratio and current ratio are both better than the industry averages. Total debt-to-equity for WDC is 28%, as compared to 51 for the industry. A very high interest coverage ratio is also an indicator of the company's financial stability.
Sell Side Opinion
Analyst opinion on the company is positive. Analyzing the opinions of 23 analysts shows that approximately 11 are calling for a hold position on the stock. The company doesn't have any underperform of sell ratings for the current month. 12 analysts currently give the company a buy or strong buy rating for the current month.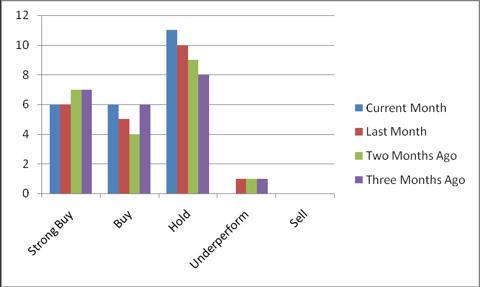 Source: Yahoo Finance
Valuations
The stock is currently trading at forward 2014 P/E of 5x. There are a number of catalysts that can affect stock performance in this half of 2012. The release of Microsoft (NASDAQ:MSFT)'s Windows 8 will also positively impact sales and stock price. The consensus EPS estimate for the next year is $9.27. Using a 5 year historical average P/E of 10x, we calculate a price target of $92 for WDC, an upside of 120%.
| | | |
| --- | --- | --- |
| | | Price Target |
| NASDAQ P/E | 15x | $139 |
| Historical Avg P/E | 10x | $92 |
| Sector Average | 13x | $120 |
Conclusion
We believe there is a significant upside to WDC. The company will be positively affected by the general trend towards cloud computing. The Windows 8 release will be a primary catalyst in driving sales of notebooks and PCs. As a significant portion of the company's sales are generated from these sources, we believe the company will benefit from this increase in PC/notebook sales. Therefore, we are bullish on WDC.
Disclosure: I have no positions in any stocks mentioned, and no plans to initiate any positions within the next 72 hours.
Business relationship disclosure: The article has been written by Qineqt's Technology Analyst. Qineqt is not receiving compensation for it (other than from Seeking Alpha). Qineqt has no business relationship with any company whose stock is mentioned in this article.