While many earnings reports these days are disconcerting to investors as fuel prices weigh on the economy, we think it is important to note those companies that are beating expectations.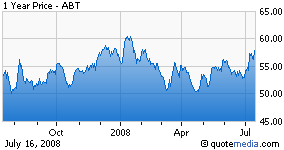 Beating estimates amidst tough circumstances is a sign of solid management, which is always a positive for investors. Abbott Laboratories (NYSE:ABT) announced an impressive second quarter earnings increase of 34%, which surprised Wall Street with strong growth for its blockbuster arthritis drug Humira. It produced sales of over $1 billion, up 48 percent from last year.
Also impressive were the double digit gains in HIV treatment Kaletra and cholesterol drug Niaspan. The bulk (56.5%) of Abbott's sales comes from prescription drugs such as these, and these results led the company to boost its full year guidance from $3.20- $3.25 up to $3.24- $3.28. 
As mentioned above, overall pharmaceutical sales were robust with a gain of 17%; however other segments also showed significant gains. Nutritional products—such as multivitamin drink Ensure—were up more than 21%. Of particular note is the coronary stent business, which grew 30% to $217 million. Abbott's new drug-coated stent, Xience, received approval from the U.S. regulators in early July. It has been available in Europe for some time, although sales have cooled on drug coated stents, once a $6 billion a year industry. Vascular products are at this point only a small portion (6.5%) of ABT's revenue in this quarter, but the company hopes that its new product will gain wide acceptance. Abbott sponsored a study that revealed Abbott's Xience was safer and causes less scar tissue than Boston Scientifics' (NYSE:BSX) Taxus device. 
Abbott is a fairly diversified conglomerate which allows it to be particularly resilient to strain from generics taking away market share. Generics have eroded revenues of many large drug companies and their stocks have borne the brunt of it. The Healthcare Sector SPDR (NYSEARCA:XLV) is down more than 13% in the last year, but ABT has been resilient and is up about 7%. They have found a way to be successful in a truly difficult market. Abbott, headquartered outside of Chicago, has benefited from strong growth of international revenue of 24%, which outpaced domestic sales growth of just 5.7%.
Clearly, we have been making the case for ABT based on improved fundamentals. We had ABT rated a Buy before these figures were released and this only strengthens that position. Over the course of Abbott's history, it has normally traded between 14.7 and 20.1 times cash flow, but the current level is only 12.7. Sales have increased substantially over the last year, continuing a trend of solid sales growth. Revenue per share has increased each of the last 10 years. Abbott would need to be trading near $62 per share in order for the stock to be at the low ends of its normal price-to-cash flow and price-to-sales ranges.
We are reaffirming our Buy rating because of improved fundamentals, and we find it strange that ABT would be trading down nearly 2% Wednesday morning on the better than anticipated earnings in this market. Who is complaining though? - all the better for value investors looking to buy on the cheap.