Pipeline MLPs gained much greater acceptance as yield vehicles as a result of the 2008 stock market crash, and the reduction in bond yields. They are not bond alternatives, but can be an important part of a yield seeking portfolio.
The five highest weighted constituents of the Alerian MLP Infrastructure Index, which account for 41.2% of the overall index, are:
EPD (9.7% weight) Enterprise Products Partners LP
KMP (9.6% weight) Kinder Morgan Energy Partners LP
MMP (7.8% weight) Magellan Midstream Partners LP
PAA (7.2% weight) Plains All American Pipeline LP
OKS (6.9% weight) ONEOK Partners LP
This article presents a side-by-side comparison of key metrics for those five partnerships:
Balance Sheet: Current Ratio and Debt-to-Equity
Operations: Revenue, Cash From Operations, Capital Expenditures, Dividends
Valuation: EV/EBITDA, Yield
Market Action: Price, Beta
Note About These Charts: All of the charts in this article are provided by YCharts.com . They provide free use of some of their data and chart periods up to 5 years. Some of the data in these charts, and all of the 10-year periods require a subscription. YCharts gets its data feed from Zacks. We have not verified the data in these charts by referencing partnership financial reports.
CURRENT RATIO
MMP and KMP have more short-term assets than short-term liabilities. Many companies operate with current ratios below 1.00, but we like to see values above 1.00, just to be comfortable. One problem with the current ratio is that the good accounts receivable are a best guess, but accounts payable are a hard number. EPD is the most leveraged in the short-term with a current ratio below 0.80.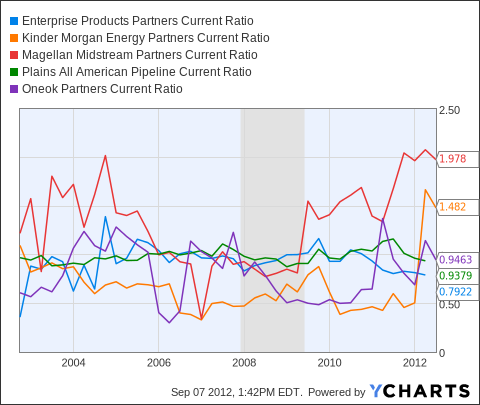 DEBT TO EQUITY
One problem with this measure is that while debt is a comparable number between partnerships, equity is not. Various factors, such as the age of plant and equipment (how much depreciation has occurred), and the presence of intangibles, makes equity something that requires further review in greater detail, but this is a good place to start.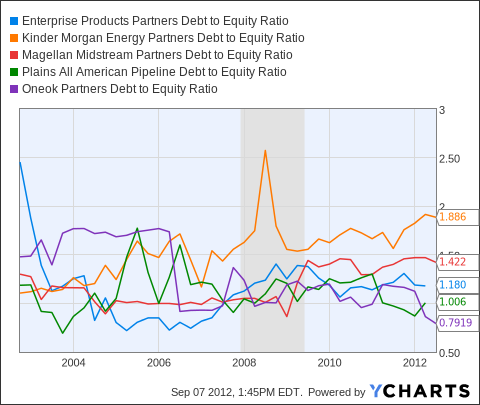 REVENUE
Note that revenue is not adjusted for acquisitions - the data are not similar to "same store sales" in retail.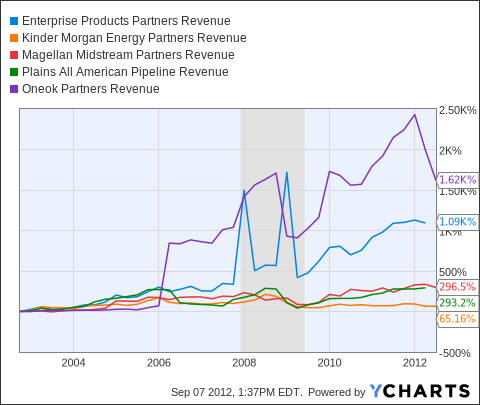 CASH FROM OPERATIONS
Cash from operations ignores changes in cash due to borrowing, loan repayment, and purchase or sale of assets.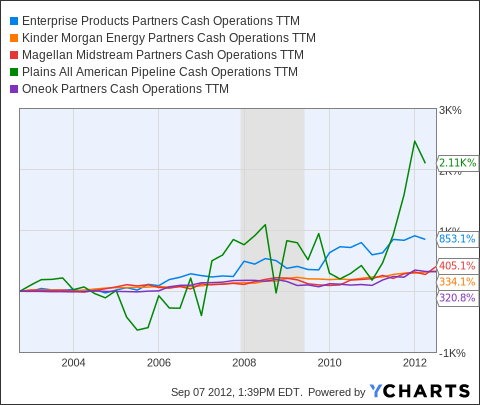 CAPITAL EXPENDITURES
PAA, EPD and OKS have expended the most in recent years for new capital. Note that capital expenditures do not include acquisitions.
Capital expenditures are of at least two types, for replacement and for expansion. These data don't tell you how much capital expenditure was for each purpose. Some partnerships rely more heavily on acquisitions for expansion than some others which do build-out (the buy or build question is a constant executive choice).
When looking at revenue growth, adjusting for acquisitions is important (basically the same thing as "same store sales" growth figure used in the retail business.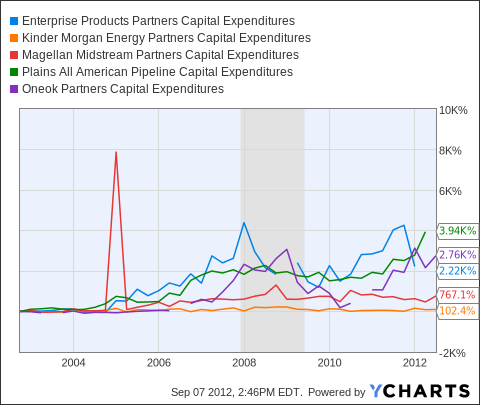 DIVIDENDS (DISTRIBUTIONS)
They have all grown distributions at an attractive rate. Pipeline MLPs refer to "distributions" as opposed to "dividends" because the money paid out includes a portion called "return of capital" which is not currently taxable (reducing cost basis by that much).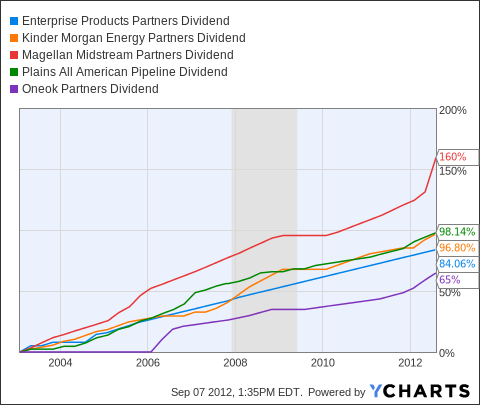 EV/EBITDA
Their enterprise value to earnings before interest, taxes, depreciation and amortization (a way to compare valuation of companies with different levels of debt and different plant and equipment ages and structures) have been all over the lot. Right now MMP is the most expensive and KMR is the least expensive. EV/EBITDA does not incorporate growth into the formula.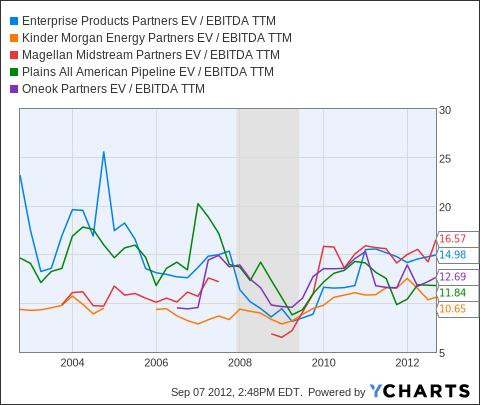 YIELD
With the exception of KMP, they are yielding below their pre-crash levels, due to the strong price rise by yield seekers. That portends price weakness when interest rates eventually rise. What an extraordinary opportunity they presented at the stock market bottom in 2009.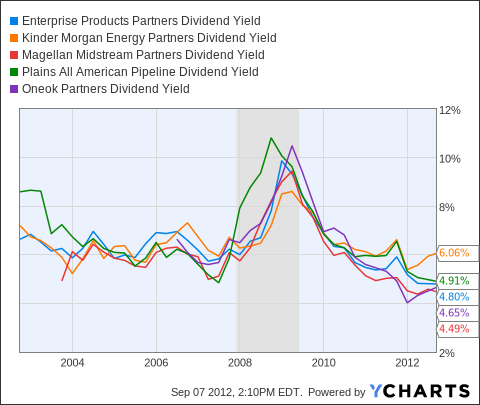 PRICE
Pipelines have been used by some yield seekers as "bond alternatives," but unlike bonds they do not provide good stock market downside protection.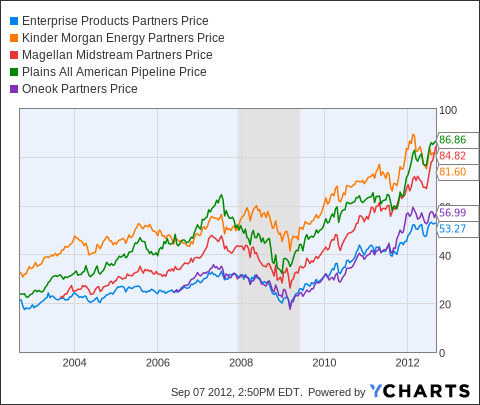 BETA
All are less volatile than the S&P 500.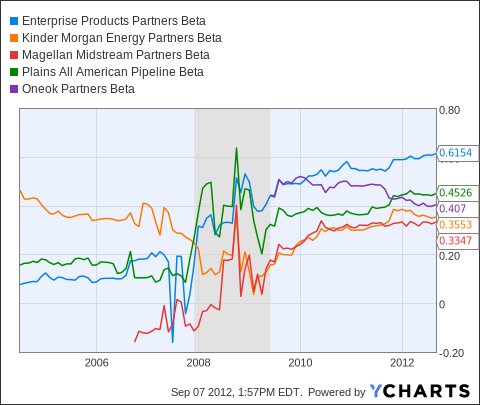 We do not hold any of these specific partnerships at this time, but do own pipelines through a corporate pipeline, an actively managed MLP fund and an ETN.
See our recent article on managed funds for pipelines and energy infrastructure - our article on active versus passive selection of MLPs - and our article on a 15-year comparison of yields for pipelines, Treasuries, Baa corporate bonds, and equity REITs.
Disclosure: QVM has no ownership positions in any mentioned security as of the creation date of this article (September 7, 2012). We certify that except as cited herein, this is our work product. We received no compensation or other inducement from any party to produce this article. This article is provided exclusively to SeekingAlpha, and we receive compensation from them for that exclusive right on the basis of readership.
General Disclaimer: This article provides opinions and information, but does not contain recommendations or personal investment advice to any specific person for any particular purpose. Do your own research or obtain suitable personal advice. You are responsible for your own investment decisions. This article is presented subject to our full disclaimer found on the QVM site available here.