The hype surrounding 3D printing has taken over the web, being claimed the "third industrial revolution" yet indeed offering potential to change everyday life as we know it. Essentially, 3D printers convert data from a computer design program and create the desired object by "printing" layer upon layer using materials such as plastic and metal. The future of this technology seems limitless as it spreads like wildfire through the different industries it can reform; from the way we manufacture and trade globally, to advancements in healthcare and even the construction of housing.
3D Systems (NYSE:DDD) is one of two main players in the 3D printing industry, along with rival Stratasys (NASDAQ:SSYS). 3D Systems seems to be living up to the excitement of its industry as it has been experiencing substantial growth with revenues up 52% from a year ago and new product revenue up 60% in the same time frame. In 2012, the price of DDD has shot up 185%, or an 18-fold increase over the S&P (a 10% increase).
The rapid buildup in the price of DDD has surpassed that of the company's growth as shares trade over 70 times (trailing) earnings, nearly 4 times larger than the sector average (P/E of 19.89). Using the Q2 guidance for the remainder of 2012, forward P/E ratio is estimated to be 43, a value that is still twice the sector average. A better indicator of a company's stock price to earnings growth would be the PEG ratio, which also takes into account the annual EPS growth of the company. Possessing a PEG ratio of 1.13, the price of DDD has grown faster than its earnings, a sign that the company may be overvalued due to high demand for its stock. These two basic metrics of valuation should be taken with a grain of salt however, as there is a lot more to a public company than the P/E and PEG ratio. An alternative argument can be made that even with all this recent growth in the 3D printing industry and triple digit returns in the price of DDD during 2012, the company anticipates further growth in a global market that is expected to reach $3 billion by 2018, fifteen times that of the 2012 figure.
Gartners hype cycle (below) is a tool that has been developed by Gartner Technology Research to determine which new technologies are over enthused in their respective fields. At the peak of inflated expectations, where 3D printing is found, there is intense market pressure for the technology to be adapted. There is a sense of excitement for such immature technology, disillusion and even unrealistic expectations that the technology is paired with. This, however, does not mean that 3D printing is not going to amount to what is expected of it. It is merely a measure of overblown expectations at a given point in time.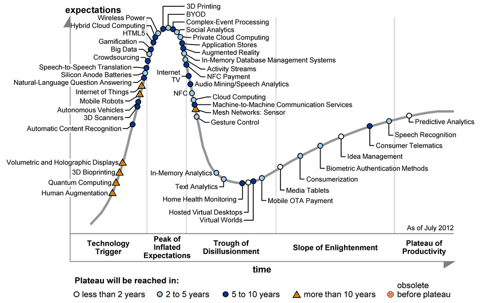 Put into context, media tablets such as Apple's (NASDAQ:AAPL) iPad or Samsung's Galaxy Tab peaked, according to the Gartner hype cycle, in 2010. Now, 2 years later, they are at the slope of enlightenment stage and have become mainstream devices with sale volume six times greater than that of 2010. The advancement of the technology and increased profit potential generate competition as tech giants Research in Motion (RIMM) and Hewlett-Packard (NYSE:HPQ) entered the media tablet industry in 2011 with the Playbook and TouchPad, respectively. In July 2012, Google (NASDAQ:GOOG) released the Nexus7, much later than competitors, in an attempt to steal a portion of the industry profits. Analysts predict that by 2016, the tablet industry will have 369 million units of sales worldwide, 20 times greater than the amount of units sold in 2010 when the technology just entered the market. The innovation of the media tablet caught up to the surrounding hype and in succession created a new multi-billion dollar industry that has changed the way we interact with technology for purposes of work and leisure.
3D Systems expanded into the commercial 3D printing market in May 2012 through the release of its consumer 3D printer "Cube". The Cube is a home 3D printer that allows consumers to print ideas into real life objects using their "Cubify" software - all for a reasonable price of $1299. This was the first step 3D systems took into a new untapped market of home 3D printing that could create limitless opportunities for growth. Although the technology is just coming into its own, the emerging hype surrounding 3D printing should influence much innovation and demand for more competitors to enter the market. This could pose a threat for 3D systems, but in order for the 3D printing industry to take off it must first mature beyond a niche market and become a mainstream technology, which could take anywhere from 5-10 years according to the Gartner hype cycle.
3D Systems is a very appealing long term prospect as the technology and potential of 3D printing cannot be denied. There will, undoubtedly, be ample competition entering the market once the 3D printing technology further advances, but with DDD you are owning a stock that is already an industry leader with proven clientele experience, a strong fundamental base and well protected products (holding 725 patents by end of 2011 with 257 pending patents that cover recently introduced printers). In addition, 3D Systems began expansion into the home 3D printing market by acquiring small companies relating to the industry like My Robot Nation and FreshFiber. And in June, the company issued $100 million in common stock, proceeds from which will be used for further acquisitions, showing that the company is committed to further growing its product lines while remaining a leader in the 3D printing industry.
Keep an eye on DDD and be patient to enter long when some of the hype dust settles or when the company has shown enough growth results to warrant its stock price, or more correctly, its valuation. As discussed earlier, with its stock price being 70 times that of its earnings the past twelve months, the stock price has built in a 'hype premium'. Instead of paying for this premium, it would be wise to keep DDD on your watch list until a pullback indicates that the technology is catching up to the surrounding publicity or valuation can be better substantiated. Such hype can be associated with social media stocks that have been in recent headlines like Zynga (NASDAQ:ZNGA) Groupon (NASDAQ:GRPN) and the infamous Facebook (NASDAQ:FB). Investors of these stocks had unusually high expectations that affected the valuation process, and as a result are now experiencing the consequences of undeveloped hype. Like most new technologies, there will come a time when the product will live up to the expectations and patient investors will be rewarded.
Disclosure: I am long DDD. I wrote this article myself, and it expresses my own opinions. I am not receiving compensation for it (other than from Seeking Alpha). I have no business relationship with any company whose stock is mentioned in this article.