After Thursday's 12% jump in BioDelivery Sciences International's (NASDAQ:BDSI) share price, the diligent investor with interest in the sector would be doing himself or herself a favor by at least taking a look at this small pharmaceutical company. BioDelivery has offered its investors a 74% ROI on the year as well as continued development of its BEMA platform (with two of the five installments now in phase 3 testing and one already approved), but are those enough?
Despite these numbers, this investor still needs a little more backing before I jump into another small-cap pharmaceutical stock. In this article, I hope to shed a little more light on the current opportunities for BioDelivery's short-term growth from both a technical and fundamental standpoint as well as the long-term developments in the company and its technology.
The Case for BioDelivery
When examining BioDelivery's charts over the previous twelve months, it's hard to say the company hasn't had a rough time. After all, on September 29th, 2011 the company missed its goals for its first set of trials on the BEMA Buprenorphine delivery system, a key prospect for BDSI's product line. After news of this miss got out, the share price was left in shambles.
From that point; however, BDSI has climbed back from its trough and plowed through numerous resistance points, a significant one taking place this Thursday. When examining a six-month chart of the company's share price, both RSI and Stochastic show positive upward momentum with both numbers being in the 80+ range. In addition, the MACD is showing a bullish prospect from its previously bearish trend starting in July. The combination of these factors causes me to have a bullish outlook on the stock for the near future, barring significant fundamental news.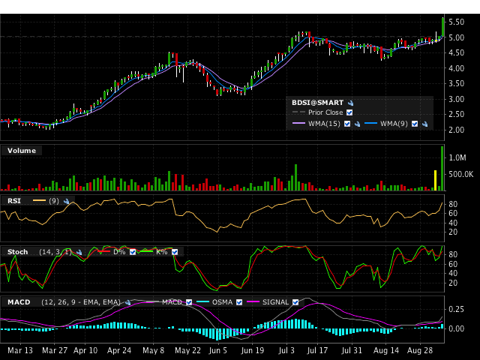 For those investors such as myself who may be wary of basing their positions on technicals alone, the fundamentals of BDSI will weigh heavier on the eventual decision whether or not to purchase this stock.
There is no doubt that BDSI is thoroughly reliant on the success of their BEMA delivery system, for this product is their entire line in one form or another.
Where the potential investor can find the most valuable research is in the specific incarnations of BEMA and their market potential. The primary area of interest in this portion of the article is the BEMA ONSOLIS product. This is the only current form of the BEMA product system being marketed. After being on the US markets for less than a year, it was taken off after FDA officials thought a fading of color during the product's shelf life could confuse patients. A simple reformulation of the product that is currently in the works would allow for this relaunch to occur and should be completed without too much resistance. Fortunately for BDSI's books, the product had not been a profit-making source at the point it was taken off the shelves and has not had a significant impact on the share price.
Although profit-making has not been its strong suit, BEMA ONSOLIS has allowed for BDSI to grow from a corporate standpoint. Due to this product, the company has entered partnerships with Meda Pharmaceuticals for the marketing of ONSOLIS and its European counterpart, BREAKYL, and Endo Health Solutions (NASDAQ:ENDP) for the licensing. Due to these two partnerships, BDSI has increased its cash by over 400% over the previous year.
In addition to the corporate developments which have undoubtedly fueled some of the fire for BDSI's upcoming products, the security of the company's technology further strengthens their hold on this small section of the market. Earlier this year, the US Patent and Trademark Office extended BDSI's BEMA patent for another seven years, into 2027. Due to this, competition will be incapable of reproducing their specific mucosal delivery system until that time, meaning greater profits and security for the company. In addition, insider activity in the stock has been generally positive, with acquisitions occurring more than sales from key executives, in addition to the high institutional ownership.
Down the Road
Besides BDSI's short-term prospects with the further development of BEMA ONSOLIS, does the company offer significant opportunities in the other products coming down the pipeline?
One of BDSI's most significant candidates is the use of Buprenorphine with its BEMA system. This drug is the main competition with the old standby Morphine and offers patients significant advantages to the older drug. In addition, the drug is already well established in the medical community and the inclusion of the BEMA system in doctors' treatments would give valuable pain relief without many of the problems currently found in other methods of dosing. The area of the medical community that this would affect the most is in the treatment of cancer patients whose nausea caused by chemotherapy often prevents the use of other oral treatments. Because of this fact the use of far less convenient methods such as intravenous injections and suppositories is often required. Although the company previously missed expectations for this drug in its first round of trials, secondary results are more positive after a partnership with Endo Pharmaceuticals, who will handle much of the regulatory and marketing aspects of the system.
In addition, BDSI is also developing systems utilizing Naloxone, Granisetron, and Triptan which is used treat opioid dependence, nausea, and migraines respectively. While these systems are further from completion than the other aspects of the BEMA system, they open up significant portions of the market with products that would have greater market appeal than some of the other products previously mentioned. All in all, while BEMA ONSOLIS might prepare BDSI for further growth in the next year, these products could allow for the profitability the company needs for share prices to truly spike.
A Contrarian's Perspective
The case for BioDelivery's growth relies primarily upon its success with the Buprenorphine system and the continued development of further ways to implement this system and develop other systems. While signs currently point in a positive direction towards further growth in the company's pipeline, it may not happen soon enough, or could be weighed down by further restrictions on the second attempt at the company to produce a commercially viable Buprenorphine system.
In addition, valid alternatives for certain aspects of the current BEMA pipeline such as Maxalt and Impax are already on the market and backed by larger companies. As with any new medical system that looks to replace tried and true methods, the marketing team supporting BDSI's products will have its hands full attempting to state their case to doctors, which can often take years to make a solid dent in the market.
Conclusion
BioDelivery Sciences International's future success is dependent upon two aspects: momentum and ambition. I believe that unless BEMA Buprenorphine fails in its second round of FDA trials, which seems unlikely at this point, the company has more than enough of both of those qualities to succeed as both a short and long-term investment. In addition, while the company faces some competition in relation to its migraine care system, other aspects of the BEMA system, primarily nausea and pain care, are valid contenders to change their aspects of the market in a significant way.
While I will not deny a long-term investment in BDSI is speculative in nature to a certain degree, the company maintains enough of a short-term bullish prediction to warrant an investment today with an assessment of its future growth potential later in the year once BREAKYL is brought onto the European market and more conclusive results about the BEMA Buprenorphine system are available.
Disclosure: I have no positions in any stocks mentioned, and no plans to initiate any positions within the next 72 hours. I wrote this article myself, and it expresses my own opinions. I am not receiving compensation for it (other than from Seeking Alpha). I have no business relationship with any company whose stock is mentioned in this article.