Sanofi (NYSE:SNY) offers one of the highest dividend yields in the industry, backed by its strong cash flows. At times when pharmaceuticals are increasingly looking to emerging economies to expand their reach, Sanofi has made substantial progress, and has seen its share grow in emerging markets.
Emerging markets showed a strong revenue growth of ~10% YoY in 2Q2012. The backbone of the value of a pharmaceutical company, i.e. its product pipeline, looks rich for Sanofi, and its top line has strengthened partly due to its recent acquisitions. The stock is relatively undervalued in the market, which leads us to recommend it as a buy.
Sanofi is a globally diversified healthcare company involved in healthcare product development, research, manufacturing and marketing. It operates in different business segments, which include Pharmaceuticals, Vaccines and Animal Health. Pharmaceuticals is the largest business segment of the company, contributing nearly 86% to total revenues, followed by Vaccines at 8% and Animal Health at 6%. Sanofi has sales exposure around the world, with its products being available in more than 170 countries. The U.S. and emerging markets contributed ~31% each, Western Europe contributed 25% and the rest of the world contributed 12.5% to total revenues in the first half of 2012.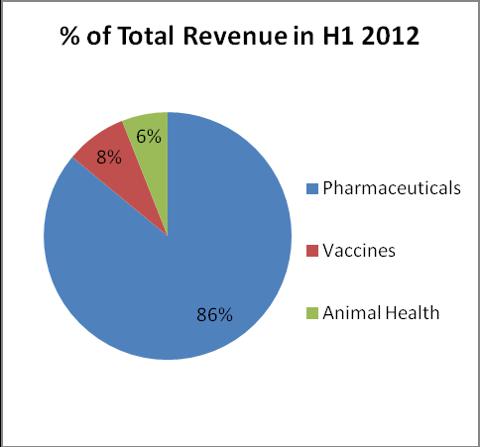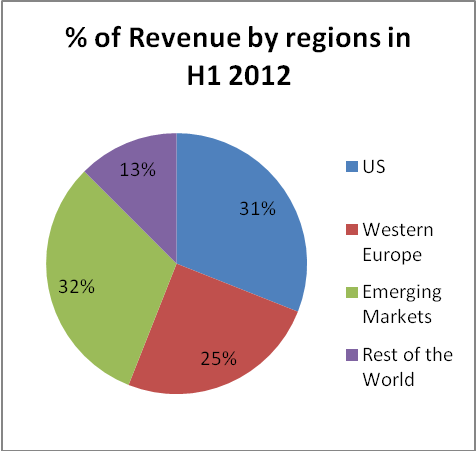 Source: en.sanofi.com
Recently, all the companies in the industry have been experiencing a regional revenue shift towards emerging markets. Revenues for the company in emerging markets are expected to grow, which will provide future growth. Europe's share in revenues is falling, which is associated with the ongoing austerity measures in the continent.
The reported results for 2Q2012 were stronger than market expectations. Revenues beat for the recent second quarter was ~2%; revenues for 2Q2012 were up by 0.4% (constant exchange rate) YoY. Pharmaceutical sales were down 0.4%, whereas Vaccines and Animal Health sales were up 3% and 9.1% (constant exchange rate) respectively for 2Q2012. Earnings for 2Q2012 beat the market consensus by 5%. Guidance for fiscal year 2012 remained unchanged, and earnings for the year are expected to be down 12%-15% YoY.
Sanofi lost exclusivity in the U.S. for its main products; Plavix on May 17, 2012 and Avapro on March 30, 2012. Sales of Plavix were down ~23% and sales of Avapro were down 20.2% in the first half of 2012. Loss of revenue due to the loss of the exclusivity of these products was offset to some extent by the acquisition of Genzyme. In 2011, Sanaofi acquired Genzyme for more than $20 billion. This acquisition will help Sanofi grow and boost revenues in the future. This also helped the company build a strong presence in biotechnology. It is expected that cost synergies from the Genzyme acquisition will reach $700 million by the end of 2013. Moreover, the recent acquisition of Chattem, BMP sunstone and Zentiva will help the company achieve growth in the coming years.
The company has a well diversified product portfolio, and it is continuing work on developing new products to grow and offset the loss of its products' exclusivity. The company has several projects in the pipeline. By the end of fiscal year 2011, there were 60 vaccines and projects in clinical development; out of which 11 are in Phase 3 and six have been submitted to healthcare authorities for registration.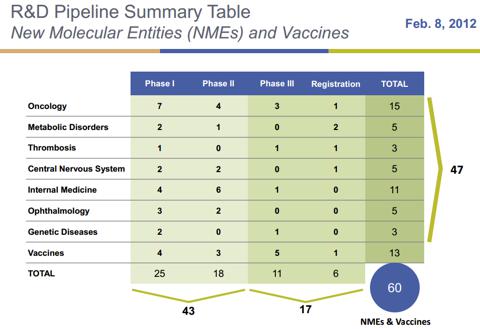 Source: en.sanofi.com
The expected synergies from recent acquisitions, and the management's commitment to controlling expenditures, will help the company improve its bottom line. There has been a slight decrease in R&D and SG&A expenditures. In the first half of 2012, R&D expenses were 13.9% and SG&A were 25.4% of sales, as compared to 14.2% and 26% in 1H2011.
| | | |
| --- | --- | --- |
| | SNY | Industry |
| Gross Margin (NYSE:TTM) | 68% | 61% |
| Operating Margin | 20% | 17% |
| Net Margin | 16% | 12% |
| ROE | 12% | 5.5% |
Source: Reuters.com
The company has a strong balance sheet. Its long term debt-to-equity ratio is 18%, while its interest coverage is 17.5x.
Dividend yield for the company has been attractive for investors in the recent past. In a low yield environment, the current dividend yield of 4.1% makes it a must-have stock for high yield portfolio investors.
| | | | | | | |
| --- | --- | --- | --- | --- | --- | --- |
| | SNY | Merck & Co. Inc. (NYSE:MRK) | Pfizer Inc. (NYSE:PFE) | Johnson & Johnson (NYSE:JNJ) | GlaxoSmithKline plc (NYSE:GSK) | Average |
| Dividend yield | 4.1% | 3.9% | 3.7% | 3.6% | 4.6% | 3.95% |
Source: yahoofinance.com
In the future, the company is expected to maintain its dividends, since its dividend yield is backed by its strong free cash flow yield.

Source: Bloomberg and Qineqt estimates.
There are a few factors that investors should look out for which could adversely impact the stock price. Failure to control expenditures and improve operating margins, along with slow development of drugs that are in the pipeline, or approval delays by authorities, will all lead to the company missing revenues and earnings estimates for the future.
Valuation:
The stock seems to be trading at a discount at its current price of $40.71. Its PEG of 1.65x reflects that the stock offers cheap growth as compared to its competitors. Its P/E of 13.5x is less than its competitors' average of 18x. Using its competitors' forward P/E average of 11.1x, we get a target price of $51.3, based on estimated 2013 earnings, offering a price appreciation potential of nearly 25%.
| | | | | | | |
| --- | --- | --- | --- | --- | --- | --- |
| | SNY | Merck & Co. Inc. | Pfizer Inc. (NASDAQ:PFI) | Johnson & Johnson | GlaxoSmithKline plc | Average |
| PEG | 1.65 | 2.67 | 5 | 2.18 | 2.3 | 3 |
| P/E | 13.5x | 19.5x | 18x | 21.3x | 13.7x | 18x |
| Forward P/E | 10.3x | 11.6x | 10.3x | 12.3x | 10.4x | 11.1x |
Source: yahoofinance.com
Disclosure: I have no positions in any stocks mentioned, and no plans to initiate any positions within the next 72 hours.
Business relationship disclosure: The article has been written by Qineqt's Healthcare Analyst. Qineqt is not receiving compensation for it (other than from Seeking Alpha). Qineqt has no business relationship with any company whose stock is mentioned in this article.