Procter & Gamble's (NYSE:PG) operational strength with regard to sustaining its dividend payout and grabbing a market share in emerging markets makes it a smart stock to buy. We recommend a buy/hold rating based on the following key points:
The company has a cash flow yield of 5.38% and its dividend yield is 3.37%, reflecting its ability to pay dividends without depending on debt. Despite the declining revenues, it has paid considerable dividends to its shareholders.
Its dividend per share has increased by 8% from 2011 to 2012. PG registered an EPS of $0.82 and beat the Bloomberg consensus of $0.76.
Restructuring Program
Due to European economic headwinds and flat organic growth, the company had to shift its focus on emerging markets in Asia. PG CEO Robert McDonald plans to establish 20 new products in 10 new markets to revive its high growth levels.
The company has also identified the business segments of beauty, baby, family care, and healthcare for price cuts in a bid to bring more consumers into its web. This strategy will enable the company to boost its organic growth.
PG has already sold Pringles and PUR, its water purification business, to stay focused on the company's core strategy. Going forward, more spinoffs will help the company focus on its profitable product lines.
Recently, Ackman invested $1.8 billion in the company. We can expect a potential upside with the company's plan of focusing on its top 40 products and the management changes to come in the future, which will also bring more productivity.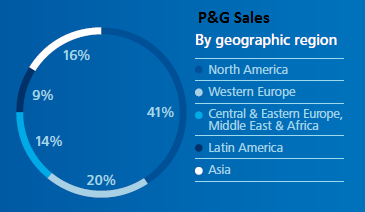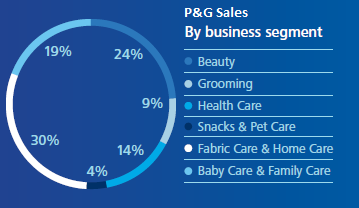 Source: Annual Company Report.
PG is a multifaceted company, and it has segregated its business operations into two global business units, namely Beauty and Grooming and Household Care. In total, the company is catering to six different segments, which include Grooming, Beauty, Healthcare, Fabric Care and Homecare, Baby Care and Family Care, and Snacks and Pet Care. Out of these, two segments are always of great interest to investors as they are the revenue generators for the company. These two segments are Fabric and Homecare and Beauty, which together are bringing in about 54% of revenues and around 70% of pre-tax income. As the charts above show, the company's major areas of penetration are North America and Western Europe. The company has a great chance of capturing the untapped emerging markets of Asia and Latin America.
PG is operating in the fast-moving emerging consumer goods industry. Almost 4.4 billion people use the company's products every day. PG's product prices are subject to raw material and commodity prices fluctuations. Rising prices of paper pulp, petroleum, and natural gas are significantly pushing food inflation. The increasing prices of paper pulp are decreasing the company's profit margin for its tissue paper business and its packaging products. Management cannot pass on inflation because of the industry's competitive nature. Moreover, the Fabric and Homecare businesses are exposed to the risk of rising fuel prices, reflected in the profit margins of these segments. Increasing natural gas prices have also squeezed the margins of toilet and diaper goods.
Financial Analysis
The company registered Q4 2012 revenues of $20.21 billion, showing a decline of 3.2% in the last year. The slight decrease of 0.26% in revenues over the last quarter raises concerns for the management as to whether it can penetrate into the emerging markets of Asia, and focus on product development in mature markets. Moreover, over the last few months, a couple of important changes have taken place, such as Helen of Troy (NASDAQ:HELE) acquiring PUR and the company selling its Pringles business to Kellogg (NYSE:K). These developments have improved PG's balance sheet. The company is planning to utilize these funds for product and market development.
Competitors Comparison

Ratio/Ticker

Protector and Gamble (PG)

Johnson & Johnson (JNJ)

Kimberly-Clark (KMB)

Unilever (UL)

Market Cap:

$174B

$188B

$34B

$101B

Qtrly Rev Growth (YoY):

2%

-1%

-

12%

Gross Margin (NYSE:TTM):

49%

69%

33%

43%

Operating Margin :

19%

25%

14%

13%
Source: Yahoo Finance.
The margins in the table above show effective operating performance, while growth prospects in emerging markets propose that margins will increase further. The company's gross margin of 49% is higher than the margins of Kimberly Clark (NYSE:KMB) and Unilever (NYSE:UN), at 33% and 43%, respectively. PG's job cut program will help it improve its operating margins.
Recently, PG, the U.S. Environmental Protection Agency, and the National Risk Management Research Laboratory agreed that they would sign a Cooperative Research and Development Agreement to bring new opportunities aimed at optimizing performance in manufacturing facilities and to bring cost efficiency in the supply chain. The company's EPS showed an upside primarily because of its decreasing selling, general and administrative expenses, and also because of a decrease in tax rates.
Click to enlarge image.

Source: Google Finance.
The stock has showed an upside of 5% in the last year. It is currently trading around $18.60. PG's 50-day and 200-day moving averages are $18.3 and $18.4, respectively. 52.8% of the company's shares are held by insiders. This flat trend is registered because of the company's low capacity to exploit growth from organic and inorganic channels.
Valuation
Competitors Comparison

Ratio/Ticker

Protector and Gamble (PG)

Johnson & Johnson (JNJ)

Kimberly-Clark (KMB)

Unilever (UL)

P/E :

19.5x

21.7x

19.2x

20x

P/S :

2x

2.9x

1.6x

1.7x

Short Ratio

0.8

18

6.3

2.9

Forward P/E

16.21

12.42

15.04

16.42
The stock is currently trading at forward P/E of 16 times, at a premium when compared to Johnson & Johnson's (NYSE:JNJ) 12.4 times and Kimberly-Clark's 15 times, and at a discount when compared to Unilever's 16.4 times. According to the estimates of 25 analysts, the company's earnings will grow by 7% by the end of the next fiscal year.
Dividends
The company possesses an attractive dividend yield of 3.3%, backed by a free cash flow yield of 5.38%. Its dividend has increased by a CAGR of 60% in the last five years. PG has paid dividends of $6,624 million in 2012, reflecting its philosophy to maximize shareholder value. Its dividend payout ratio is ~47%. Furthermore, to improve shareholder return the company has planned to buy back shares this year.
Conclusion
In order for the company to sustain its competitive edge going forward, PG has to continue expanding its product portfolio. Demand for staple goods has been growing at a very high rate, as the global population has increased at a rate of 1.15%. In light of this fact, PG should focus on product and market development to cater to this particular demand. In recent developments, investor William Ackman injected $1.8 billion into PG after listening to the CEO's plan to focus on its top 40 biggest businesses, 20 new products, and 10 key developing markets. The lucrative market and product development in emerging markets will bring growth in the coming years. After considering all these factors, we recommend our bullish stance on the stock, which is likely to see a significant upside.
Disclosure: I have no positions in any stocks mentioned, and no plans to initiate any positions within the next 72 hours.
Business relationship disclosure: The article has been written by Qineqt's Consumer Staples Analyst. Qineqt is not receiving compensation for it (other than from Seeking Alpha). Qineqt has no business relationship with any company whose stock is mentioned in this article.