A lot of industries have trade shows, some more than one. Most are usually meet and greet events, gatherings where people schmooze, where new products are introduced, and where the press and the public get informed. The events provide a platform for marketing and a forum for companies to take a closer look at what their competitors are doing. For the $40billion dollar video game industry, the annual E3 Media Summit is the biggest of these shows (the broader annual Las Vegas Consumer Electronics Show notwithstanding) and it's happening this week in L.A.
For 14 years, gamers and game makers have flocked to Southern California to browse the booths and presentations. In 2006, the audience peaked at more than 60,000 visitors. Last year, however, members of the Entertainment Software Associate voted to change the format. The public was excluded. E3 went from a open big top to an industry-only event. Now about 5,000 retailers, analysts, press and industry representatives are invited to attend.
The smaller scale has turned the event into what amounts, largely, to a media showcase. E3 has become an opportunity for each company to reveal their prototypes and products, or to plug their performance. It's a week of overlapping press releases, announcements and proclamations. 
Going through the list of major companies here, in part one of two parts, are some of the highlights – the new products and the new software gamers can look forward too.  
[ Note: Metue E3 Coverage Part 1 covers Nintendo (OTCPK:NTDOY), Sony (NYSE:SNE), Harmonix, Atari (PINK:ATAR) and Disney (NYSE:DIS). Part 2 will cover news from Microsoft (NASDAQ:MSFT), Electronic Arts (ERTS), and others]
NINTENDO
Last year, "Reggie" Fils Aimé, president of Nintendo of America, took the E3 stage and said, "We're happy, but we're not close to being satisfied. Nintendo is waiting for the time that "video games are accepted as the preeminent form of leisure entertainment." 
In the year since, Nintendo released Wii Fit, Super Mario Brothers and Mario Kart (all of which were introduced at the 2007 E3 event) and largely dominated retail sales charts. At E3, Nintendo revealed software sales for the DS portable were up 29% percent on the year and approximately 20 Wii games have sold more than 400k units in the U.S.
In product announcements, the news was evolutionary this year. Nintendo revealed a series of new games, a microphone attachment and an extension to improve the sensitivity of the motion controlled Wii Remote. Bit by bit:
•Wii Music – taking a casual games approach to the genre dominated by Guitar Hero and Rock Band (see below), the Nintendo game will not include a special attached peripheral. Instead, the Wii music outlet will let up to four people play as many as 60 virtual instruments using standard Wii controllers. Tap the balance board to simulate drums, or blow in to the remote's speaker to simulate playing a saxophone. Designer Shigeru Miyamoto explained, "most music games require you to press buttons with precise timing to symbols on the screen… Wii music [is designed] to allow everyone, including those who can't read music to enjoy the experience." It's a mass-market, casual gaming approach to the genre.
•Wii Motion Plus – The Nintendo controller was, and remains, gro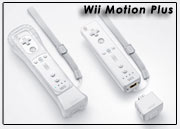 und-breaking.  Its simple motion-control system freed the gaming interface from the traditional joystick and made video games accessible to an expanded range of customers. The sensitivity of those controls will improve with Wii Motion Plus, a small accessory that will plug into the base of the controller to improve its performance. It will release in the spring 2009 and be bundled with a Wii Sports title that includes beach-themed mini games.
•Wii Speak -  Nintendo will introduce a TV mounted microphone appliance that will allow players to communicate with others across the network verbally. The peripheral will be compatible with upcoming software title Animal Crossing: City folk. That game was a hit on the DS and Gamecube and will now debut on the Wii in time for the holidays.
•Mario and Zelda games – fans expecting new installments of Nintendo's best selling character series were left wanting with no official news, but Nintendo's Satoru Iwata did confirm new titles are in development and on their way. He just didn't say when to expect them. Expectation is Spring to Summer 2009.
•Grand Theft Auto DS - surprising some, Rockstar Games will create a DS version of the Grand Theft Auto franchise called Grand Theft Auto: Chinatown Wars.
SONY
Sony's Jack Tretton took the stage at the Shrine Auditorium and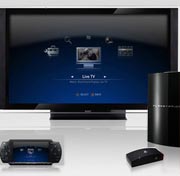 declared 2008 will be a year of software for the gaming industry.  Through the Playstation Network and at retail, he pledged, owners will have access to an array of desirable platform-exclusive titles.  The PS3 console will also become more of a hub for broader home entertainment as had been previously announced.  Big announcements:
•Playstation Network – effective immediately, PS3 owners will be able to buy and rent TV shows and movies (both standard and HD formats) through the console's network connection. MGM, Lions Gate (LGF), Warner Brother's Disney, Paramount, Fox and Sony Pictures have all partnered to deliver content. TV shows will be priced at $1.99. Movies will rent for between $2.99 and $5.99 or sold for between $9.99 and $14.99. The content will also be portable so buyers will be able to move it to compatible portables (presumably, this will be Sony-made devices only).
•New Sku for PS3 – With more capacity a necessity as Sony moves to turn the PS3 into a multimedia platform, Sony will launch a new 80gb PS3 in North America for the Fall. It will be the same as the current 40GB model and have no backward compatibility with PS2 titles. The unit is expected to sell for $399. Sony will likely push the model and phase out the smaller capacity console.
•Software – Sony largely played it safe in their presentation but the company did offer some peeks into what to expect in the year. Attendants at the press showcase got  first looks at a superhero game called DC Universe Online and a first person shooter from Insomniac Games called Resistance 2. Sony also confirmed a new installment of their God of War franchise is in the works, as is a console-based massively multiplayer game that promises to allow as many as 256 people to simultaneously interact in the same game space (current networked console games top out around 50 people).
DISNEY GAMES
Like Nintendo, one of the big bullet points in Disney's upcoming software pipeline is music games. Coming later in 2008, Disney will release "Disney Sing," a karaoke style game featuring hits from Disney franchises in time for the holidays (to be sold in Xbox 360, Wii, PS3, PS2 and PC versions). The company will also debut a peripheral free music title called Ultimate Band (Wii, DS). Last, a musical title built around their High School Musical franchise will hit the markets for both console and portables. Other planned titles include a Club Penguin game for the DS and an off road racing title for the major consoles.
ATARI
The smaller publisher is getting creative, and culinary, with a cooking title for the DS featuring TV chef Jamie Oliver. Slated for the Nintendo DS, the game called What's Cooking? will pair a cooking game with an interactive cookbook. It's scheduled for an October North American debut.
HARMONIX (EA /MTV NETWORKS)
Harmonix, the Viacom(VIA.B) subsidiary and developer behind the Rock Band music game jointly published by Electronic Arts and MTV Games, took advantage of the E3 event to reveal some facts and the set list for the upcoming sequel.  Among the details: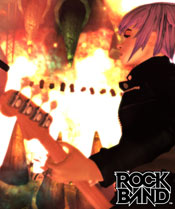 •Rock Band 2 will be the first and only game to feature music from AC/DC. It will also feature music from Bob Dylan, a first for gaming, and will be the debut platform for a new Guns and Roses single (the first release from the band in 14 years).
• Rock Band 2 will have backwards compatibility with all Rock Band downloadable music content released to date. Owners of the original Rock Band will have the ability to export most of the Rock Band disc tracks and upgrade them into Rock Band 2. There will be a small fee charged to export the titles, promised to be under $5.
• Ongoing weekly downloadable releases will push the Rock Band music library to more than 500 songs by year's end. 
• Rock Band 2 will come out first on the Xbox 360 in September, followed by a release on the PlayStation 2, PlayStation 3, and Wii later this year.  The complete initial set list will be as follows.
ARTIST

SONG TITLE

DECADE

    AC/DC                        

Let There Be Rock

1970s

    AFI                          

Girl's Gone Grey

2000's

    Alanis Morissette            

You Oughta Know

1990's

    Alice in Chains              

Man in the Box

1990's

    Allman Brothers              

Ramblin' Man

1970's

    Avenged Sevenfold            

Almost Easy

2000's

    Bad Company                  

Shooting Star

1970's

    Beastie Boys                 

So Whatcha Want

1990's

    Beck                         

E-Pro

2000's

    Bikini Kill                  

Rebel Girl

1990's

    Billy Idol                   

White Wedding Pt. I

1980's

    Blondie                      

One Way or Another

1970's

    Bob Dylan                    

Tangled Up in Blue

1970's

    Bon Jovi                     

Livin' on a Prayer

1980's

    Cheap Trick                  

Hello There

1970's

    Devo                         

Uncontrollable Urge

1980's

    Dinosaur Jr.                 

Feel the Pain

1990's

    Disturbed                    

Down with the Sickness

2000's

    Dream Theater                

Panic Attack

2000's

    Duran Duran                  

Hungry Like the Wolf

1980's

    Elvis Costello               

Pump It Up

1970's

    Fleetwood Mac                

Go Your Own Way

1970's

    Foo Fighters                 

Everlong

1990's

    Guns N' Roses                

Shackler's Revenge

2000's

    Interpol                     

PDA

2000's

    Jane's Addiction             

Mountain Song

1980's

    Jethro Tull                  

Aqualung

1970's

    Jimmy Eat World              

The Middle

2000's

    Joan Jett                    

Bad Reputation

1980's

    Journey                      

Anyway You Want It

1970's

    Judas Priest                 

Painkiller

1990's

    Kansas                       

Carry On Wayward Son

1970's

    L7                           

Pretend We're Dead

1990's

    Lacuna Coil                  

Our Truth

2000's

    Linkin Park                  

One Step Closer

2000's

    Lit                          

My Own Worst Enemy

1990's

    Lush                         

De-Luxe

1990's

    Mastodon                     

Colony of Birchmen

1980's

    Megadeth                     

Peace Sells

1980's

    Metallica                    

Battery

1980's

    Mighty Mighty Bosstones      

Where'd You Go

1990's

    Modest Mouse                 

Float On

2000's

    Motorhead                    

Ace of Spades

1980's

    Nirvana                      

Drain You

1990's

    Norman Greenbaum             

Spirit in the Sky

1960's

    Panic at the Disco           

Nine in the Afternoon

2000's

    Paramore                     

That's What You Get

1990's

    Pearl Jam                    

Alive

1990's

    Presidents of the USA        

Lump

1990's

    Rage Against the Machine     

Testify

1990's

    Ratt                         

Round & Round

1980's

    Red Hot Chili Peppers        

Give it Away

1990's

    Rise Against                 

Give it All

2000's

    Rush                         

The Trees

1970's

    Silversun Pickups            

Lazy Eye

2000's

    Smashing Pumpkins            

Today

1990's

    Social Distortion            

I Was Wrong

1990's

    Sonic Youth                  

Teenage Riot

1980's

    Soundgarden                  

Spoonman

1990's

    Squeeze                      

Cool for Cats

1970's

    Steely Dan                   

Bodhitsattva

1970's

    Steve Miller Band            

Rock'n Me

1970's

    Survivor                     

Eye of the Tiger

1980's

    System of a Down             

Chop Suey

2000's

    Talking Heads                

Psycho Killer

1970's

    Tenacious D                  

Master Exploder

2000's

    Testament                    

Souls of Black

1990's

    The Donnas                   

New Kid in School

2000's

    The Go-Go's                  

We Got the Beat

1980's

    The Grateful Dead            

Alabama Getaway

1980's

    The Guess Who                

American Woman

1970's

    The Muffs                    

Kids in America

1990's

    The Offspring                

Come Out & Play (Keep em Separated)    

1990's

    The Replacements             

Alex Chilton

1980's

    The Who                      

Pinball Wizard

1960's

 
 

BONUS TRACKS

    Abnormality                  

Visions

2000's

    Anarchy Club                 

Get Clean

2000's

    Bang Camaro                  

Night Lies

2000's

    Breaking Wheel               

Shoulder to the Plow

2000's

    The Libyans                  

Neighborhood

2000's

    The Main Drag                

A Jagged Gorgeous Winter

2000's

    Speck                        

Conventional Lover

2000's

    The Sterns                   

Supreme Girl

2000's

    That Handsome Devil          

Rob the Prez-O-Dent

2000's