These last few days, I knew what Gordon Gekko felt like as Bud Fox was screwing him on the Bluestar deal. Colonial Bancgroup (CNB) kept dropping for no reason, and unfounded bankruptcy rumors swirled around it. Now, after there was a 40% (now around 30%) jump in CNB's price in the last two days, having sold most of my position, I know what Bud Fox felt like when he switched sides and worked with Sir Lawrence Wildman. In fact, I am so pumped, if someone gave me Daryl Hannah's phone number right now, I'd make that call, and I'd close the deal.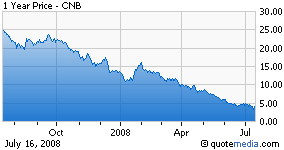 But wait - people forget Bud Fox didn't exactly have a happy ending. He got greedy and overconfident. That's why, after seeing CNB jump 40%, I sold most of my shares. The earnings release was not terrible - although CNB lost money (five cents a share), the bank still appears to be well capitalized. The main information I wanted to see was the following:
 

Foreclosed assets rose by $94 million, bringing bad loans to 2.62 percent of loans and other real estate.

 
A bad loan ratio of 2.62% is still far from the informal 5% threshold that indicates a bank won't be able to pay out a dividend or will need to take active measures to shore up capital.
I will wait until after the ex-dividend date, and then decide whether to hold the remaining shares. For now, however, it's good to be king, having correctly called a short-term bottom in well-capitalized bank stocks.
Disclosure: The author owns CNB.