International Business Machines Corporation (NYSE:IBM) has registered a price appreciation of 70% over the last five years, as compared to the Nasdaq's 44%. The company enjoys recurring revenues and we predict a high sustainable growth rate for IBM. The company has been focusing on cloud computing, and is on track for its 2015 road map to grow revenues. The expected growth rate for the next five years is ~11% per annum. Revenues from the company's growth markets were up 8% YoY, adjusting for currency. We believe the stock has an upside potential of more than 20%.
Click to enlarge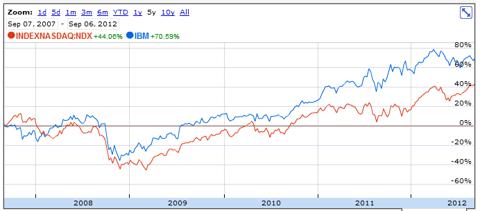 Source: Googlefinance.com
International Business Machines Corporation provides technology products and services around the world. It is a well diversified company. IBM operates in five business segments, namely Global Technology Services, Software, Global Business Services, System and Technology, and Global Financing. Global Technology Services has the highest contribution to the company's total revenue. The Software Segment has the highest gross profit margin of 88.4% in 2Q2012.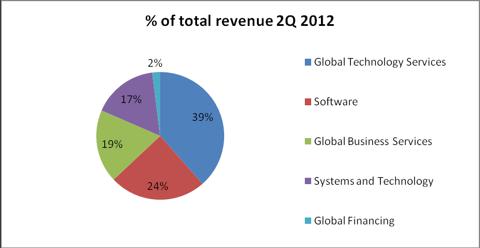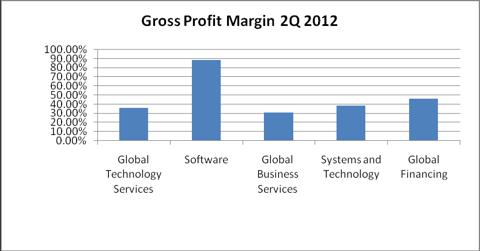 Source: ibm.com
IBM reported total consolidated revenues of ~$106.9 billion for the fiscal year ended 2011. The company has a recurring revenue model. Revenues for 2Q2012 were $25.8 billion, down 3.3% YoY and up 1% adjusting for currency. The decline in revenues was due to the macroeconomic challenges to which the company is exposed worldwide. Software and Services revenues were up 4% and 1% YoY, adjusting for currency. The company beat earnings consensus (non-GAAP) of $3.42 by reporting earnings of $3.51 for 2Q2012. The company has a history of beating earnings estimates. The recent earnings surprise was mainly due to growth in the Software segment, and an improvement in the gross margins of Global Technology Service.
America had the highest revenue contribution in 2Q2012 of $11.1 billion, up 1% YoY adjusting for currency. Revenues for Europe/Africa/Europe were flat, while they were up 4% for Asia Pacific.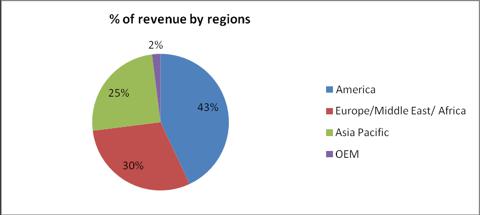 Source: ibm.com
Over the years, the company has aggressively indulged in acquisitions to compete and grow. The company has announced a plan to spend $20 billion in acquisitions by 2015. Recently, IBM has announced its plan to buy Kenexa Corporation (KNXA) for $1.3 billion. This will be the eighth acquisition by IBM this year. Kenexa is a technology and human resource management service provider. It has operations in more than 20 countries with 2,800 employees. The acquisition of Kenexa will help IBM grow and develop cloud technology. The deal to acquire Kenexa is expected to be completed by the end of 2012. IBM will pay $46 per share in cash to Kenexa shareholders. In the mid of August 2012, IBM also announced a plan to acquire Texas Memory System.
The company is aggressively improving its cloud services. Cloud services revenue doubled in 2Q2012 YoY. The company recently disclosed its cloud platform, 'IBM Smart Cloud Service for Electronics', which is expected to improve the company's bottom line in future, as it has efficient IT resources, and low infrastructure, maintenance and development costs. IBM recently entered into an agreement with Vodafone Group plc (NASDAQ:VOD), which will integrate mobile communication with cloud computing.
The company is focusing on its high margin segments, and has been involved in a number of recent acquisitions. According to the 2015 road map, the company will be focusing on four high growth spaces, which include growth markets (high growth markets), business analytics, cloud, and smarter planet, which will contribute $20 billion in revenues by 2015. It has plans to have operating EPS of $20 by 2015. To create value for its shareholders, the company has anticipated a $50 billion share repurchase program, and $20 billion in dividends. The company has been increasing its dividends over the years, and its dividends have grown by 18% annually over the last five years.
The company has been improving its margins in recent years. Gross profit margin increased from 41% to 47.6%, while profit margin increased from 9.7% to 15% in the last five years. IBM has ROE of 75%, which is far higher than the industry average of 25%.


Source: ycharts.com
| | | |
| --- | --- | --- |
| | Operating Profit Margin | Profit Margin |
| IBM | 20.8% | 15.3% |
| Hewlett-Packard Company (NYSE:HPQ) | 7.46% | -4.5% |
| Accenture plc (NYSE:ACN) | 13.4% | 9.3% |
| Dell Inc. (DELL) | 6.38% | 5% |
Source: yahoofinance.com
Valuation
We believe the stock should be trading at its five-year historical P/E of 14x. Using this multiple, we have calculated a price target of $233 based on its 2013 earnings estimates. Using the NASDAQ forward P/E of 15x, we get a price target of $250 based on IBM's 2013 earnings estimates. If we take the average of these two price targets, the stock has an upside potential of around 20%.
Disclosure: I have no positions in any stocks mentioned, and no plans to initiate any positions within the next 72 hours.
Business relationship disclosure: The article has been written by Qineqt's Technology Analyst. Qineqt is not receiving compensation for it (other than from Seeking Alpha). Qineqt has no business relationship with any company whose stock is mentioned in this article.